13 May, 2022
Crosby
Studios
and
Moooi
present
pop-up
installation
inspired
by
the
Studios
forthcoming
video
game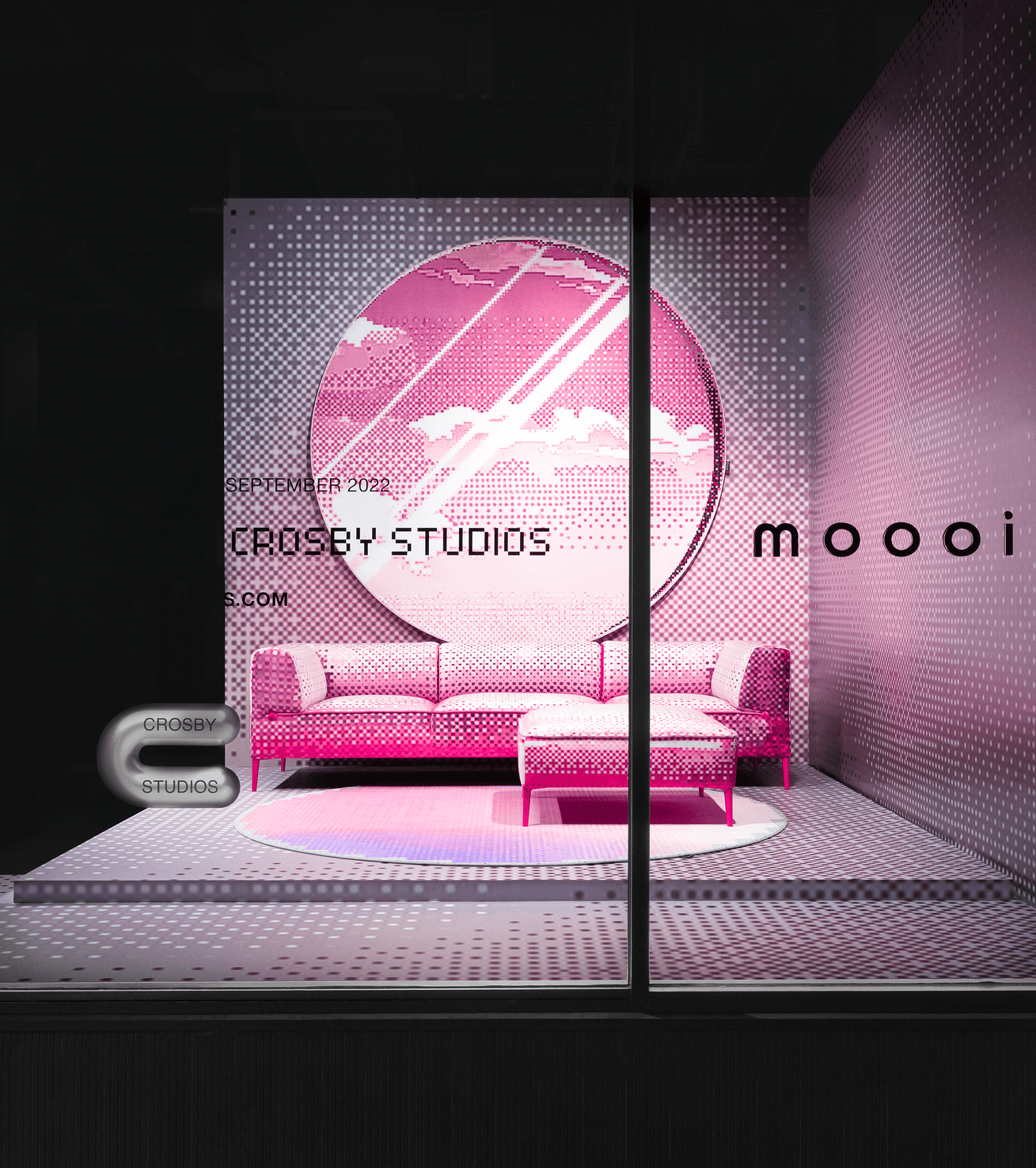 During ICFF and NYCxDESIGN, Moooi New York Brand Store hosts a pop-up installation by Crosby Studios. Harry Nuriev, Crosby Studios founder, artist, architect, and designer, was given complete freedom to design a Moooi environment through his eyes. Inspired by the pixelated aesthetic of early video games, the installation will have you look not twice, but three times while conjuring up a nostalgic feeling. Moooi Through the Eyes of Crosby Studios will be visible from 13 May at Moooi New York Brand Store, 36 East 31st Street New York. 
Moooi Through the Eyes of Crosby Studios
Crosby Studios' founder Harry Nuriev was given the complete freedom to design a Moooi environment through his eyes. The installation comprises the Sofa So Good triple seater and footstool by Marcel Wanders studio, pillows, and carpets. The sofa and footstool will be upholstered in a custom-designed velvet with a pixelated print. The same print is used for 100 velvet pillows. Expertly piled, the pillows almost beg onlookers to hurl themselves in. Finishing the installation will be one-of-a-kind Moooi Carpets, completing the feeling of the unconditional fun of those early video games.   
The pixelated aesthetic of the installation is inspired by the studio's forthcoming interior design mobile game: Crosby Studios Video Game. Embracing the bitmap aesthetic of early video games, the low-tech-inspired interior design video game reimagines classic Crosby Studios' interiors and furniture pieces, inviting players to design as they go. Different from the forthcoming Crosby Studios Video Game, it's Moooi furniture and accessories that are given a pixelated filter in the Moooi New York Brand Store installation. The heavy magenta colourway adds to the 8-bit mood, when the number of colours on our computers were limited. The installation and video game challenge the evolution of high-resolution imagery.  
"Our pop-up installation at Moooi New York Brand Store is about bridging and combining the ideas of physical and digital space."
– Harry Nuriev, founder Crosby Studios  
About Crosby Studios Video Game
The low-tech-inspired Crosby Studios video game will launch later this year on The Sandbox. Based on classic Crosby Studios designs, the game allows players to construct their own digital interiors. Aptly titled Video Game Collection, a new collection of interior collectibles adopts the pixelated form of its virtual counterpart. The collection replicates the Crosby Studios gaming metaverse as tangible furniture pieces in real life. Furniture that lives in both the virtual and real world.    
About Crosby Studios 
Crosby Studios was founded in 2014 by artist, architect, and designer Harry Nuriev. The Paris and New York-based creative practice spans a broad range of typologies, including innovative commercial spaces, hospitality, designed objects, and fashion and art collaborations. Often through the lens of radical design and informed by the aesthetics of contemporary consumer culture. Crosby Studios uses minimalism as a philosophical framework, marrying geometric primaries with crisp logic, creating invigorating and exuberant interiors that serve as vehicles for much broader ideas about how we live and work. After Crosby Studios opened its New York branch in 2017, T, The New York Times Magazine heralded Harry Nuriev as a pioneering voice in global minimalism, citing the distinctive influence of Eastern craft and architecture on his designs. 
About Moooi Through the Eyes of…
With the concept Moooi Through the Eyes of…, Moooi asks creatives from different industries to create a Moooi environment through their own eyes. Using Moooi products in exciting and unexpected ways. Artists, designer, architects, etc, are given access to all the Moooi ingredients—furniture, lighting, fabrics, leathers, carpets, wall coverings, and accessories—and the complete freedom to create a space reflecting the essence of their philosophy and artistic vision. The only common factor featuring in the different spaces are iconic Moooi designs which subtly blend into both worlds; designs that are cherished and loved. 
About Moooi
For twenty years, Moooi has inspired and seduced the world with sparkling and innovative designs. The venture founded in 2001 is currently led by Marcel Wanders and Robin Bevers. Moooi is named after the Dutch word for beautiful – Mooi. The third 'O' in the brand name stands for an extra value in terms of beauty and uniqueness. Moooi does not tell designers what to do, but listens to what designers want to make, and realises their dreams. Eclectic and always on the edge of commercial reality and cultural interest. To trigger, to create conversation pieces which make your environment more special, a life extraordinary.    
Interview + More information
Interested to learn more about Crosby Studios' installation in the Moooi New York Brand Store? Want to do a virtual coffee via zoom? Or have a burning question about a different topic? Contact Stèphanie de Kanter, global PR at Moooi, via press@moooi.com or call +31 (0) 6 112 825 05.