29 June, 2021
The
Gravity
Chandelier:
re-imaging
the
past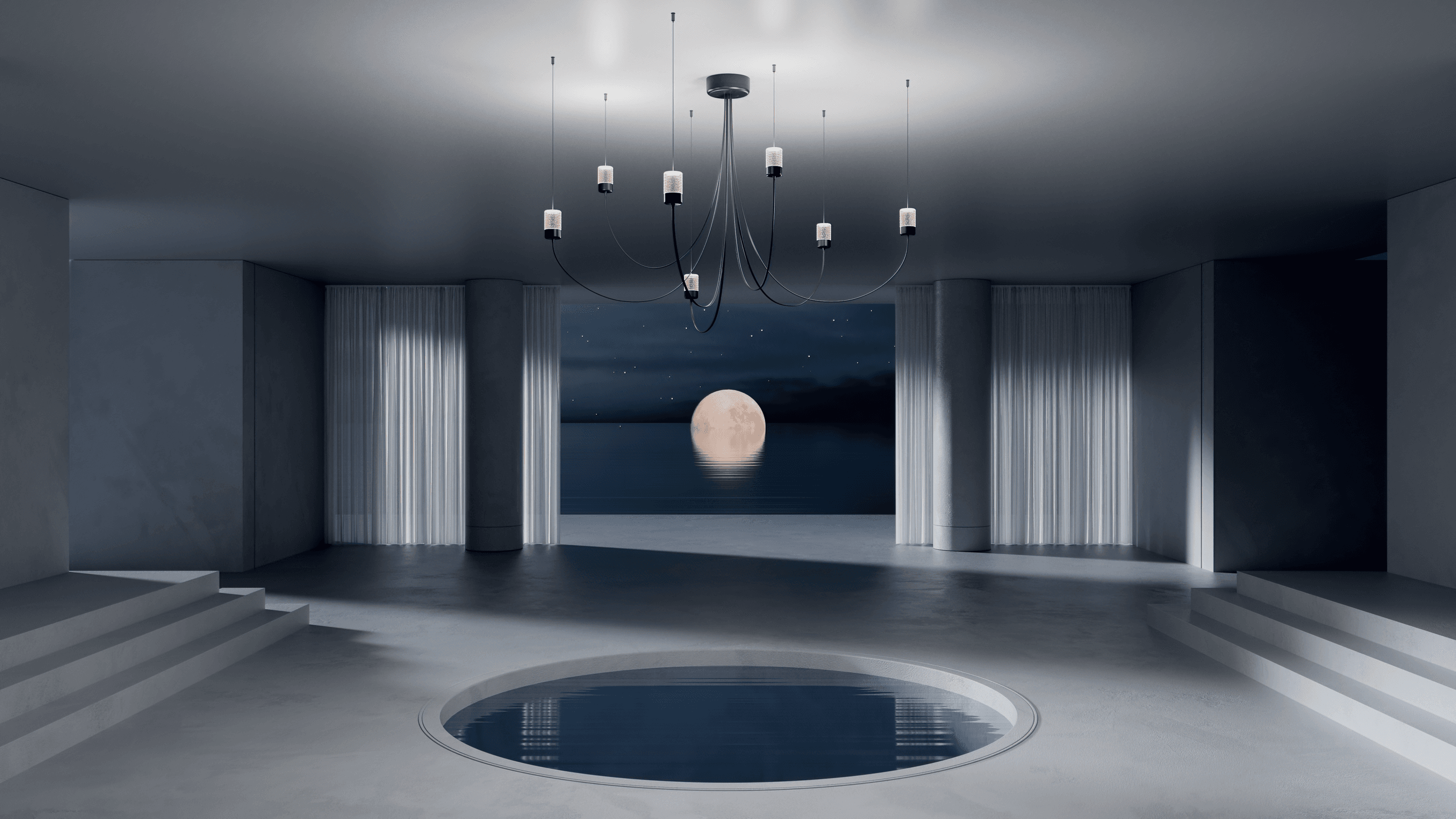 Moooi introduces the Gravity Chandelier, designed by Paul Cocksedge. The Gravity Chandelier re-imagines the chandeliers of the past. Inspired by changing rigidity to elasticity. With its flexible arms you define the chandelier's diameter and choose where the light travels, but the suspended elements create natural curves shaped by gravity. Gravity defines the form. The Gravity Chandelier will be available in two versions after its worldwide celebratory launch on 29 June 2021.
"Moooi and Paul Cocksedge go way back. We love him as a friend, we are thrilled to be working with such an inventive and interdisciplinary designer as Paul. Both our vision of what is extraordinary and what resides on the edge of art and functionality is very much alike. This made for a very smooth and natural collaboration. His Gravity Chandelier is testament to that and we can't wait to show this piece to the world. " – Robin Bevers, CEO Moooi
From rigid to flexible
The Gravity Chandelier by Paul Cocksedge re- imagines the chandeliers of the past. Inspired by changing rigidity to elasticity. With its flexible arms you define the chandelier's diameter and choose where the light travels, but the suspended elements create natural curves shaped by gravity. The Gravity Chandelier's forms are reminiscent of precise lines of ink, drawn by pen or brush on a piece of paper. Gravity causes the graceful arcs of the strands hanging in mid-air, ending in pressed glass filled with sparkling lights. A collaboration between you and an invisible force.
Clever design that's suitable for any space
The Gravity Chandelier is the definition of a modern chandelier. At first glance, it doesn't reveal its flexibility and cleverness; It takes a second look to unravel its mystery. Free-flowing arcs are dynamic instead of static, thanks to elegant wiring holding up ornamented glass cups. This creates endless possibilities in compositions, making the Gravity Chandelier suitable for any space.
Years of research to find the perfect material
Finding the perfect material took  Moooi  and designer Paul Cocksedge years. A vast range of fabric and cord was tested for their ability to create elegant, flowing arcs. The result allows you to compose the Gravity Chandelier in any way you wish, while gravity defines its form.
Pressed glass with multiple functionalities
The pressed glass cups at the end of each arm are an elegant and functional part of the Gravity Chandelier. The pressed glass creates a magnified sparkling effect. Elegant wiring, fixed onto the glass cups, upholds the Gravity Chandelier's flexible arms.
"The Gravity Chandelier was about me looking at something that's made as a rigid, solid, and static object. And then imagining it as something that's very light and flexible."
– Paul Cocksedge, designer Gravity Chandelier
Worldwide launch online
The Gravity Chandelier is available worldwide from 29 June on Moooi.com and in the Moooi Brand Stores  in Amsterdam, London, Stockholm, and New York. Celebrating the launch are a brand-new chapter in Moooi's Digital Brand Experience on Moooi.com.
A digital life extraordinary
The Digital Brand Experience on Moooi.com is a visual spectacle called Defy Gravity revolving around the Gravity Chandelier and other new and to be released Moooi designs.
Defy Gravity is the second chapter of a Digital Life Extraordinary; three in-depth chapters about the imaginative and resplendent world of Moooi. The first chapter is called Beauty Blooms and revolved around the Hortensia Armchair, by Andrés Reisinger & Julia Esqué, which was released 20 April.
Discover more new designs
Together with the Gravity Chandelier, Moooi introduces other new designs. Liquid Layers, a new carpet collection by Claire Vos and Indigo Hotto Room Fragrance, a new sensual and arcane Moooi Home Fragrance. All new designs can be found on moooi.com and in A Digital Life Extraordinary, Moooi's Digital Brand Experience. A Digital Life Extraordinary also offers sneak peek of a brand-new wallcovering inspired by new Extinct Animal: the Queen Cobra.
About Paul Cocksedge
Paul Cocksedge is an internationally acclaimed British designer, who has spent the last decade building a reputation for innovative design, underpinned by research into the limits of technology and materials. His work spans design products, architectural projects, installations and sculptures, all infused with the sense of simplicity, joy and wonder that characterises his work.
Cocksedge has collaborated with major brands including such as British Land, Swire Properties, Swarovski, Fendi, NHS, BMW, as well as private clients, and his work is included in collections at the V&A, MoMA and Vitra Design Museum. His work has received accolades from Wallpaper*, the Design Museum, Homes & Gardens and the German Design Council.
About Moooi
For twenty years Moooi has inspired and seduced the world with sparkling and innovative designs. The venture founded in 2001 is currently led by Marcel Wanders and Robin Bevers. Moooi is named after the Dutch word for beautiful – the third 'o' in the brand name stands for an extra value in terms of beauty & uniqueness. Moooi doesn't tell designers what to do, but listens to what designers want to make, try to realise their dreams. Eclectic and always on the edge of commercial reality and cultural interest. To trigger, to create conversation pieces which make your environment more special, a life extraordinary.
Interview + More information
Interested to learn more about the Gravity Chandelier? Want to do a virtual coffee via zoom? Or have a burning question about a different topic? Contact Stephanie de Kanter, global PR at Moooi, via press@ moooi.com or call +31 (0) 6 112 825 05.