26 September, 2023
Moooi
adds
a
new
dual-sided
seater
in
their
Aldora
family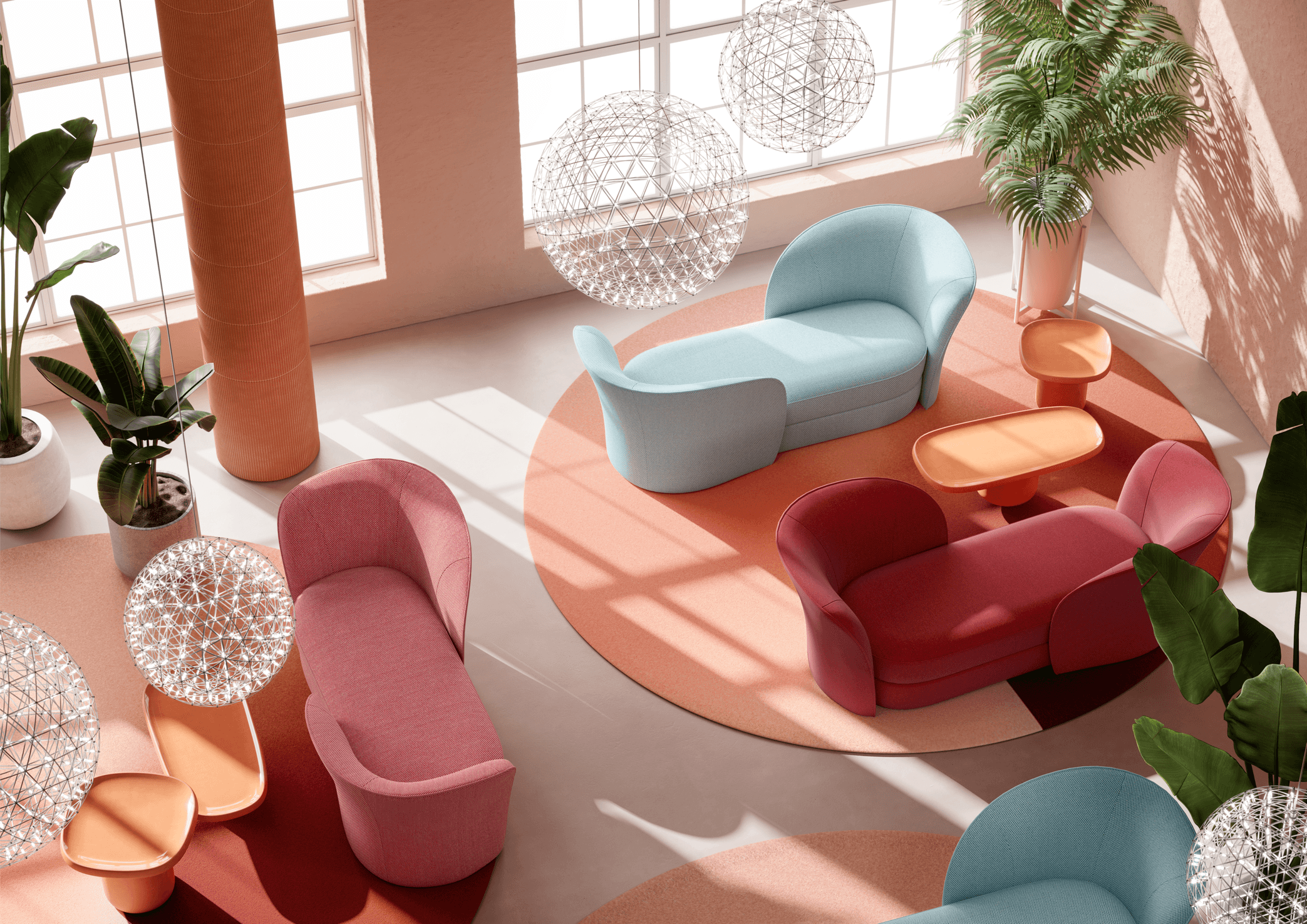 Make a bold statement in any space with the unique, dual-sided sofa Aldora Vis-A-Vis by Cristina Celestino, the brand-new addition to the Aldora family by lifestyle brand Moooi. Joining the Aldora family alongside the Aldora Sofa and Aldora Chaise Longue, the Aldora Vis-A-Vis presents captivating sculptural opposite backrests inspired by Milanese opulence and graceful calla lilies. 
Its dual-sided configuration sets this design apart, perfect for standalone use. Featuring flexible left/right compositions and fabric/leather choices, the Aldora Vis-a-Vis is a versatile, customisable masterpiece that sparks conversations and elevates spaces. Available globally from September 26, 2023, at Moooi Stores, Moooi.com, and selected dealers. 
Aldora Vis-A-Vis: A functional eye-catcher 
Designed by Cristina Celestino, Aldora Vis-A-Vis adds natural charm to commercial and private spaces. Inspired by Milanese allure and calla lilies, this new seater features sculptural opposite backrests evoking sophistication. Its dual-sided design embodies functional elegance, making it the ultimate standalone seater that bridges conversations and elevating surroundings. Customisable with left/right compositions, fabrics, and leathers, you can create the ultimate personal seater.
The multifaceted charm of Aldora suited to your needs 
Beyond its standout design, the Aldora Vis-A-Vis is versatile. Adapting to various settings, it effortlessly becomes a sofa or chaise longue, suiting your needs. Personalise Aldora to your liking with the help of Moooi's online configurator, where you can choose from an extensive array of fabrics and leathers. This sophisticated and elegant material boasts a warm and rich texture, elevating Aldora's opulence to new heights. Once you are satisfied with your design, explore your design vision with Moooi's AR tool to envision Aldora in your space.
A family of curvaceous extravagance 
Moooi's Aldora Sofa and Aldora Chaise Longue garnered unparalleled attention in 2022.  Following their success, the Aldora Vis-A-Vis has been welcomed into the collection. The Aldora Sofa, Vis-A-Vis, and Chaise Longue blend Milanese bourgeois influences with delicate femininity, encapsulating botanical aesthetics and scaled elegance. Inspired by nature, Aldora's iconic sculptural backrest, a testament to design innovation, takes its cues from the gentle curves of calla lilies and the parting of an insect's wings. The Aldora family strikes an artful balance between modern design, nature-inspired aesthetics, and a touch of opulence, resulting in pieces that are both visually captivating and functionally comfortable.
About Moooi 
For over twenty years, Moooi has inspired and seduced the world with sparkling and innovative designs. The venture founded in 2001 is currently led by Marcel Wanders and Robin Bevers. Moooi is named after the Dutch word for beautiful – Mooi. The third 'O' in the brand name stands for an extra value in terms of beauty and uniqueness. Moooi does not tell designers what to do, but listens to what designers want to make, and realises their dreams. Eclectic and always on the edge of commercial reality and cultural interest. To trigger, to create conversation pieces which make your environment more special. With their multi-sensorial approach, the lifestyle brand merges the physical with the digital. A Life Extraordinary!
About Cristina Celestino
Cristina Celestino (1980, Pordenone) established her studio in Milan in 2013. After graduating in 2005 from the IUAV School of Architecture in Venice, she worked with various design studios, focusing on interior architecture and design. In 2011, she created her own design brand, Attico Design. The activities of Cristina Celestino and her studio range from residential, hospitality and commercial projects to creative direction and product design.
Innate freedom of observation, erudite, curious, and playful. A great capacity for scientific and aesthetic investigation. Obsessed by material and geometry, she moves across history and traditions, altering the scale of objects, creating new conceptual and decorative canons, where nature speaks to us in unanimity. She intertwines a transdisciplinary approach with analytical rigour, leading to unexpected spaces, objects, and experiences.
Interview + More information 
Interested to learn more about the Aldora Vis-A-Vis, Aldora Sofa, or Aldora Chaise Longue? Would you like to schedule an interview with the designer, or do you have questions about our collection, collaborations, or a different topic? Contact Stèphanie de Kanter, global PR at Moooi, via press@moooi.com.