16 January, 2020
New
Moooi
Wallcovering
collection
Konnichiwa! After the success of Moooi Wallcovering's 'Extinct Animal Collection', Moooi is proud to announce their new capsule collection: Moooi Tokyo Blue. This collection is inspired by the Indigo Macaque, the latest addition to the Extinct Animals family. Moooi Tokyo Blue is an extraordinary collection with bespoke designs made from distinctive materials and a technique such as denim, natural weaves and marquetry*. Moooi Tokyo Blue will be presented during Paris Deco Off in its own pop-up showroom.
Inspiration
This capsule collection is inspired by the Indigo Macaque, the latest addition to our Extinct Animals family. The Indigo Macaque was named after the sheen of deep blue Indigo embedded in its thick furs. The unusual colour of their fur came from the Indigo plants growing on the edges of their favourite relaxing spot, the hot springs at the foot of the mountains outside Tokyo. The Indigo Macaque is the protagonist in the Moooi Tokyo Blue collection. The distinct features and surroundings of the Indigo Macaque were of essential influence for the five new designs with Japanese culture and nature as inspiration.
Museum of Extinct Animals by Moooi
Moooi Wallcovering was released in January 2019. The first collection turned out to be a stellar success as it is available over 60 countries worldwide. The collection was inspired by the Museum of Extinct Animals, an exploration of long lost animals that are still an inspiration today. With the Museum of Extinct Animals, Moooi celebrates nature's diversity, stimulating to stretch the limits of imagination.
Moooi Tokyo Blue consist of five new designs:
Indigo Macaque
Textile wallcovering made from denim, with coloured embroidery. The design on this wallcovering displays a playful scene of Indigo Macaque families bathing in their favourite relaxing spot, the hot springs at the foot of the Japanese mountains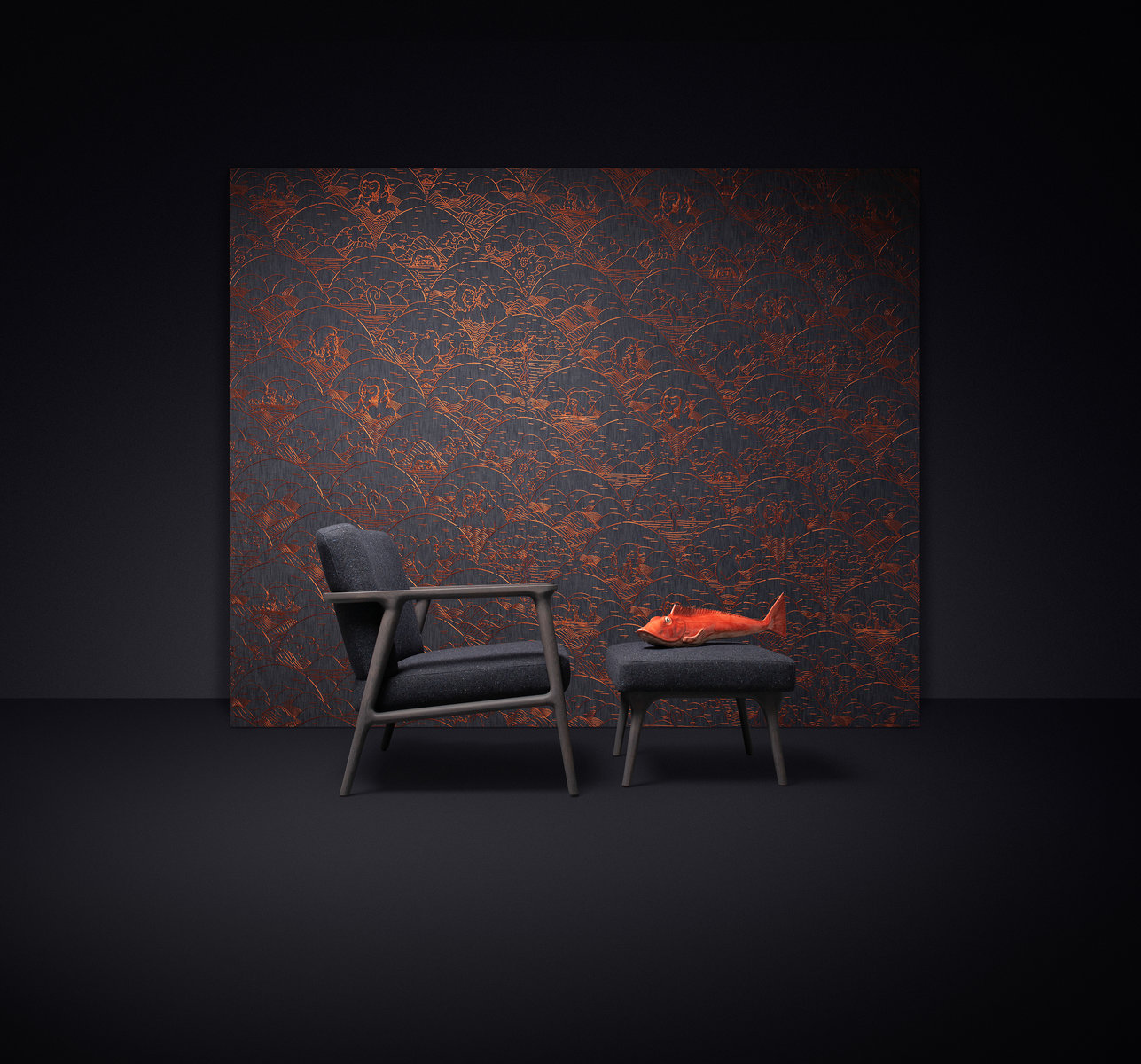 Shoji Blossom
The symbolic cherry blossoms and straight lines resemble the minimalistic feel of Japanese Shoji screens. Opposed to the contrast of pink hues on translucent washi paper, this 3D wallcovering made from denim or felted wool radiates tranquility.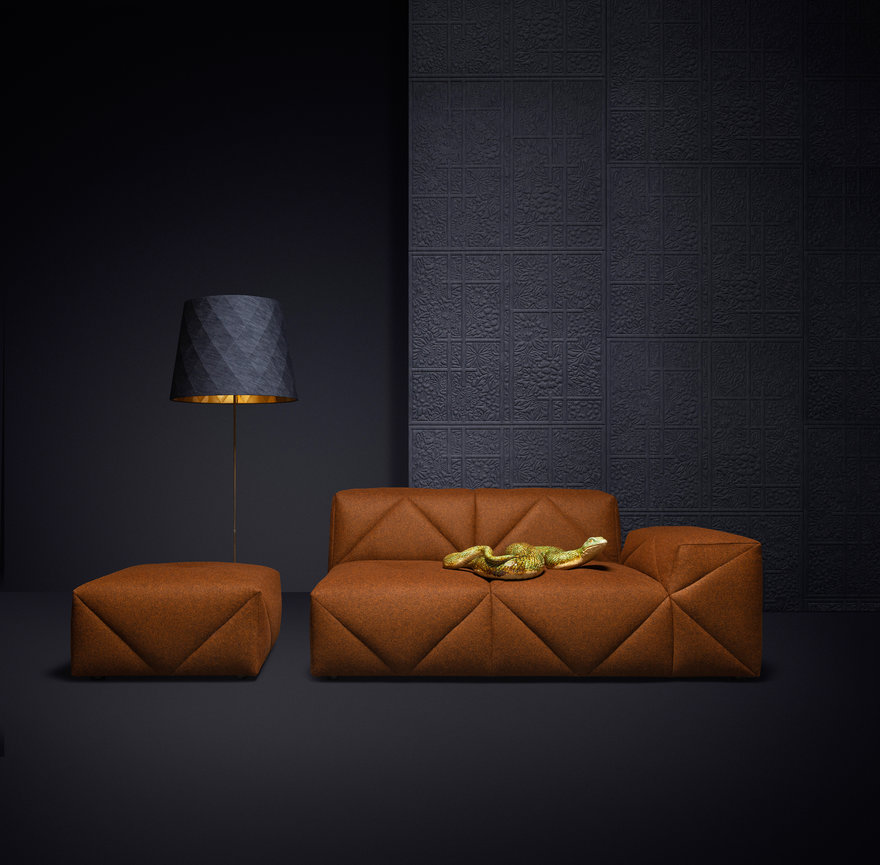 Tie-Tami
Treat your eyes to the rich and versatile colours of a spectacular sunset. This jute and raffia wallcovering, honouring the ancient Japanese flooring solution of woven tatami-mats, pictures abstract clouds that slowly drift by while the day gives way to night.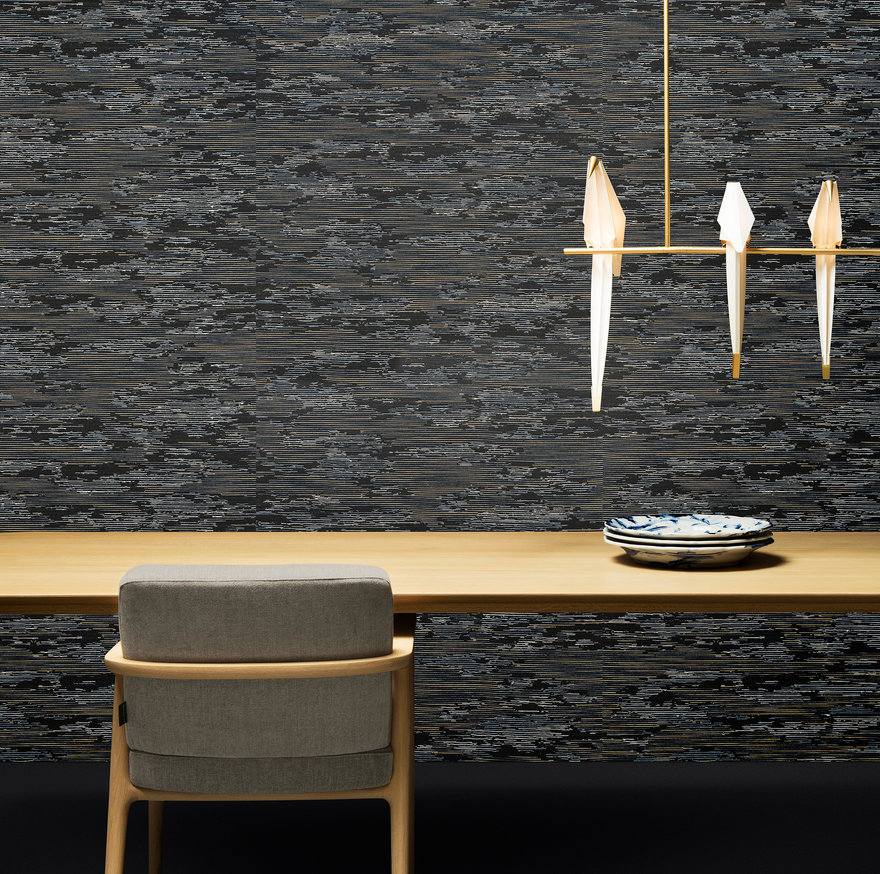 Lucky O's
Overlapping O's, created of wood veneer marquetry inlay, resemble the rolling waves of the ocean. The unique wallcovering's ancient Seigaiha pattern symbolising waves of water represents good luck, power and resilience.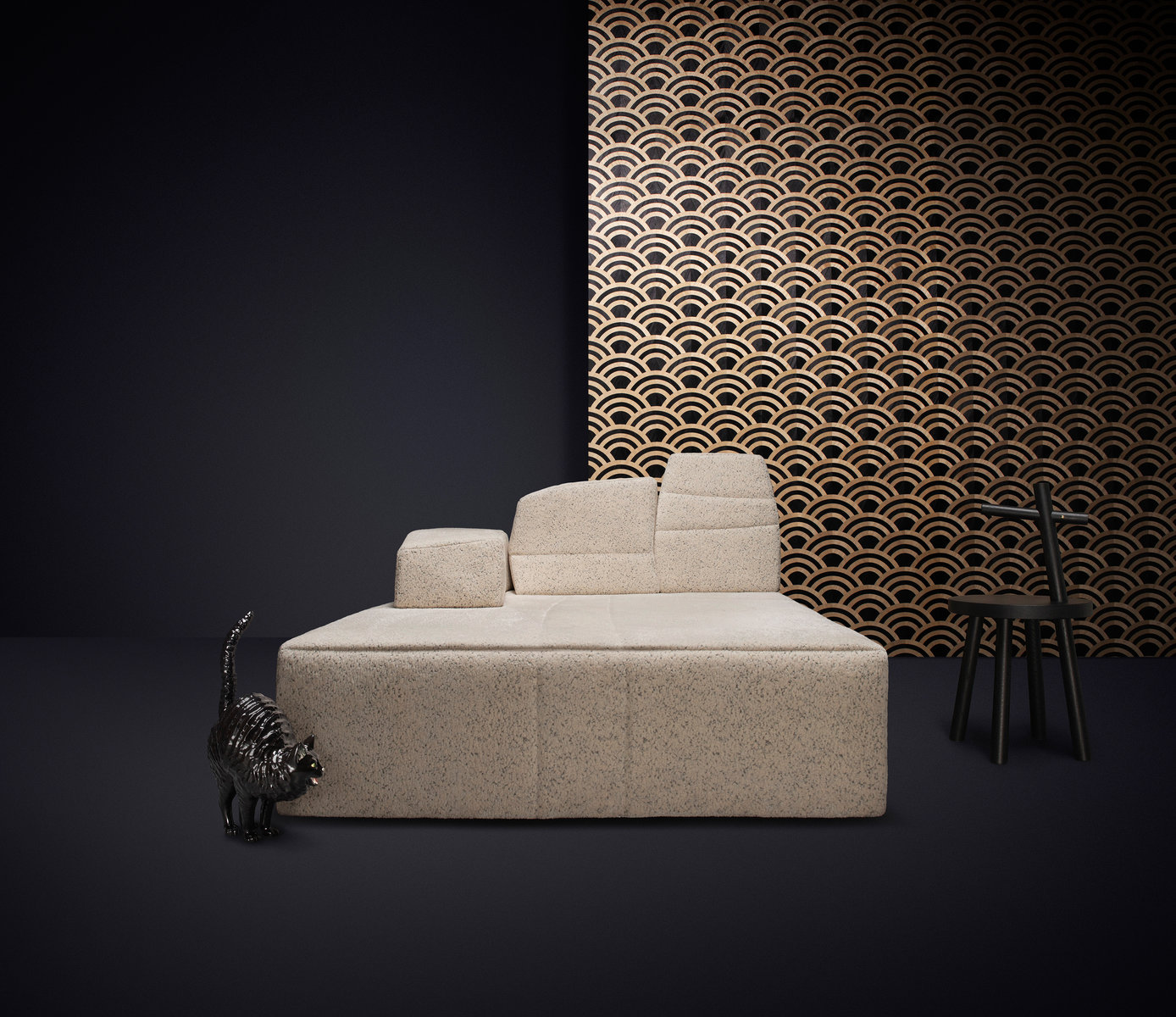 Rendezvous Tokyo Blue
Printed on a soft and velvety finish fabric with denim textures, this lively wallcovering depicts a lush forest brimming with life and movement. Upon closer inspection, Indigo Macaques dressed in traditional kimonos can be discovered between the abundance of exotic flowers.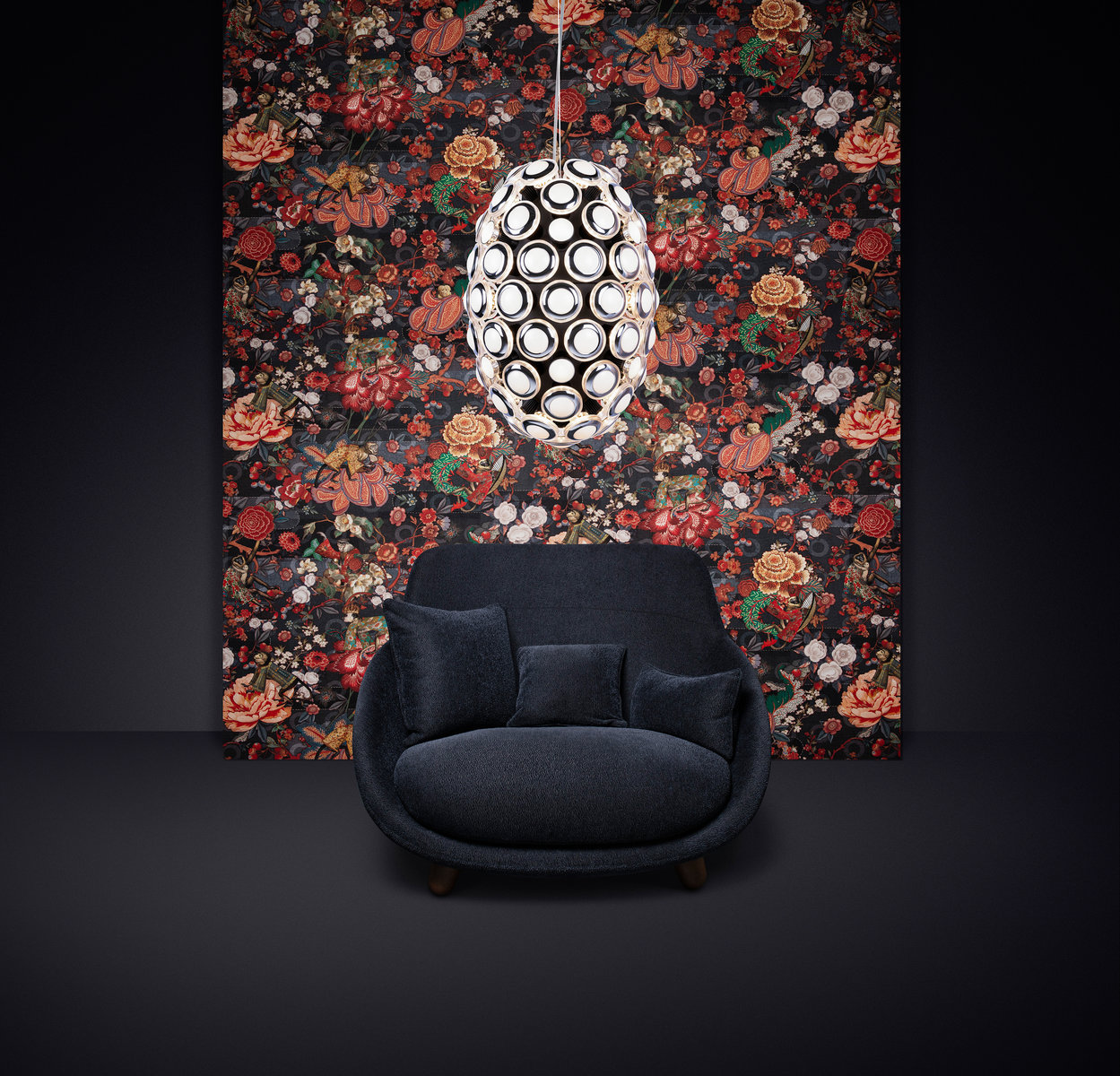 About Moooi
For almost twenty years Moooi has inspired and seduced the world with sparkling and innovative designs. The venture founded in 2001, is currently led by Marcel Wanders and Robin Bevers. Moooi is named after the Dutch word for beautiful – the third 'o' in the brand name stands for an extra value in terms of beauty & uniqueness. Moooi doesn't tell designers what to do, but listens to what designers want to make, try to realise their dreams. Eclectic and always on the edge of commercial reality and cultural interest. To trigger, to create conversation pieces which make your environment more special, a life extraordinary.
Moooi Wallcovering, a collaboration between Moooi and Arte
Arte is a passionate designer & manufacturer of sophisticated wallcoverings. The company, owned by the family Desart, has been in play since 1981. Arte wallcoverings adorn the walls of both residential homes and project interiors in over 80 countries worldwide. About half of the products are manufactured in-house through environmentally-friendly processes. Arte keeps a permanent stock in the headquarters in Zonhoven, Belgium and has corporate showrooms in Paris, Culemborg (The Netherlands), London and LA.
More information
For more information about Moooi please contact Loes Wijnstekers via press@moooi.com
or call +31 (0)6 11 28 25 05
For more information about Moooi Wallcovering please contact:
Belgium – The Netherlands: King George – press@kinggeorge.land or +32 3 746 10 10
France: S2H Communication – mariegristi@s2hcommunication.com or +33 (0)1 70 22 58 57
UK: UP Public Relations – egle@up-publicrelations.com or +44 20 7034 3450
Germany – Switzerland – Austria: Hamami Public Relations – info@hamami-pr.de or +49 89 981 085 20
US: Kate Premo PR – kate@katepremo.com or +1 917 838 5765
Other countries: press.ww@arte-international.com or +32 11 81 93 51
Interviews
Moooi Tokyo Blue is developed under artistic direction of Christie Wright. Should you have questions for her, like to learn more about the new collection or like to meet us for coffee because you have a brilliant idea, please contact Moooi press via press@moooi.com or call +31 (0)6 11 28 25 05
Moooi Wallcovering Pop-up Showroom
To celebrate this collection Moooi Wallcovering hosts a pop-up showroom during Paris Deco Off. Come visit us between 16 and 20 January to be among the first to see Moooi Tokyo Blue collection.
Moooi Tokyo Blue Pop-up showroom
15, Rue des Beaux-Arts
75006 Paris
Openings hours
16 – 20 January: 9.30 -19.30 18 January: 19.30 – 23.00