30 June, 2020
Take
time
for
Tinkering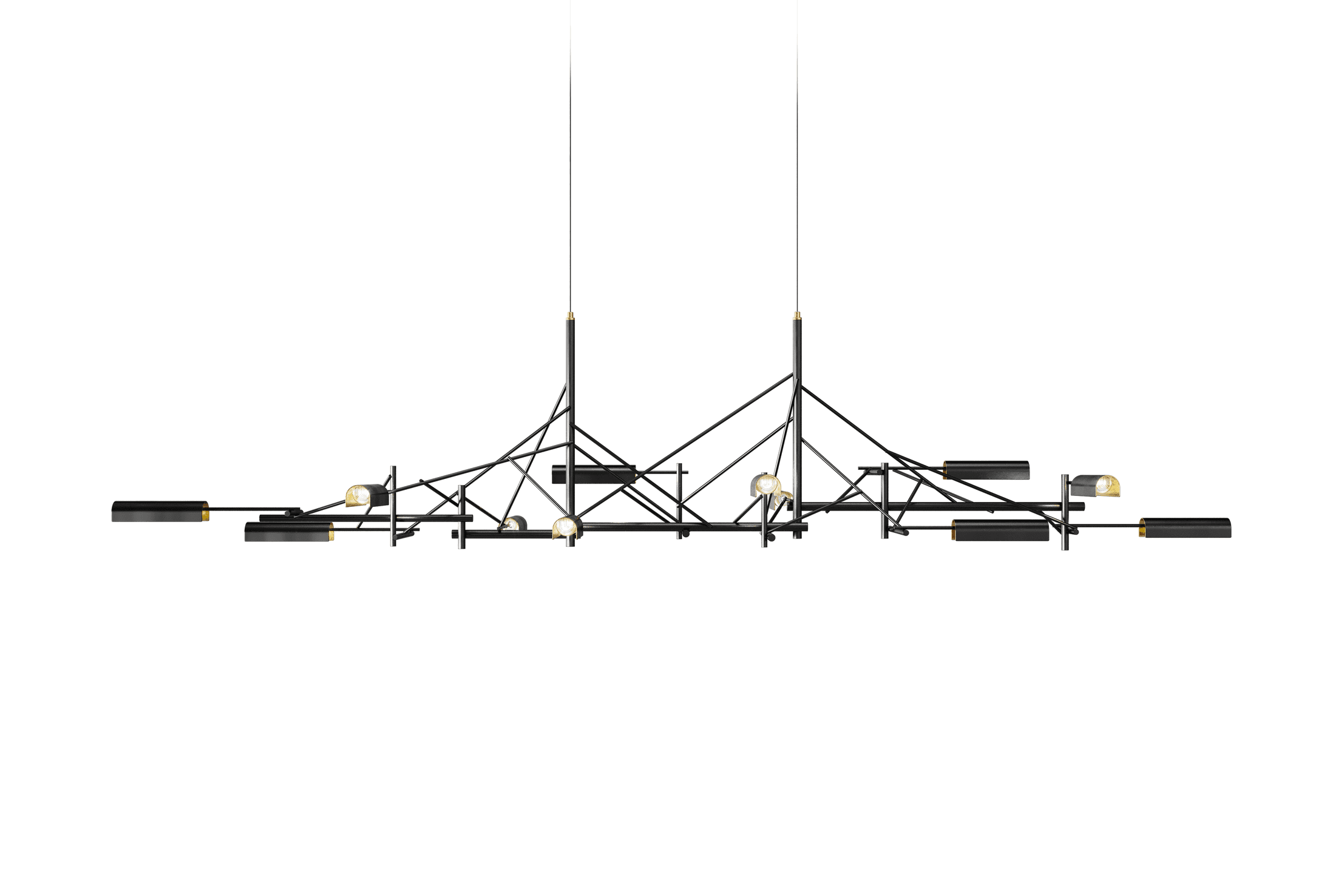 Tinkering is a new lighting design by Joost van Bleiswijk for Moooi
Extraordinary designers work hard to seek the unexpected. In their workshop they take their time to repeatedly play, discover and revise. It's an approach that perfectly describes Moooi's new design by Joost van Bleiswijk. 
Joost spent hours tinkering on a rhythmic installation of lamps, while searching for unusual ways of capturing and reflecting light. The result is craftmanship at its finest. Tinkering comes in two sizes and is made from metal and brass shades. It has no internal electrical wires as it is powered through Electrosandwich® by Marcel Wanders, Moooi's proprietary technology. As of today, Tinkering by Joost van Bleiswijk for Moooi is available worldwide.
"I crafted Tinkering specifically for my house, it's a very personal object. The process of making and discovering the right construction dictates my design. It is revealed to me whenever I put materials together with screws or glue, or tear pieces of cardboard to create a shape. I appreciate the rawness or irregularity of the material and let my craftsmanship follow these elements when I'm creating", Joost van Bleiswijk.
A place to tinker
For Joost, his workshop is his playground. It is a place where the sound of tools, screwdrivers and saws continuously fills the air. This is where he works and tinkers for days. When Joost let his intuition lead the way, only then he can create something beautiful from scratch. Tinkering is the outcome when a craftsman is at his best. An unexpected design that goes against conventions, rules and trends.
About Tinkering
Tinkering, designed by Joost van Bleiswijk for Moooi, is available in two sizes: Tinkering 85 and Tinkering 140. The distinct design of the lamp creates an open and translucent feel. It is made from coated stainless steel and brass. The materials, color and design make for a suspension lamp with a modern feel. Tinkering blends in any interior and is suitable above long dining tables, countertops and numerous other places. It comes without internal wires as it is powered through Electrosandwich®, Moooi's proprietary technology.
Electrosandwich®
Tinkering is powered through Electrosandwich® by Marcel Wanders, an alternative to conventional wiring. This proprietary technology by Moooi is a good example how important innovation is for the brand, and why it never stops improving its designs. Electrosandwich® brings conductivity in complex objects or light-weight structures. It has proven to be a great resolution to power multiple light sources in an invisible way. Electrosandwich® starts from a thin and open metal structure, that requires specific quality specifications in manufacturing to make the technology work. With Electrosandwich® some of Moooi's most iconic designs are made feasible such as Heracleum and the newly released Hubble Bubble.
The Button
Included with Tinkering 85 and Tinkering 140 is Moooi's digital proof of authenticity: The Button. This personal safe keeper accompanies every Moooi design. The incorporated NFC- technology in The Button makes counterfeiting impossible and acts as proof of authenticity. By registering the purchase to your own name, you secure your investment plus extend the warranty.
About Joost van Bleiswijk
Joost van Bleiswijk is a prolific designer who gives great value to the process of making. He grew up in Delft and studied at the Design Academy of Eindhoven. His work consists of designs such as grandfather clocks, high-backed chairs, chess sets, and cupboards. Bringing these designs into a contemporary setting has marked Joost's work throughout his career. His genuine fascination for the construction of the object – often revealed in the final outcome – is the starting point of the process. The workshop is where Joost engages with the experience of designing as an intensely physical act. The creative process unfolds in a quite instinctive and gestural way. Regardless of the scale, the handmade and human touch remains at the heart of his practice and reinforces an intuitive and emotional approach to contemporary design.
About Moooi
For almost twenty years Moooi has inspired and seduced the world with sparkling and innovative designs. The venture founded in 2001, is currently led by Marcel Wanders and Robin Bevers. Moooi is named after the Dutch word for beautiful – the third 'o' in the brand name stands for an extra value in terms of beauty & uniqueness. Moooi doesn't tell designers what to do, but listens to what designers want to make, try to realise their dreams. Eclectic and always on the edge of commercial reality and cultural interest. To trigger, to create conversation pieces which make your environment more special, a life extraordinary.
Interview + more information
Interested to learn more about Joost van Bleiswijk? Want to set up a zoom interview? Do a virtual coffee? Or have a burning question about a different topic? Don't hesitate to contact Stephanie de Kanter, global PR at Moooi, via press@moooi.com or call +316 112 82 505