16 April, 2020
The
Space
Table
Lamp
gets
the
party
started
from
the
safety
of
your
home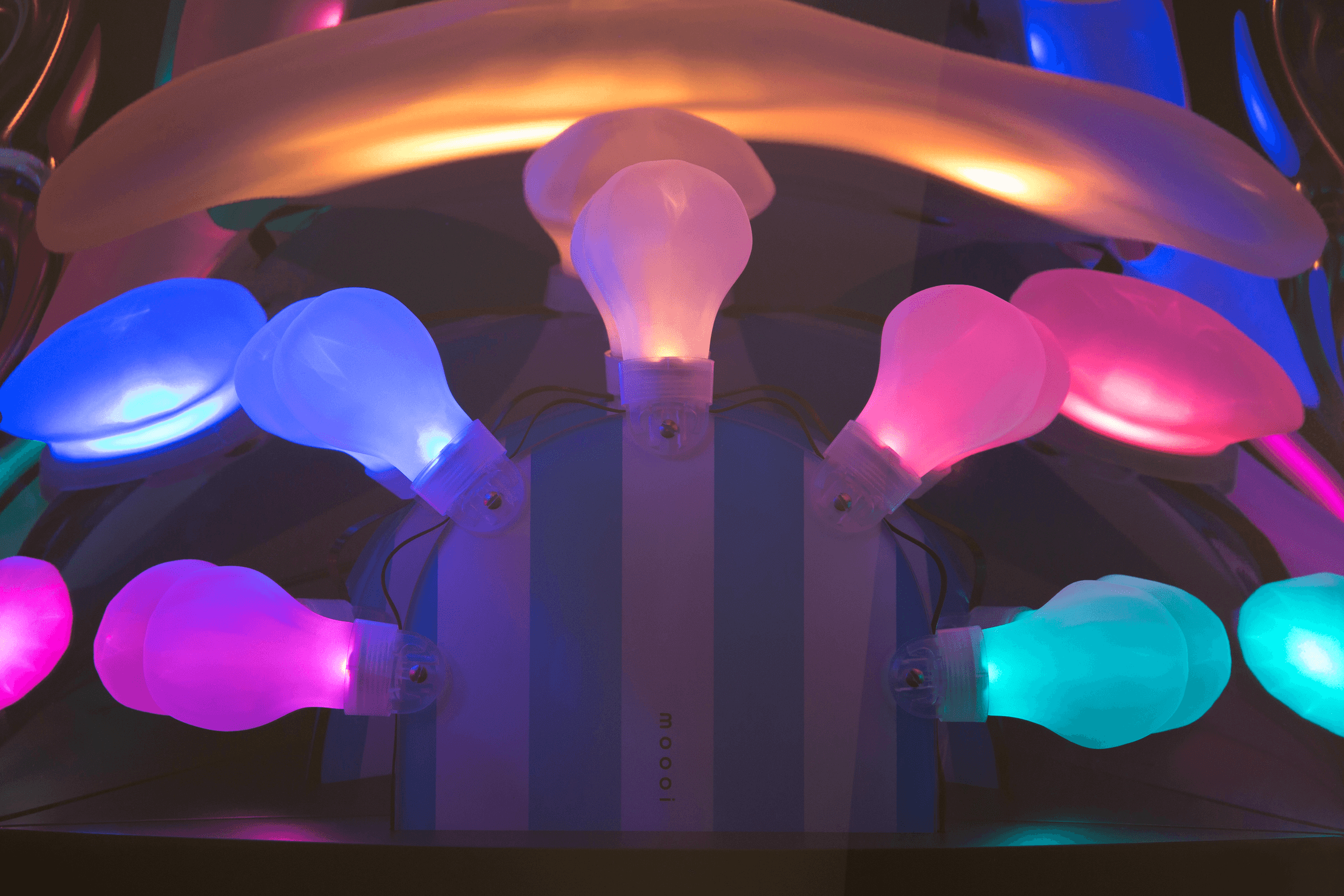 Moooi launches first design by new designer Ward Wijnant.
In crazy times like this, Moooi continues to bring a life extraordinary. With the Space Table Lamp (designed by Ward Wijnant), we found the perfect companion to brighten up your home during this unconventional time. 
The Space Table Lamp is a lighting design that keeps quiet during the day, whilst bringing the party to your interior at night. All from the safety and pleasure of your own home. Wijnant's design can be described as curious, material-led and contemporary, it sparkles and makes you wonder. He translates these elements in his first design for Moooi: the Space Table Lamp.
Unique designer
"When you feel the need to connect and have some fun in the safety of your own house, the Space Table Lamp is here for you. It brightens up your interior and kickstarts any party with its mirroring surface and disco lights inside", Robin Bevers, CEO Moooi. "Ward inspires us with his fresh outlook and curiosity, which he effortlessly translates into vivid and contemporary design. We welcome Ward Wijnant to our Moooi Family. Every designer is unique, and it is this variety we love so much when we start a new collaboration".
Extraordinary experience
"I wish for a material to go beyond being a material. I want the beauty to come out in a design, bringing it to life! That's what being a designer is all about. To work together with Moooi and bring one of my designs to life is an extraordinary experience and I can't wait for the world to see the Space Table Lamp", Ward Wijnant, designer.
Space Table Lamp
The Space Table Lamp sits quietly, mirroring its surroundings with ease. It takes you to a parallel universe and reveals a space you never knew existed. The Space Table Lamp enlarges its environment by mirroring and morphing everything close to it. Pay attention when its silver surface becomes translucent and a new world appears from inside the mirror.
The Space Table Lamp brings material and technique together in an unconventional way. It looks slender, but it has great volume when you switch it on, creating almost a mystery as you wonder how this is done. It is characteristic for Wijnant's designs to leave people intrigued and amazed. A reaction that demonstrates people perceive The Space Table Lamp as a design more than 'just an object'.
Dim-to-Disco by Moooi
The Space Table Lamp holds a secret that comes a life at night. As soon as it's dark and the sky is only lit by stars, that's when the Space Table Lamp lifts the room and shines even brighter. This extraordinary feature is called: Dim-to-Disco. With this innovation the Space Table Lamp brings disco fever to any home. Just flip the Dim-to-Disco switch and the Space Table Lamp gets you movin' and grooving, wherever you are!
More on Ward Wijnant
Ward Wijnant (Tilburg, 1987) started out at the Wood and Furniture College, where he developed his furniture making techniques and a wide knowledge about materials. He continued his career at the Design Academy Eindhoven where he graduated as an independent designer. He started his own company in 2015. Ward's work is characterized by experimenting with materials. It is his mission to interpret the diversity of methods and materials and translate them in contemporary designs that pay attention to detail and finish. The element of surprise is of essence in his work.
About Moooi
For almost twenty years Moooi has inspired and seduced the world with sparkling and innovative designs. The venture founded in 2001, is currently led by Marcel Wanders and Robin Bevers. Moooi is named after the Dutch word for beautiful – the third 'o' in the brand name stands for an extra value in terms of beauty & uniqueness. Moooi doesn't tell designers what to do, but listens to what designers want to make, try to realise their dreams. Eclectic and always on the edge of commercial reality and cultural interest. To trigger, to create conversation pieces which make your environment more special, a life extraordinary.
Interviews + more information
Interested to learn more about Ward Wijnant? Want to set up a zoom interview? Talk to him over the phone? Don't hesitate to send an email to Stephanie de Kanter, global PR at Moooi via press@moooi.com or call +31 (0)6 112 82 505. You can also use these details for all other inquiries, information about Moooi, or a shout out.