Few designers have as many pieces in Moooi's collection as Bertjan Pot. He is the creative brain behind the Heracleum family, Random Light, Carbon Chair, Magic Markers Carpets, Prop Light, NR2, and Non-Random. We visited the Dutch designer in his studio, and he told us all about the way he works, the magic behind the workings of the Heracleum, and if he considers himself a designer or an artist.

Hi Bertjan! Can you tell our readers who you are, where you work?
BERTJAN POT: Hi! I'm Bertjan Pot, designer of a variety of pieces in the Moooi collection. I'm based in Rotterdam where my studio is, which is an old gymnasium. It's where I make most of the stuff.
Your studio is filled with stuff?
I'm constantly trying things out, to see how they fit together. Some of these things, I consider a prototype. Sometimes a prototype actually becomes a product. Such as the Random Light, Heracleum family, and all other designs in the Moooi collection.
What was your first design with Moooi?
That would be the Random Light. The first Random Lights, in the late nineties, I just made to order, and I would bring them [to clients] myself. I had all these fibres from glass yarn, balloons, and resin lying around. And so, I started coiling the thread in the simplest way around a big balloon. This caught the attention of Marcel Wanders. He called and said, "Hey, I've seen your lights, and would you like the Random Light in the Moooi collection?"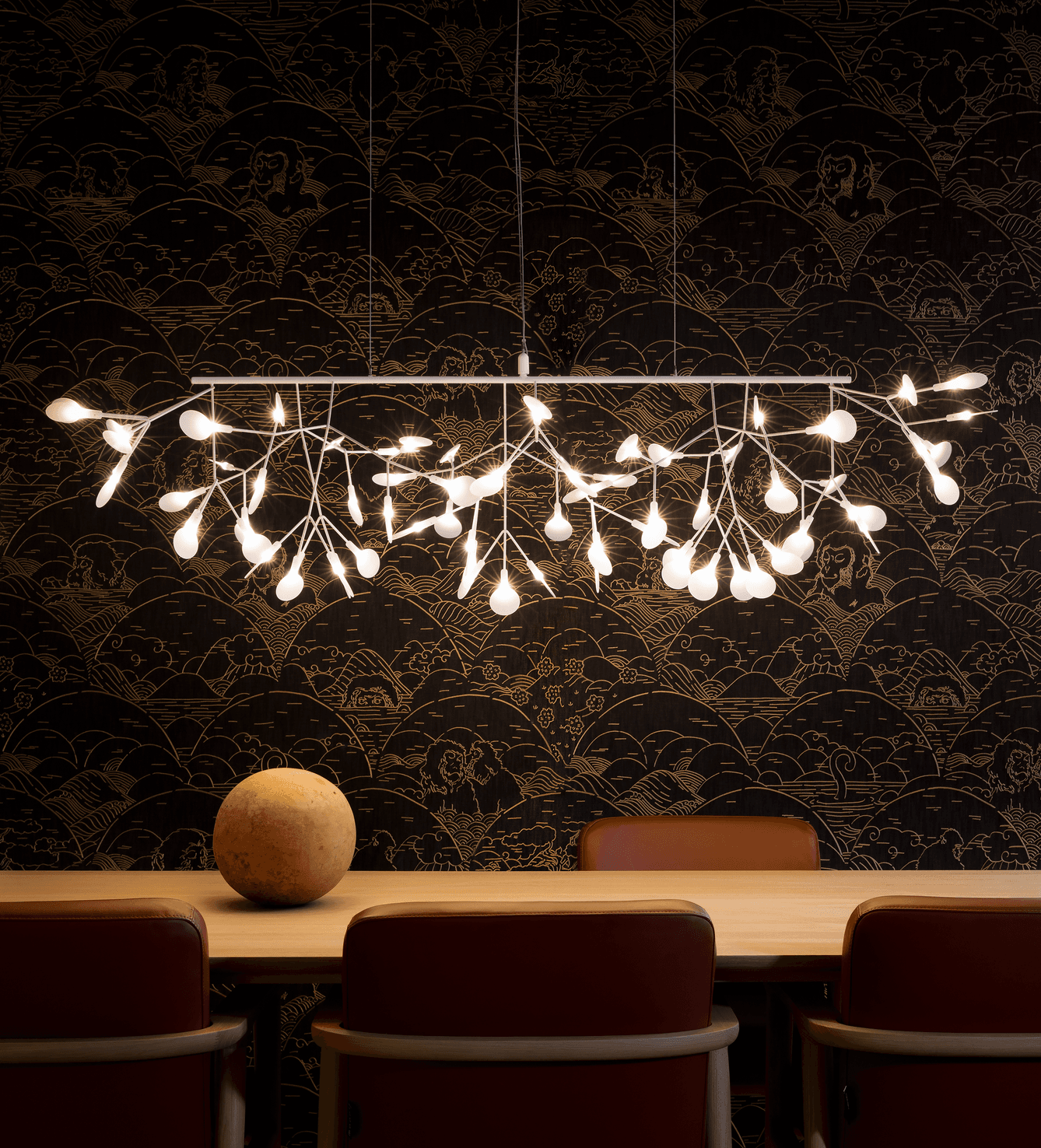 "I always like it when there's more than one story with a certain product."

— Bertjan Pot
Your studio looks like an artist's atelier. Especially with it bursting with colours, materials and prototypes lying around. Do you consider yourself a designer or an artist? Or neither?
I still sometimes doubt whether I should have been an artist. I think putting a label on it would only restrict me from working. I make stuff. That's it.
You've just released a new design in the Heracleum family, the Heracleum III Linear. How did you come up with the idea for the Heracleum?
We made several prototypes for the Heracleum. [With the wires] it's a really nice way of distributing five times five times five – which is I believe 125 – lights. That's all we did. Five times five wires, twisted, was the prototype that we delivered, and then the Moooi product development team – which is great – took over.
How is it possible that there are no visible wires in the Heracleum designs? How does that work?
Marcel [Wanders] had this brilliant suggestion of using Electrosandwich. The magic happens in the cap. One wire goes through the core of the lights and then there's one that puts electricity on the paint coating. That's how all the LEDs are powered.
The Heracleum design really resembles its namesake plant. Was the Heracleum plant your inspiration?
For me, the Heracleum is a lot more about math than about nature, but somebody else might use it because they're all about flowers. I always like it when there's more than one story with a certain product.
How do you usually start a new project?
I love it when my hands can surprise my head. Your hands are making something and even the thing that you're making, that you're fully in control of, can still surprise you. I think that's a wonderful gift that comes with the profession.