Milanese bourgeois compound sofas, soft femininity, and botanica. The inspiration for the Aldora family by Italian designer Cristina Celestino ranged between this wide juxtaposition of concepts—it is the curved embodiment of emotions, traditions, and botany coming together. With Aldora, Christina Celestino created a family of iconic seaters with a subtle nod to her heritage.
Milanese Bourgeois
The Aldora family is a contemporary spin on a classical concept. It reminds you of the allure of Milanese bourgeois extravagance. The times when interiors were filled with inviting curves and lavish materials. Almost enchanting. The curves and unique details of the Aldora seaters leave space for lightness and gives any room in your home or office a touch of elegance.
Botanical Beauty
Cristina Celestino often refers to her deepened research of human-made nature in her projects/designs. For Aldora, not just Milanese bourgeoisie inspired her, but also the botanical world. The curved backrests resemble the folding shape of the calla lily. Dividing the seats' backrests into two partitions comes from the aesthetics of the parting of an insect's wings. By playing with the scale and volume of the wings, the backrest makes Aldora truly iconic, turning the organic volumes into function.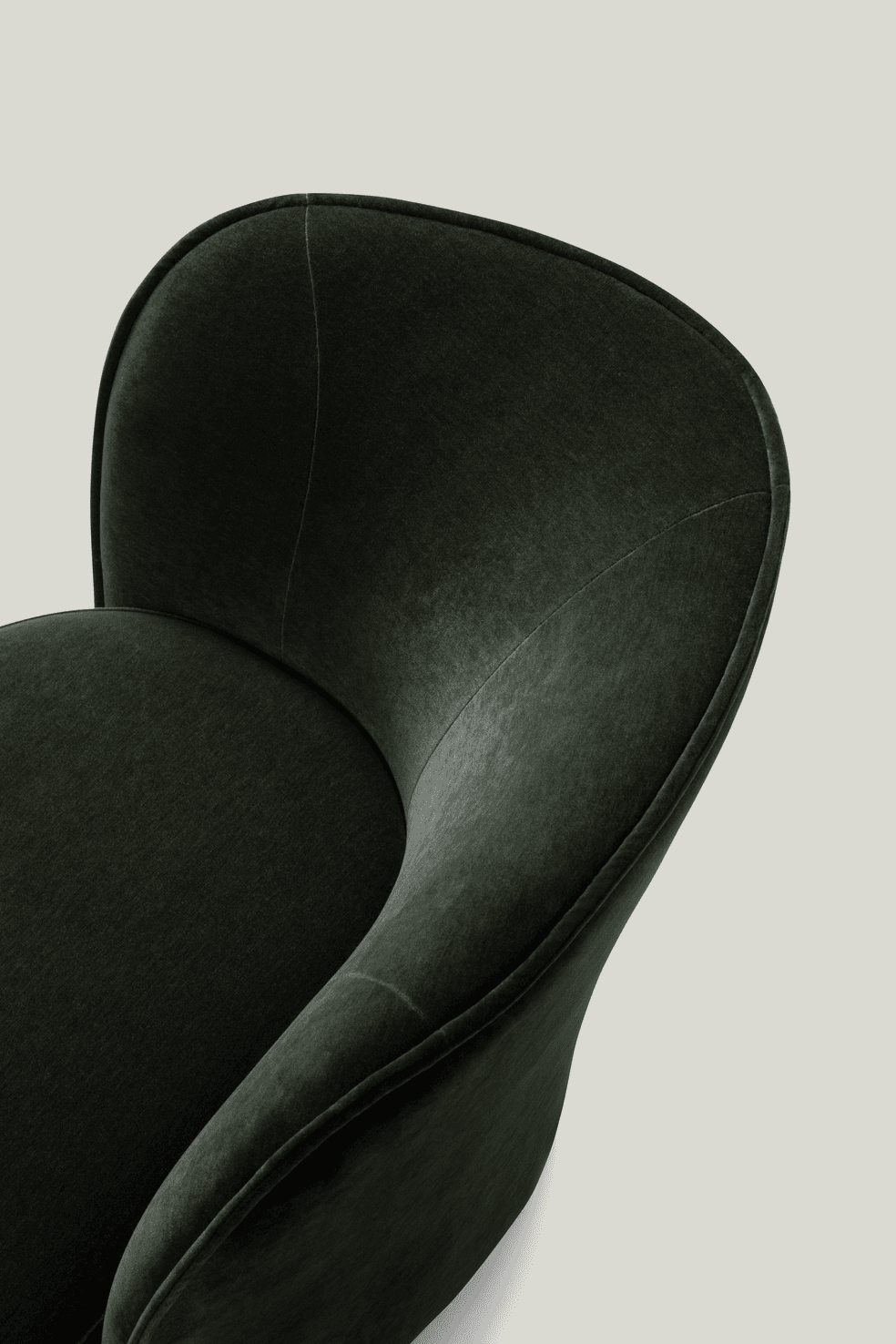 Soft feminine shapes, inspired by the graceful petals of calla lilies, give Aldora the allure of Milanese bourgeois decadence.
A Versatile Icon
The Aldora is an iconic family of seaters that truly stands out from the crowd, thanks to the impressive backrest(s), as well as its remarkable versatility. It comes in three distinct configurations: as a sofa, inviting two people to engage in hours of conversation; as a chaise longue, providing an opulent space for solitary lounging; and in a Vis A Vis configuration, which offers a dual-sided design, making it the ideal free-standing seater. Whether you choose the Sofa, Chaise Longue, or Vis A Vis, Aldora seamlessly fits into any environment. It can find its place in various settings. You can place it in your living room, bedroom, office, foyer, or even in a corridor or smaller space, thanks to its compact size.
Completing its versatility is the option to customise Aldora with upholstering choices a plenty. With a choice between lavish materials and unique shapes, we leave it up to you to find the perfect place for your Aldora.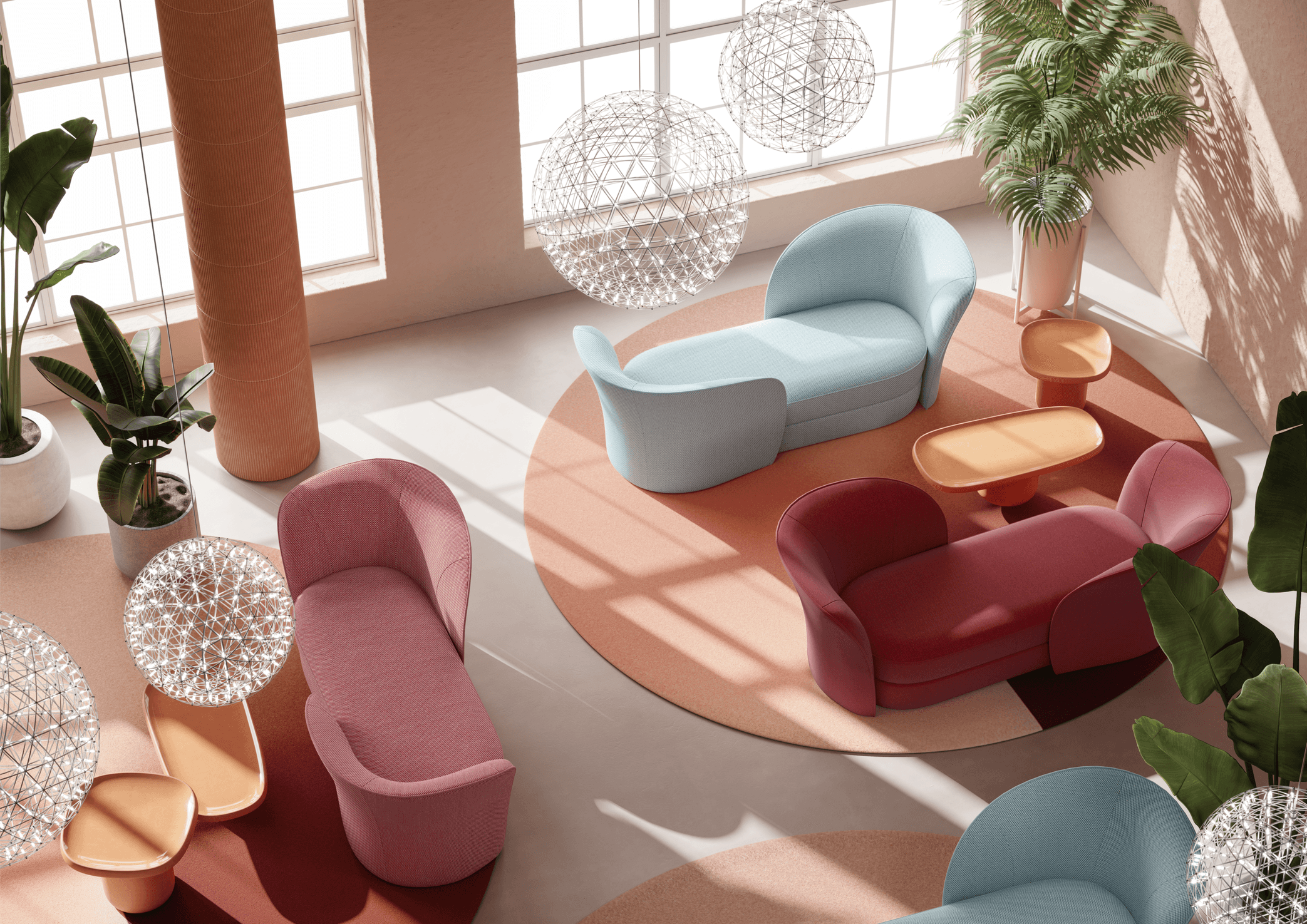 About Cristina Celestino
Cristina Celestino (1980, Pordenone) established her studio in Milan in 2013. After graduating in 2005 from the IUAV School of Architecture in Venice, she worked with various design studios, focusing on interior architecture and design. In 2011, she created her own design brand, Attico Design. Her and her studio's activities range from residential, hospitality, and commercial projects to creative direction and product design. They revolve around innate freedom of observation, erudite, curious, and playful. With a great capacity for scientific and aesthetic investigation. Obsessed by material and geometry, Cristina moves across history and traditions, altering the scale of objects, creating new conceptual and decorative canons, where nature speaks to us in unanimity. She intertwines a transdisciplinary approach with analytical rigour, leading to unexpected spaces, objects, and experiences.