6 August, 2020
Capture
a
bigger
Flock
of
Light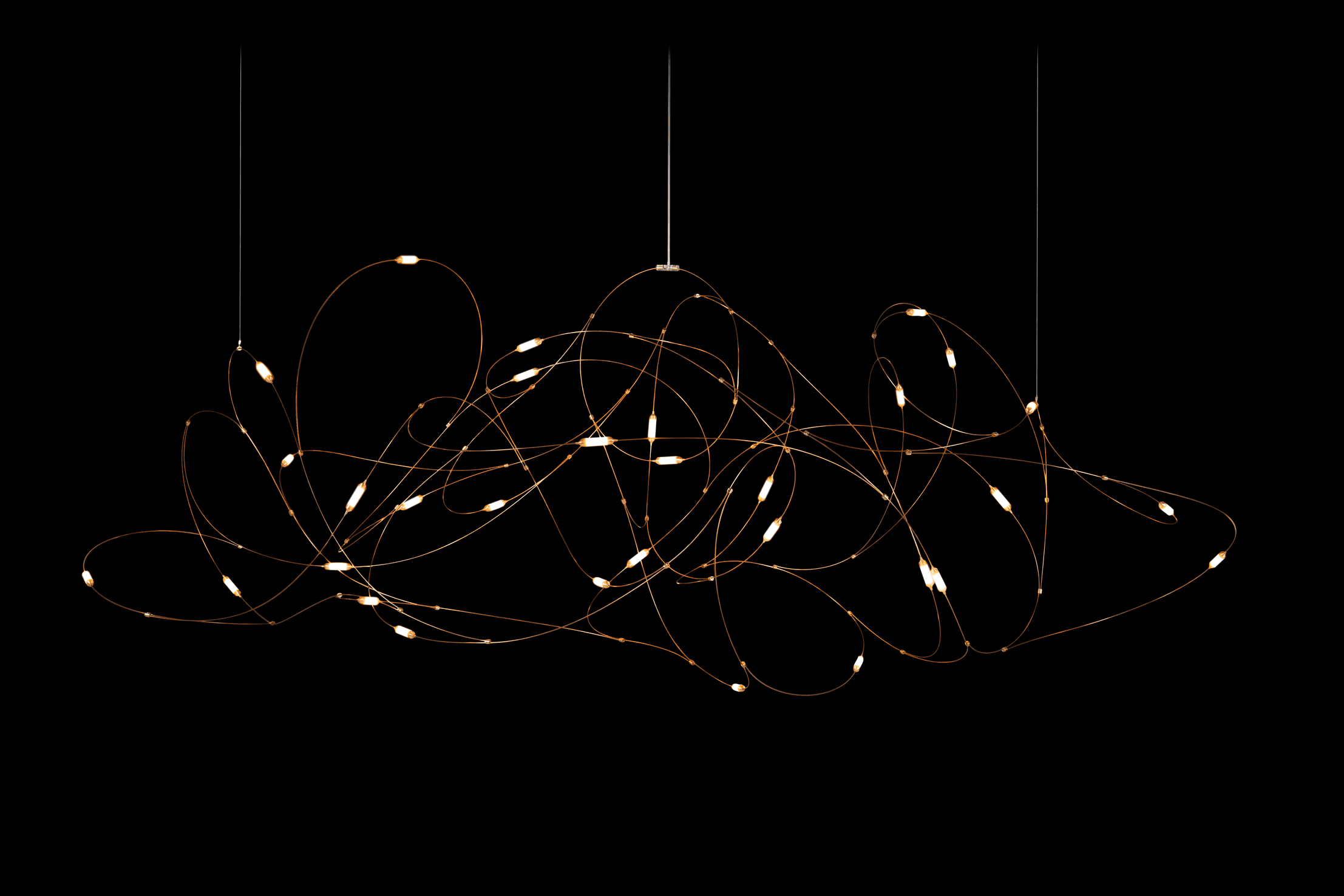 Flock of Light by Studio Toer has been embraced and loved since its introduction in 2020. Now, a year later, Moooi introduces Flock of Light 31, a bigger Flock of Light.
Deriving from an imaginative art installation, Studio Toer's inspiration behind their suspended lamp came from nature; the glowing sparks and swarms of fireflies that turn up at dusk. With Flock of Light, they captured that natural phenomenon in stillness to bring that sense of wonder indoors, into your home. Flock of Light 31, like sizes 11 and 21, is available worldwide.
"We took inspiration from a transient moment when a swarm of fireflies drifts. Inspired by nature and the way these little creatures move, we combined our knowledge of technology and ignited an idea. Together, we continued developing this concept, that with the freedom of play became the Flock of Light." – Studio Toer
Nocturnal phenomenon
Twilight is the most magical moment b­etween day and night. A warm summer evening dotted with gentle sparks glowing around you, bringing a sense of wonder. Studio Toer captured this delicate moment with their design, Flock of Light, for Moooi. Mimicking the phenomenon of glowing swarms found in nature. Studio Toer's first design for Moooi brings a bright, warm and poetic glow right after dark. A Flock of Light captured in stillness.
About Flock of Light
Flock of Light, by Studio Toer, transforms from a light and airy artistic design piece at daytime to a swarm of bright warm lights at night. A swarm captured in stillness. Flock of Light comes in three sizes: 11, 21, and 31, referring to the number of light sources. No matter how big your room or table, there's a Flock of Light suitable to light it up. Flock of Light is available worldwide at the Moooi Brand Stores, Moooi dealers, and moooi.com.
The Button
Included with Flock of Light is Moooi's digital proof of authenticity: The Button. This personal safe keeper accompanies every Moooi design. The incorporated NFC- technology in The Button makes counterfeiting impossible and acts as proof of authenticity. By registering the purchase to your own name, you secure your investment plus extend the warranty.
About Studio Toer
Renowned for their interactive light installations, Studio Toer derived Flock of Light from an art installation. Studio Toer is a multidisciplinary design collective from the Netherlands, founded in 2011 by Castor Bours and Wouter Widdershoven. With a strong exploratory and experimental approach, they push both the technical and aesthetic limits of design across a wide range of applied arts. From light objects and installations to interactive experiences and innovative products. Studio Toer receives worldwide attention for their acclaimed installations and designs.
About Moooi
For twenty years, Moooi has inspired and seduced the world with sparkling and innovative designs. The venture founded in 2001 is currently led by Marcel Wanders and Robin Bevers. Moooi is named after the Dutch word for beautiful – mooi. The third 'O' in the brand name stands for an extra value in terms of beauty and uniqueness. Moooi doesn't tell designers what to do, but listens to what designers want to make, and realises their dreams. Eclectic and always on the edge of commercial reality and cultural interest. To trigger, to create conversation pieces which make your environment more special, a life extraordinary.
Interview + more information
Interested to learn more about Studio Toer? Want to do a virtual coffee? Set up a zoom call? Or have a burning question about a different topic? Don't hesitate to contact Stephanie de Kanter, global PR at Moooi, via press@moooi.com or call +316 112 82 505