20 August, 2019
Moooi
brings
serenity
and
imagination
to
a
busy
life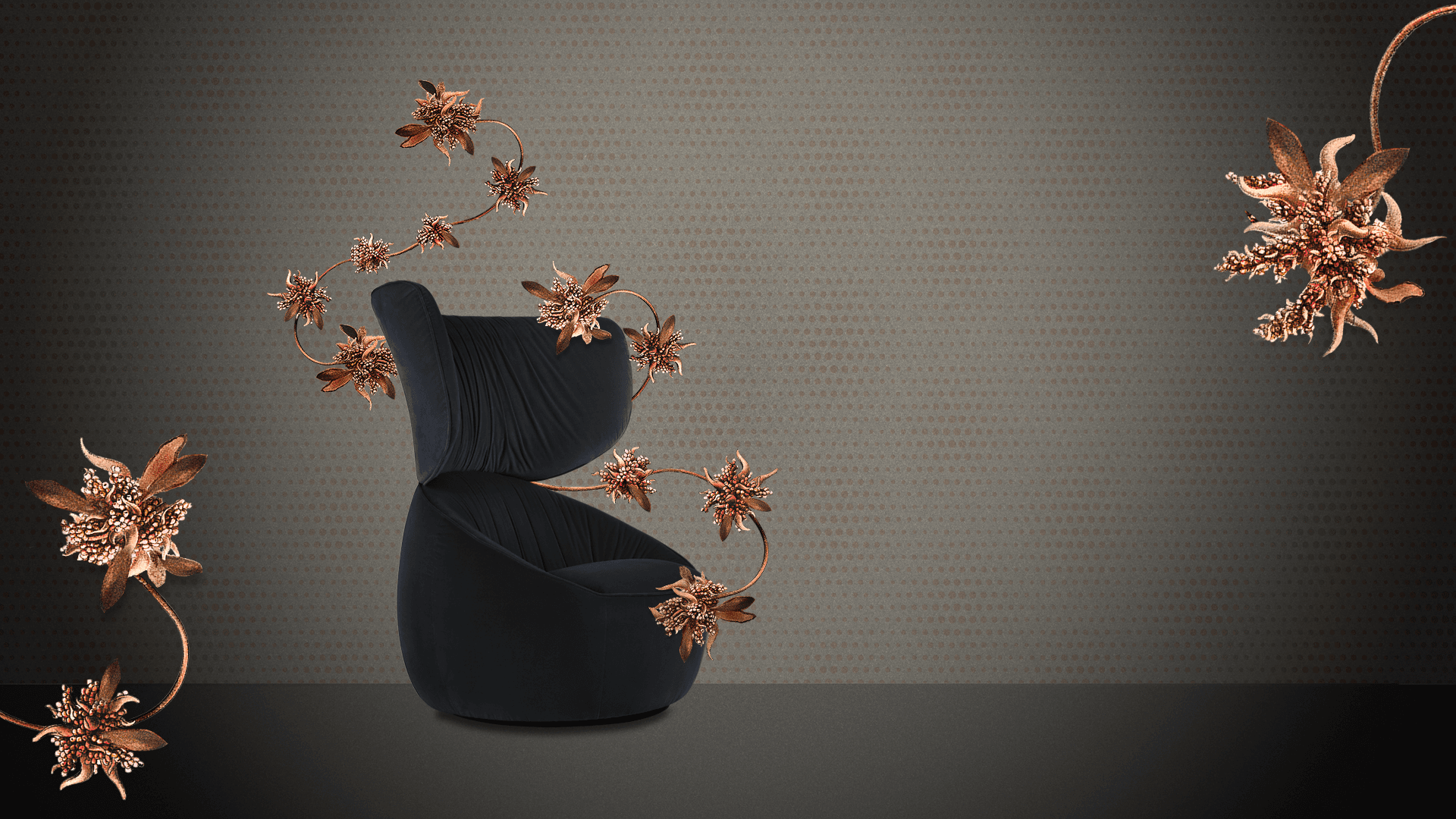 We all have that one moment in time and space where your mind always wanders back to. That quiet place, where you feel peaceful. Wouldn't you want to make that moment tangible? A physical place that pulls your mind in that tranquil state by just being there? Hana invites you to enter your own peaceful place. To breathe and relax in your own little corner of the world. Its design is made of soft, round curves and celebrates the beauty of stepping out the hustle and bustle of life. Hana Armchairs are designed by Italian designer Simone Bonanni (1989) and available worldwide from 12 September.
Hana means 'blooming' in Japanese, which perfectly fits the design as it unfolds like a flower in bloom. Make sure to discover the Hana during the official and global launch, which takes place from London during London Design Festival. The Hana plus other new design will be on view amidst a lavish flower installation.
"The Hana Armchairs are activators of your calm sensations. The design makes you feel like comfort has come to life while surrounding you with serenity and luxury"
Simone Bonanni
ANGLES & FACTS
Hana
Hana means 'blooming' in Japanese, which perfectly fits the design as it unfolds like a flower in bloom. Hana invites you to lay back, relax and let go in your own little corner of the world. The design is available in a normal version and one with a wingback (top). You can also choose for a swivel, which means you can turn the Hana around.
Simone Bonanni
Italian designer Simone Bonanni is responsible for the design of the Hana. His Obon Tables are already in Moooi's collection.
Join Moooi for a Q&A with designer Simone Bonanni
Discover the inspiration behind the Hana Armchairs during the press Q&A with designer Simone Bonanni in Moooi's London Showroom on 20 September from 9 – 11 am.
Global launch
Next to the launch during London Design Festival, Hana will be launched around the globe. You can find the new piece in Paris, Helsinki, Amsterdam and New York. Keep an eye on the website for an overview.
Other new design: Pooof by Moooi Works
During LDF Moooi also launches Pooof. Developed by Moooi Works, Pooof is the perfect companion for every sofa or seater due to its height and versatility in colours and fabrics.
Worldwide launch from Moooi London Showroom
Join us for the global launch of the Hana and Pooof from Moooi's London Showroom during LDF, amidst an Instagram worthy flower installation.
Special opening hours during London Design Festival
Especially for London Design Festival, Moooi's London Showroom is open daily on 14 & 16-21 September from 10 am – 6 pm. Be among the firsts to see the new designs and installation on display.
Protecting the future of design
The Hana Armchairs and Pooof contain The Button. With The Button, Moooi protects the future of good and authentic design!
COMPLETE PRESS RELEASE
The Hana Armchairs by Simone Bonanni
The Hana Armchairs by Simone Bonanni are a celebration of soft and round curves. Unfolding like a flower in bloom, Hana invites you to lay back, relax and let go in your own little corner in the world. With this new design, Moooi offers you a comfortable resolution for your busy routine.
The Hana is more than a seating object. It is sculptured around the human body and its need to be pampered and embraced for long stretches of time. The generous and subtle curves allow for hours of lounging to daydream, read a book and let your imagination fly. Where will you go nestled in the Hana?
About Simone Bonanni
Simone Bonanni (Italy, August 1989) grew up in Pordenone. He graduated from IED Istituto Europeo di Design in Milan in 2011. A year later he started at Marcel Wanders Studio in Amsterdam where he worked as a product designer and project leader for three years. He moved back to Milan in 2015, where he founded Simone Bonanni Studio.
Pooof
Pooof is your perfect companion at home and for every (Moooi) seater. Timeless, versatile, solid and soft. At first sight, the sturdiness of the firmly grounded Pooof would not let you imagine how flexible it really is.
Its versatility comes with the aesthetics and tactility of the different removable fabrics, leathers and covers you can choose for its upholstery. The easy-going design and height make Pooof the perfect comrade for almost every sofa and seater in the Moooi collection. Pooof is designed by Moooi Works.
Moooi London Showroom
Located in the centre of central London's district Fitzrovia, you find Moooi's London Showroom. Especially for the launches and London Design Week, the showroom will be open daily. Visit the showroom on 14 September and between 16 and 21 September to admire the new designs amidst an Instagram-worthy installation of flowers!
The Hana and Pooof contain The Button
The Hana Armchairs and Pooof are accompanied by Moooi's digital proof of authenticity: The Button. This personal safe-keeper accompanies every Moooi design. The incorporated NFC- technology in The Button makes counterfeiting impossible and acts as proof of authenticity. By introducing The Button in their designs Moooi makes its supports in original design tangible.
About Moooi
For almost twenty years Moooi has inspired and seduced the world with sparkling and innovative designs. The venture founded in 2001, is currently led by Marcel Wanders and Robin Bevers. Moooi is named after the Dutch word for beautiful – the third 'o' in the brand name stands for an extra value in terms of beauty & uniqueness.
Moooi doesn't tell designers what to do but listens to what designers want to make, trying to realise their dreams. Eclectic and always on the edge of commercial reality and cultural interest. To trigger, to create conversation pieces which make your environment more special, a life extraordinary.
NOTES TO THE EDITOR
Worldwide launch from:
Moooi London Showroom
23 Great Titchfield St, Fitzrovia
London W1W 7PA UK