16 May, 2023
Moooi
launches
brand-new
limited-edition
collectible:
the
Monster
Basketball
in
Pink!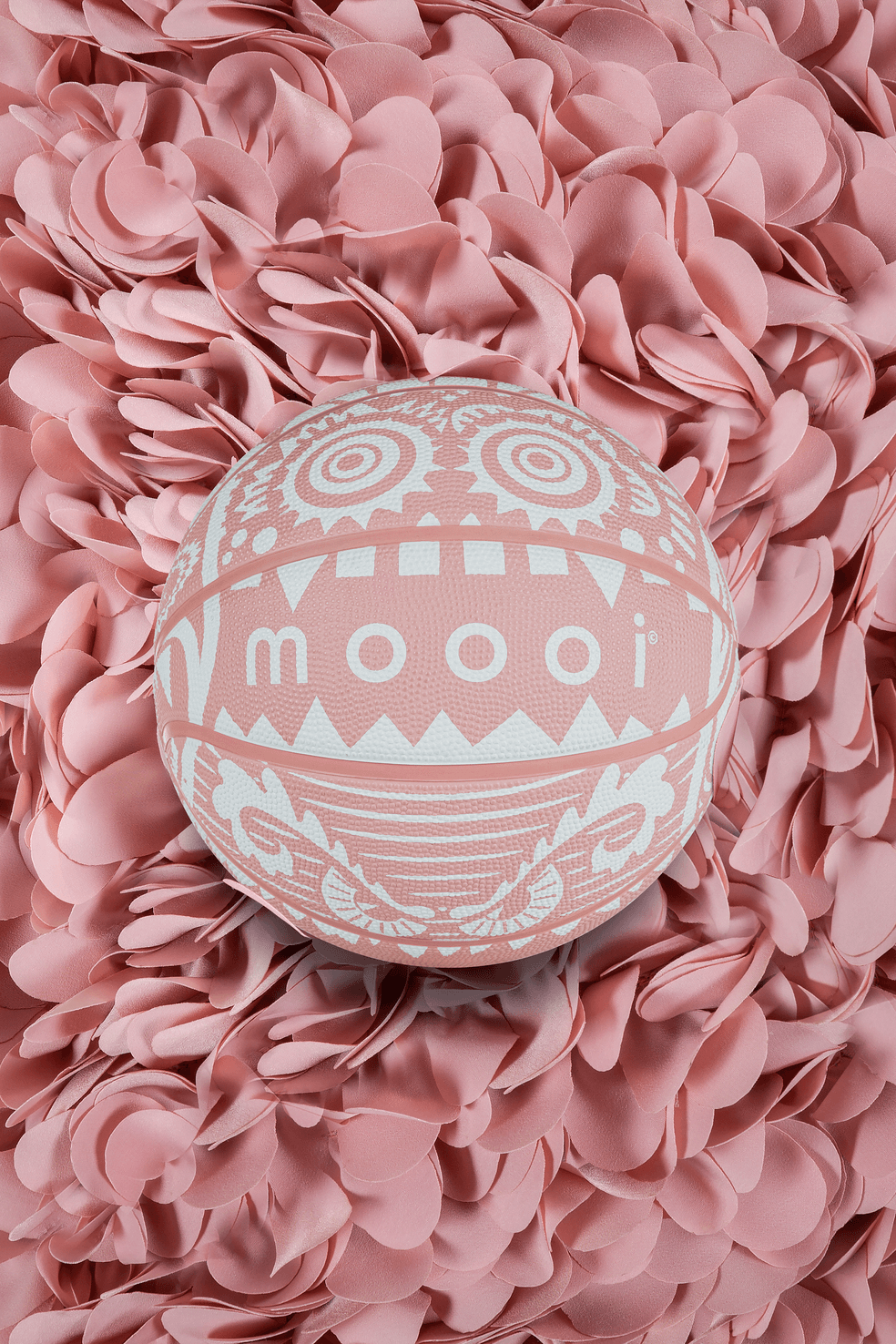 Get ready to add a touch of pink and playfulness to your basketball game with Moooi's latest limited-edition Monster Basketball! Lifestyle brand Moooi collaborated with Spalding again to bring us the limited-edition Monster Basketball by Marcel Wanders, this time in Pink! 
Just like their first black-and-white limited issue basketball, this pink edition is the perfect collectible for basketball fans and lovers of unexpected design. Made to be admired and played with, the ball features Marcel Wanders' iconic Monster graphics; six pairs of eyes that seem to follow everyone passing by. The Monster Basketball is worldwide available from 16 May on Moooi.com and at Moooi stores. 
The Limited-Edition Monster Basketball: Iconic Design, Playful Purpose
Don't miss your chance to own a piece of basketball and design history with the limited-edition Monster Basketball in Pink from Moooi! Before this pink limited edition, Moooi launched a black-and-white version of the Monster Basketball, which quickly became a popular collector's item being sold out within a month! The Monster Basketball is created in collaboration with Spalding, an innovative icon in the sports world since 1876.  
This means the ball is not only made for decorating your home but begs to be used as well. Feel like shooting some hoops? Take the ball with you to the basketball court. No matter if it's indoors or outdoors, the basketball is made from rubber so it can handle tough concrete without a hitch. The Monster Basketball ships inflated so you can enjoy it in your own driveway or backyard court right away. All that's left to do is show off this must-have item for sports and design lovers alike. 
Play or Display: the choice is yours with the Monster Basketball
So, you can start your scoring or put it on display in your living room. The Monster Basketball is definitely a conversation starter and adds a nice pop of colour to your home! The graphics printed on the ball are Marcel Wanders' iconic Monster eyes; six pairs of eyes, each with a different expression, that seem to follow every passer-by.  
The Monster Basketball comes with a round display holder to make sure it doesn't roll away when displayed. So, whether you want to give this eye-catcher a prominent place in your home or start playing right away, you can do so with ease. 
Created in collaboration with Spalding
Moooi's collaboration with Spalding to create the Monster Basketball is a celebration of craftsmanship, high-quality, and innovation. As a lifestyle brand that inspires and seduces with sparkling and innovative designs, Moooi partnered with Spalding, a trusted name in the sports industry known for producing high-quality equipment for basketball and other sports.  
The Monster Basketball combines Spalding's expertise in creating durable and reliable sporting goods with Moooi's eye for design and aesthetics, resulting in a unique and limited-edition collectible that is both a work of art and a functional basketball.
Official launch online and in New York
The Monster Basketball by Marcel Wanders will be officially launched online and in New York (USA) during ICFF + Wanted Design Manhattan. Along with the Monster Basketball, visitors will also get to see some of Moooi's latest releases during Milan Design Week 2023. The Knitty Lounge Chair by Nika Zupanc will be present at ICFF's welcome lounge in the Javits Center. The Pallana Light by IDEO and Moooi x EveryHuman are visible in Moooi Store New York. The brand-new Pallana Light is a playful suspended task light that supports you in the balancing act that is daily life. Moooi x EveryHuman is a bespoke room fragrance experience powered by AI. With this impressive line-up on display, visitors can expect to see some of the most innovative designs in the market. ICFF + Wanted Design Manhattan takes place from 21 to 23 May 2023. 
About Moooi 
For over twenty years, Moooi has inspired and seduced the world with sparkling and innovative designs. The venture founded in 2001 is currently led by Marcel Wanders and Robin Bevers. Moooi is named after the Dutch word for beautiful – Mooi. The third 'O' in the brand name stands for an extra value in terms of beauty and uniqueness. Moooi does not tell designers what to do, but listens to what designers want to make, and realises their dreams. Eclectic and always on the edge of commercial reality and cultural interest. To trigger, to create conversation pieces which make your environment more special. With their multi-sensorial approach, the lifestyle brand merges the physical with the digital. A Life Extraordinary!
About Marcel Wanders 
Marcel Wanders is a renowned product and interior designer who has created over 1,900 iconic designs for private clients and premium brands such as Louis Vuitton and Audi. His work has been celebrated in renowned art and design museums all around the world. Marcel Wanders' mission is to bring the human touch back to design and to create an environment of love, passion, and excitement. He focuses on holistic solutions rather than just the technical aspects of design. He prefers to bring the human touch back to design, bringing together the designer, craftsperson, and user. His work excites, provokes, and polarises. It never fails to surprise for its ingenuity, daring and singular quest to uplift the human spirit, and entertain.
About Spalding 
Spalding is a sporting goods company known for producing high-quality equipment for basketball, volleyball, football, and other sports. Founded in 1876, Spalding has been a trusted brand in the industry for over a century, providing athletes at all levels with the tools they need to succeed. The company has a rich history in basketball, having produced the official NBA basketball for over 30 years and being the official ball of the NBA and WNBA. Over the years, Spalding has collaborated with a number of high-profile brands and individuals to create unique and innovative products.
Interview + More information  
Interested to learn more about the Monster Basketball? Would you like to schedule an interview with the designer, or do you have any questions about our collection, collaborations, or a different topic? Contact Stèphanie de Kanter, global PR at Moooi, via press@moooi.com