20 May, 2019
Moooi
launches
novelties
Plant
Chandelier
and
Liberty
Table
in
New
York
during
NYCxDesign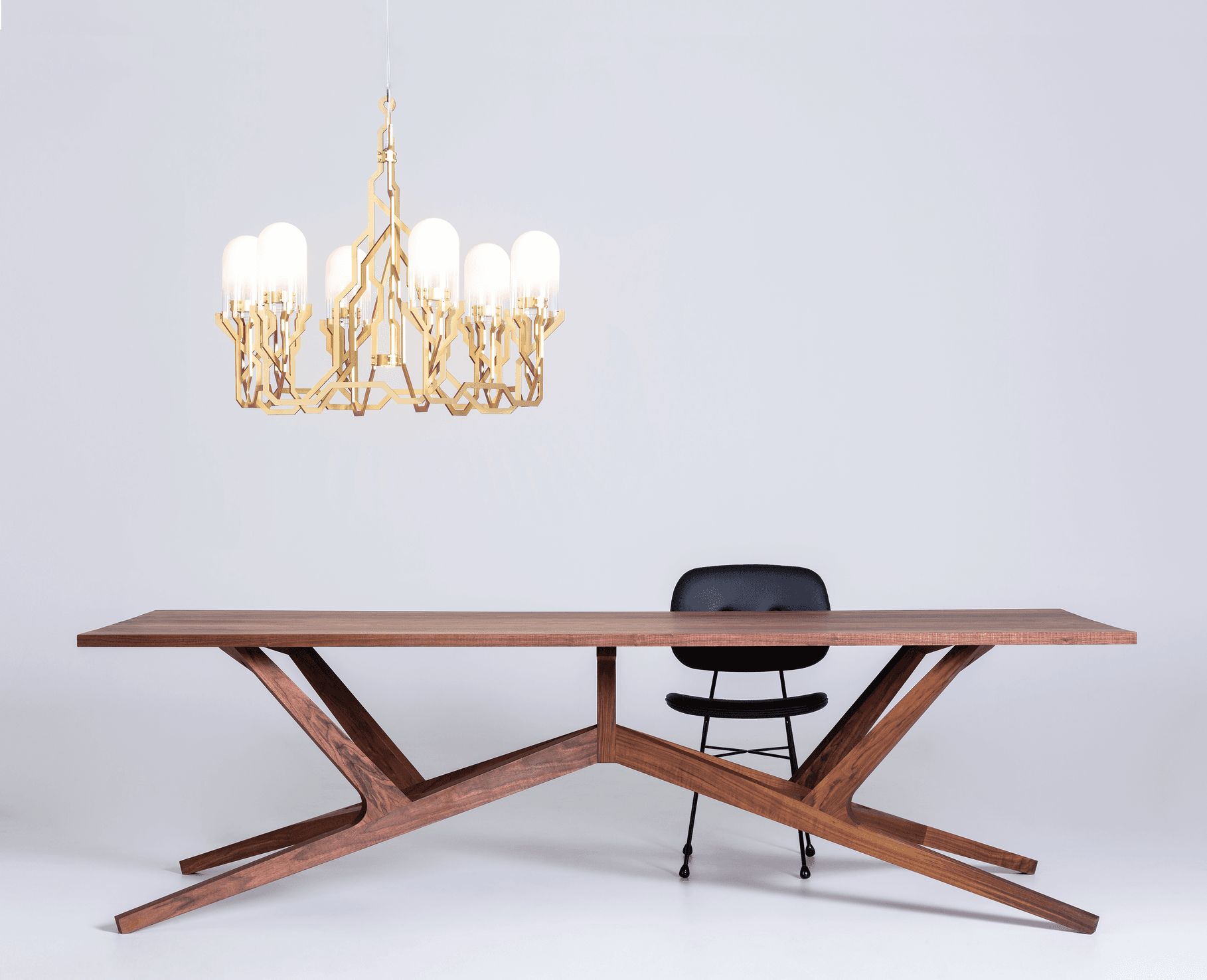 Nature is a source of inspiration for designers and artists alike. This goes to show in Moooi's latest novelties which launch in New York in celebration of NYCxDesign. Atelier Van Lieshout is turning an artwork into a design object with their new The Liberty Table, which combines craftmanship with organic forms. Dutch Design duo Kranen/Gille is inspired by nature's unpredictability which marvels in their design called Plant Chandelier. Both novelties strongly embody Moooi's vision of making designer dreams come true.
QUOTES
'Thoreau once said: Disobedience is the true foundation of liberty. Liberty table does not follow the rules of design, it isn't logical and therefore it is true to its name'
Joep van Lieshout
'Nature knows exactly what it is doing; a thunderbolt and branch are in the basis just the same. It doesn't need a plan to show us perfection'
Kranen/Gille
ANGLES & FACTS
Moooi New York Brand store & Showroom
Be the first to see the completely revamped Moooi New York Brand store & Showroom (3.875 Sq. Ft / 360 M2) with the latest design from e.g. Moooi Carpets, Moooi Wallcovering and Bernhard Dessecker.
Novelties: Plant Chandelier
The Plant Chandelier, designed by Kranen/Gille, captivates the architectural uniformity in nature's design, with its branches that grow and spread in definite directions.
Novelties: Liberty Table
The Liberty Table by Atelier Van Lieshout is the long-awaited table that goes hand in hand with the Liberty Lounger. Made out of American chestnut this robust table can elevate any interior and is a true work of art.
WantedxDesign
Moooi participates in WantedxDesign Manhattan from May 18-21 during NYCxDesign, New York's celebration of global design.
Worldwide Launch
At Moooi we believe in the beauty of surprise. Therefore, Moooi started More Moooi Moments, a strategy to launch novelties year-round. This new way of launching provides the opportunity to create momentum plus a worldwide stage for all our new products and their designers.
COMPLETE PRESS RELEASE
Liberty Table
The Liberty table, designed by Atelier Van Lieshout, is a typical example of artwork turned into a design object, just like the earlier released Liberty Lounger. With the Liberty Table, Atelier Van Lieshout continues to address the New Tribal Labyrinth and "Arts and Crafts" movement with traditional craftsmanship and using simple forms.
In the New Tribal Labyrinth, Atelier Van Lieshout envisions a fictional, future – utopian – society, where people would organize themselves in tribes; while dedicating their lives to industrial production and the manufacturing of raw materials.
The clean lines and the sturdy wood of the Liberty Table revoke a sense of nostalgia for rural traditions and living in the countryside while combining it with modern day luxury.
Plant Chandelier
The Plant Chandelier, designed by Kranen/Gille, captivates the architectural uniformity in nature's design, with its branches that grow and spread in definite directions."The Plant Chandelier is part of a small collection of several 'Plant' designs and was designed and developed especially for the NoordBrabants Museum in The Netherlands.
The philosophy behind its design is the imitation of nature's structures, while indulging in the poetry of their beauty. Inspired by the linear patterns of Karl Blossfeldt's plant photography, and unrestricted by cables or wires, the Plant Chandelier is free to elegantly bloom towards the ceiling. Its silhouette follows the anatomy of sun-kissed tree branches, with a golden glow, which converges into frosted domes of light.
The Button
The Plant Chandelier and Liberty Table are accompanied by Moooi's digital proof of authenticity: The Button. This personal safe-keeper accompanies every Moooi design. The incorporated NFC- technology in The Button makes counterfeiting impossible and acts as proof of authenticity. By introducing The Button in their designs Moooi makes its supports in original design tangible.
Moooi New York Brandstore & Showroom
A life extraordinary in full form that's what the revamp of the Moooi New York Brand store & Showroom is all about. Located in New York's Nomad area at 36 east, 31st Street the store is a must visit for all art lovers and design devotee. Expect to be inspired by Moooi designs that are always whimsical, original and slightly rebellious. Presented are e.g. the Quiet and Nordic Collection from Moooi Carpets, the Extinct Animals Collection by Moooi Wallcovering, two BFF Sofa's by Marcel Wanders, the Something Like This Sofa by Maarten Baas and The Iconic Eyes Bernhard Dessecker.
About Moooi
For almost twenty years Moooi has inspired and seduced the world with sparkling and innovative designs. The venture founded in 2001, is currently led by Marcel Wanders and Robin Bevers. Moooi is named after the Dutch word for beautiful – the third 'o' in the brand name stands for an extra value in terms of beauty & uniqueness.
Moooi doesn't tell designers what to do but listens to what designers want to make, try to realise their dreams. Eclectic and always on the edge of commercial reality and cultural interest.