7 June, 2022
Moooi
presents
A
Life
Extraordinary
Envisioned
by
LG
OLED
during
Milan
Design
Week
2022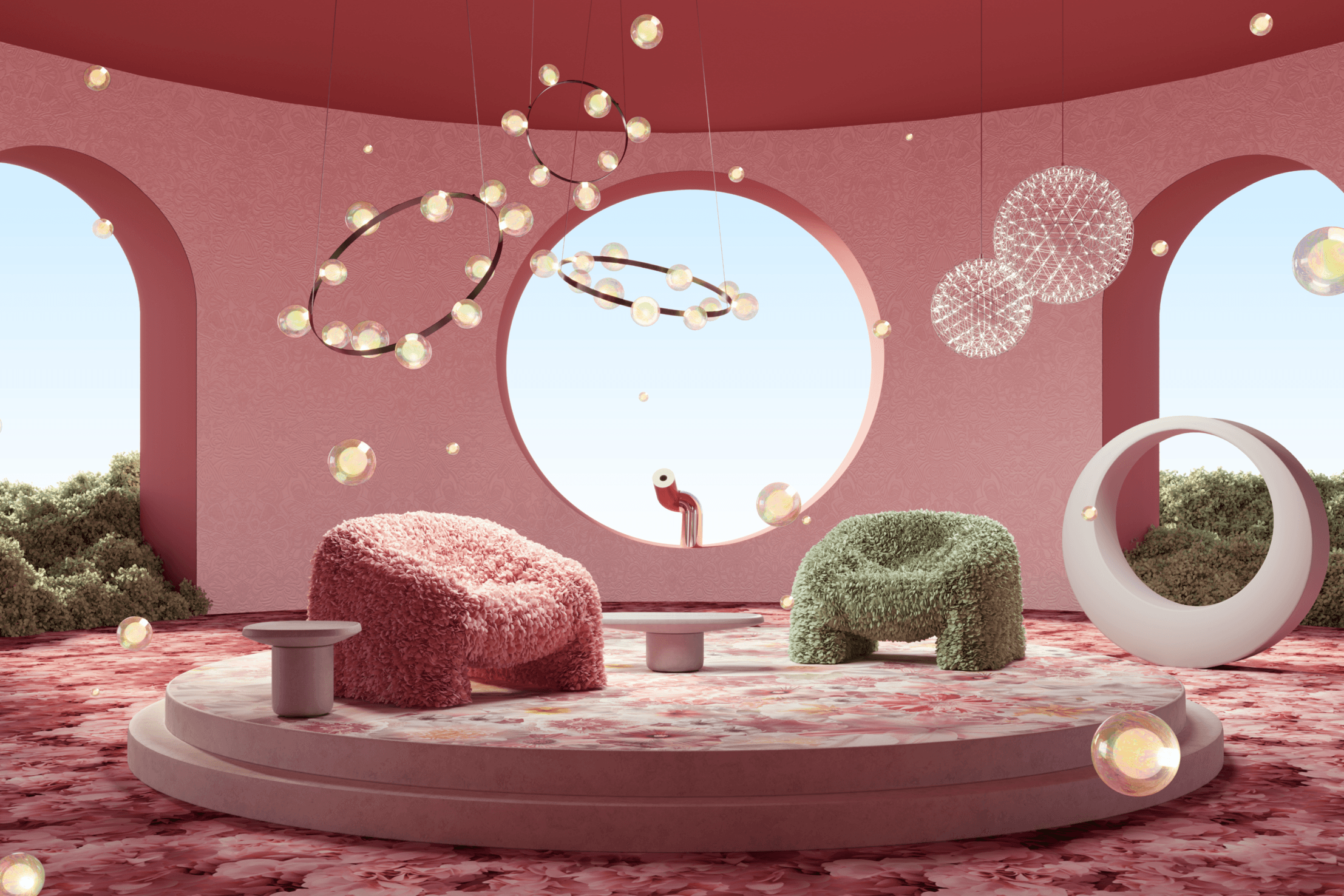 This year, during Milan Design Week, Moooi presents a multi-sensory exhibition taking place online and live in Milan. The lifestyle brand does things differently this year. They focus on both a digital and a traditional physical experience, combining the finest of design, lifestyle, and technology. Moooi's "A Life Extraordinary" in Milan is envisioned by LG OLED in Salone dei Tessuti at Via S. Gregorio, 29, 20124, Milan.
With their 'Portal', Moooi creates an immersive environment, fashioned as four interior moods, where the worlds of design and technology intersect. The lifestyle brand delves into robotics with IDEO—the legendary global design firm— adding another sensorial layer to Moooi's 'A Life Extraordinary'. In Milan, IDEO introduces 'Piro' a dancing scent diffuser that makes Moooi's interior moods come alive through scent and interaction. Moooi invited Stockholm-based artist Ada Sokół to further deepen their digital and technological approach. Sokół is known for her ultra-sensory experiences and for A Life Extraordinary she used her expertise to transform Moooi's Extinct Animals into engaging 3D art. In addition, Moooi presents new products designs and extensions by Italian designer Cristina Celestino, Swedish design-duo Front, and digital designer & artist Andrés Reisinger & Júlia Esqué. Also on display are a brand-new bedding collection, and wall covering and carpet collections. Discover A Life Extraordinary from 7 June 2022 in Milan and via Moooi.com. 
Moooi X IDEO
In line with their phygital exploration, Moooi's exhibition has a focus on technology thanks to teaming up with IDEO. This US-based design company is known for its human-centred and interdisciplinary approach. When IDEO & Moooi come together, this is what you get. The synergy between two like-minded brands creates something never-seen-before. The already multi-sensorial collection and approach of lifestyle brand Moooi levels up this spring, becoming ultra-sensorial with a technological twist.  
Moooi and IDEO's ultra-sensorial installation, called 'Piro', brings the best of design, interior, and technology together. These robotic-driven dancing innovative scent machines will welcome visitors to the exhibition and are scattered throughout the space, adding another sensuous layer. Piro's movements are carefully choreographed by dancer, choreographer, and roboticist Catie Cuan. This immersive installation between Moooi and IDEO is an exploration of the question: 'How might we employ technology in service of beauty rather than efficiency?' At the exhibition these two design cultures will unite to showcase one imaginative, delightful response. 
"Our world is often heavy with its physicality. A Life Extraordinary 2022 blends our physical world with the digital world. We will be more together and embrace and infuse the possibilities of technology into our homes, our interiors. The past, present, and future are one and the same. Just like the digital and physical world are. With our 2022 exhibition, we've created the base of what is yet to come."
– MARCEL WANDERS, FOUNDER & CREATIVE DIRECTOR MOOOI 
Moooi, envisioned by LG OLED
Moooi's A Life Extraordinary is envisioned by LG OLED. The two brands, operating in different industries, have a common denominator in serving creative communities through extraordinary design. LG works with artists and museums worldwide and widened this focus on collaborating with Moooi, a creative brand that invests in technology. LG is embarking on a path with technological products that elevate the world of interior design and lifestyle. With Moooi's focus on the digital landscape and technology, collaborating with an international tech company like LG makes sense. Their mutual endeavour in combining lifestyle design and technological advancements truly brings the multisensorial aspect of A Life Extraordinary to new heights.  
LG enhances the digital vision of Moooi with their to-be-released TV products of the LG OLED Objet Collection; Easel (65Art90) and Posé (LX1). The LG Easel will be shown for the first time in Europe. The LG Posé will have its world-wide debut in Milan. LG's showcased lifestyle OLED TV models differ from conventional TVs because of their unique form factors and finishes that represent an exciting new direction for television. Moooi envisions A Life Extraordinary with other LG products in their exhibition, such as the 'LG Curved OLED Signage' screens, award-winning audio systems LG sound bar Eclair and XBOOM 360 speaker, and much more. 
"A Life Extraordinary 2022 has a focus on product design, interiors, and technology, with togetherness as common denominator. The boundaries between on- and offline are close to near obsolete. The digital world has a prominent place in our homes and lifestyles. Teaming up with legendary design-firm IDEO heralds the start of a future-minded collaboration that transcends the established goings-on of the worlds of interior design and lifestyle."
– ROBIN BEVERS, CEO MOOOI 
Step through The Portal into the world of Moooi  
Moooi, the international lifestyle brand, presents a unique way of showcasing their exhibit this year during Salone del Mobile. Before entering the exhibit on via San Gregorio 29, A Life Extraordinary begins in the courtyard with a bright O you need to walk through. This 'O' shields the rest of the exhibition, that begins after stepping through, from passers-by. But, in spirit of togetherness, Moooi also introduces The Portal, a digital doorway fashioned after the one in Milan, that uses Augmented Reality to transport visitors to the world of Moooi. Meaning you don't have to be in Milan to experience A Life Extraordinary. For all press inquiries and imagery please contact: Moooi HQ, press@moooi.com, T +31 (0)6 11 28 25 05 All information available at our press room area at moooi.com/press With The Portal, everyone can discover the Moooi exhibit; and experience A 'Digital' Life Extraordinary together without having to travel.  
By focusing on online togetherness, Moooi explores the possibilities of using a combination of physical and digital technology to bridge the digital world with the physical world. This philosophy will provide a unique experience for everyone with an internet connection. This widespread approach will bring lovers of interior design, lifestyle, and technology together. 
Moooi's Interior Moods 
Moooi brings you its interior moods online, as well as recreate them in the physical world in their Milan exhibition. Those interior moods are what you'll experience when stepping through The Portal. Find yourself surrounded by the pink-hued landscape of Beauty Blooms; submerged in the deep waters of Defy Gravity; or between the colourful folds of Paper Play. Moooi's interior moods were launched in 2021 and are still accessible on Moooi.com. By scrolling, you go on a journey enhanced by visual and musical storytelling. The Portal uses Augmented Reality to allow you to go even deeper into these imaginative moods. Wandering through them as you would in real life.  
The online interior moods, Beauty Blooms, Defy Gravity, and Paper Play will also become tangible in Moooi's exhibit in Milan. The online interior moods each revolve around a new product design. Beauty Blooms revolves around the Hortensia Armchair by Andrés Reisinger and Júlia Esqúe. The Gravity Chandelier by Paul Cocksedge is the centrepiece of Defy Gravity. Paper Play revolves around Plié Plissé by Lukas Bazle, with an extra stage for No Screw No Glue by Joost van Bleiswijk. The designs in the interior moods are complemented by Moooi Original designs, room fragrances, carpets, and wall coverings. During Salone del Mobile, Moooi will present a new interior mood called Divine Dreams. This mood will revolve around a new design 
Artist centre stage for Ada Sokol 
Complementing the exhibition by Moooi are works of 3D artist- and designer Ada Sokół. Given access to Moooi's imaginative Extinct Animals, Sokół expertly created digital worlds in which the Mimic Moth, Queen Cobra and Golden Tiger can flourish. Basking in their digital but natural habitat, the Extinct Animals not only come alive, but play with every onlooker in Milan and online. Ada Sokół's works are an ultra-sensory experience, based on oneiric scenery resembling visions of the far future. Sokół doesn't like being restricted to reality and plays with the infinite possibilities of digital surrealism. Her sensorial approach is a perfect match with the multi-sensorial nature of the (digital) world of Moooi. 
NEW! Aldora Sofa by Cristina Celestino
During Salone del Mobile, Moooi will launch a brand-new design by Milanese designer Cristina Celestino called the Aldora Sofa. This iconic seater with its soft feminine shapes stands out from the crowd because of its impressive and sculptural backrest. See Attachment 1 – New designs by Moooi for more information.
NEW! Serpentine Light by Front 
During Salone del Mobile, Moooi launches the Serpentine Light by Swedish design collective Front. An airy suspension lamp, created with intricate twists and turns. See Attachment 1 – New designs by Moooi for more information.
Get in bed with Moooi  
During Salone del Mobile, lifestyle brand Moooi shows the brand-new Extinct Animal Bedding Collection. The brands' first-ever bedding venture comprises everything you need to make your bedroom the most inviting space in your home. See Attachment 4 – Press Release Moooi Extinct Animal bedding collection for more information. 
New carpets by Moooi Carpets
Moooi Carpets will present a range of new signature carpets by four different designers: Swedish design collective Front, Italian designer Christina Celestino, British designer Kit Miles, and Dutch designer Sjoerd Vroonland. See Attachment 1 – New designs by Moooi for more information.  
Love life with the Memento Moooi Wallcovering collection
Also visible at Moooi in Milan will be Moooi's third Moooi Wallcovering collection: Memento Moooi. See Attachment 2 – Press Release Memento Moooi Wallcovering Collection for more information. 
New petal colours for the Hortensia Armchair
From 7 June the Hortensia Armchair by Andrés Reisinger and Júlia Esqué will be available in three new colours. See Attachment 3 – Press Release Hortensia Armchair for more information. 
About Moooi
For twenty years, Moooi has inspired and seduced the world with sparkling and innovative designs. The venture founded in 2001 is currently led by Marcel Wanders and Robin Bevers. Moooi is named after the Dutch word for beautiful – Mooi. The third 'O' in the brand name stands for an extra value in terms of beauty and uniqueness. Moooi does not tell designers what to do, but listens to what designers want to make, and realises their dreams. Eclectic and always on the edge of commercial reality and cultural interest. To trigger, to create conversation pieces which make your environment more special, a life extraordinary.
About IDEO 
IDEO is a design and consulting firm with offices in the U.S., England, Germany, Japan, and China. It was founded in Palo Alto, California, in 1991. The company's 700+ staff use a design thinking approach to design products, services, environments, and digital experiences. IDEO is known for its human-centred, interdisciplinary approach. As early leaders in the practice of design thinking, they create positive impact through design by applying a creative mindsets and skills, and by teaching others to do the same. They help clients and customers around the world build the capacity and outcomes required to navigate today's complexity and lead their markets.  
As problem solvers, IDEO drives change, builds new ventures, and designs digital and tangible experiences in business, social, and governmental sectors through co-creation with their clients. As teachers, they help individuals, teams, and organisations cultivate the confidence they need to step into the future with optimism and creativity. 
About LG Electronics Home Entertainment Company 
The LG Home Entertainment Company is an industry leader in televisions and audio-video systems and a globally recognized innovator for its leadership in OLED TVs which is revolutionizing the premium TV category. LG is committed to improving customers' lives with innovative home entertainment products led by award-winning OLED TVs and QNED Mini LED TVs featuring Quantum Dot NanoCell technology and sound solutions with sustainable design. For more news on LG, visit www.LGnewsroom.com. 
About Ada Sokol
Ada Sokół is a 3D artist & designer. Her works allow the viewers to glance into her extraordinary imagination and offer a glimpse into her perspective of the beauty surrounding us. Subtlety, femininity, magic – those keywords are the most accurate way to describe her aesthetic. Her works are an ultra-sensory experience, based on oneiric scenery resembling visions of the far future. Her renders' themes and main inspirations are creatures and phenomena from the surrounding environment – water bears, sea dragons, orchids or fungi.  
As an independent entity, Ada quickly made her way to embody a solid, self-made 3D brand. During the years spent in Paris and London, her unique style developed during collaborations with Nike, Apple, Louis Vuitton, Valentino, Rimowa or Gentle Monster on global campaigns, videos and multimedia installations. Recently, she has already appeared on multiple exhibitions (Miami Art Basel, Dubai Expo) and debuted as an academic lecturer at Swiss ECAL. Overall, her works have been exhibited worldwide, from Beijing, New York, Los Angeles to London or Paris.
Interview + More information 
Interested to learn more about A Life Extraordinary in Milan and online by Moooi? Want to do a virtual coffee via zoom? Or have a burning question about a different topic? Contact Stèphanie de Kanter, global PR at Moooi, via press@ moooi.com or call +31 (0) 6 112 825 05.