1 March, 2022
The
Heracleum
III
Linear
is
exactly
what
your
dining
table
or
kitchen
island
needs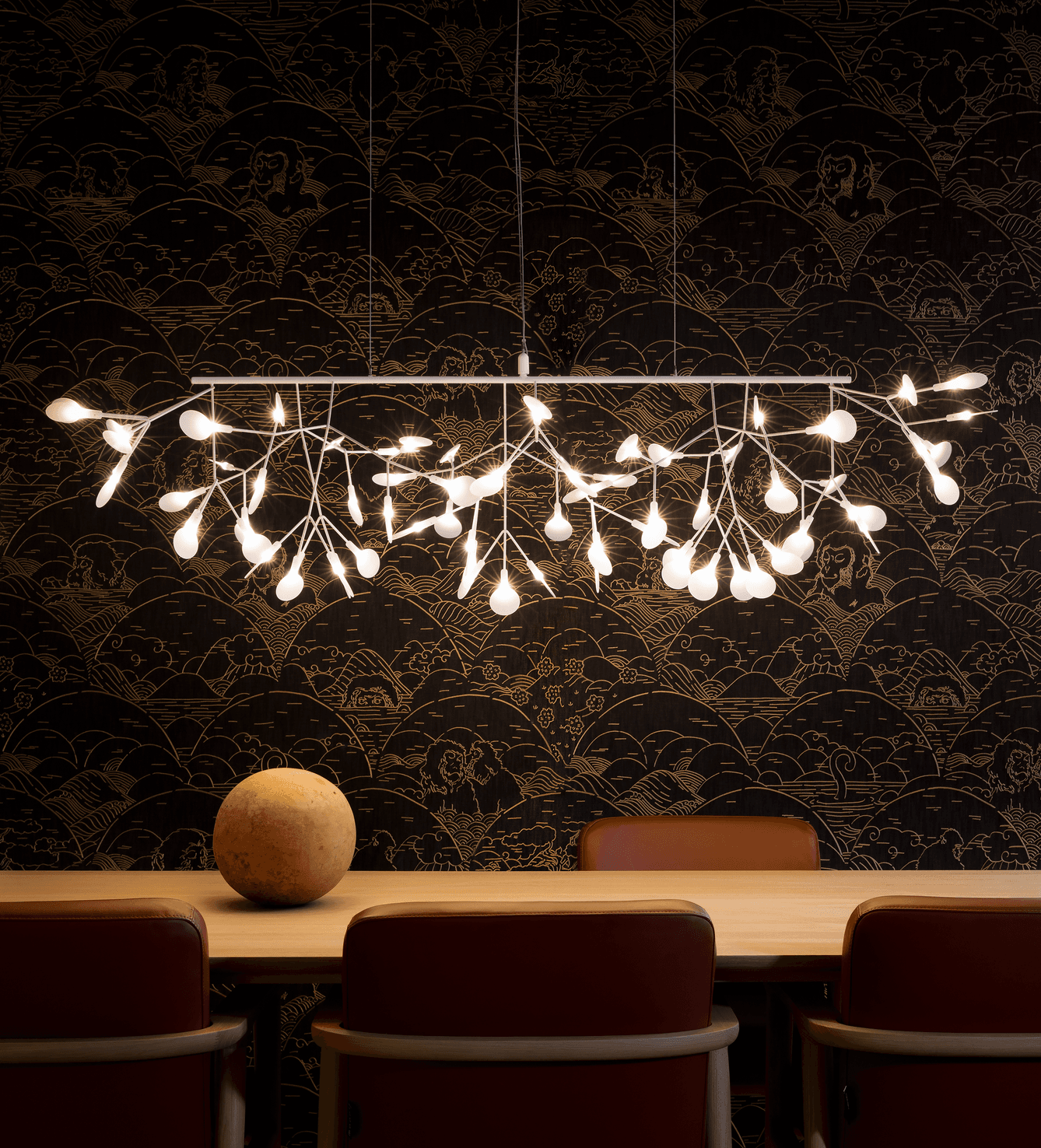 Choosing the right lighting fixture can be a difficult task. Especially when you're looking for a design that fills up the space in a nonobtrusive way while providing enough light. On 1 March, lifestyle brand Moooi launches the Heracleum III Linear by Dutch designer Bertjan Pot. 
The new Heracleum III Linear by Bertjan Pot is Moooi's latest lighting design and is exactly what you're looking for hanging over your dining table or kitchen island, or any rectangular space that needs elegant but functional lighting. Heracleum III Linear is available worldwide from 1 March via Moooi.com, Moooi Brand Stores, and selected dealers. 
Heracleum III Linear is the brightest of all
The Heracleum III Linear, available in three colours, is inspired by the flowering plant of the same name. Its bloom frozen in time, is where nature meets technology. The white leaves ramify from one branch, creating a very technical, natural structure. This new design in Moooi's Heracleum family is the brightest of all. It contains a new driver, making it compatible with their Wireless Wall Switch, and new LEDs; together they offer a higher light output that creates a warm glow. Don't confuse the new Heracleum III Linear with the Heracleum Endless. Look closely and you'll see blossoms gently sweeping upwards at either side, making the Heracleum III Linear perfect to hang above long surfaces, like your dining table or kitchen island.
Heracleum Family
Since its introduction, Heracleum, by Bertjan Pot, is a strong presence in the Moooi Collection. Like almost all Bertjan Pot's designs, the Heracleum started out as an experiment. The Dutch designer loves exploring the possibilities of a material. For Heracleum, he experimented with LED lights. He tried lighting many LED lights simultaneously and experimented with bundles of electrical wires shaped into a branch structure. With its perpetual blossom of sprigs, there is hardly a limit to the Heracleum family. It branches out in straight lines, hanging in circles, and forming square geometric shapes. The Heracleum now comprises four designs in different sizes and colours.
Heracleum Family update
Moooi honours their Moooi Original designs by further improving them. Therefore, the technical improvements in the new Heracleum III Linear, the driver and LEDs, will be implemented in the entire Heracleum family soon.
"For me, the Heracleum is a lot more about math than nature, but somebody else might use it because they're all about flowers. I always like it when there's more than one story about a product." — BERTJAN POT, DESIGNER HERACLEUM
A world of dimming possibilities
The Heracleum III Linear is a new design in the Heracleum family with improved technology. It contains a new driver and LEDs for better light output. With its new driver, the Heracleum III Linear dims to dark and can be used with DALI and Push dimming. Owners of a Heracleum III Linear can use the well-known dimming accessories Casambi, 0-10V and Zigbee 3.0 to integrate with Philips Hue, Apple HomeKit, Google Home or Amazon Alexa. So, options aplenty, but if you want an easy way for dimming, use Moooi's Wireless Wall Switch. The easiest and quickest way to have a full dimming range, dim-to-dark, in your home.
Full control of your Moooi lighting with the Wireless Wall Switch
Every moment of the day or even your mood requires specific lighting. With Moooi's Wireless Wall Switch, you'll have full control over your Heracleum III Linear with one touch. There's no need to change your home's wiring. The Wireless Wall Switch component needs no electricity (excluding the 110V version). It works with an energy harvesting technique, which means when you use it; it charges itself. The full dimming range provides bright light perfect for when you're working or cooking. And when night falls, you can dim your lights to match the moment with one simple touch.
The Button
The Heracleum III Linear is accompanied by Moooi's digital proof of authenticity: The Button. This personal safe keeper accompanies every Moooi design. The incorporated NFC-technology in The Button makes counterfeiting impossible and acts as proof of authenticity. By introducing our designs, Moooi makes their support in original design tangible.
About Bertjan Pot
Designer Bertjan Pot (1975 – Nieuwleusen, The Netherlands) is probably best known for his Masks and Random Light (1999). All his designs start out as a material experiment. The outcome is usually an interior product that shows a fascination for techniques, structures, patterns and colours. Most experiments start impulsively, driven by curiosity about how things could function or look. From there, Bertjan takes on challenges with manufacturers to explore possibilities and push boundaries where he can. Every challenge brings a new reward.
About Moooi
For over twenty years, Moooi has inspired and seduced the world with sparkling and innovative designs. The venture founded in 2001 is currently led by Marcel Wanders and Robin Bevers. Moooi is named after the Dutch word for beautiful—the third 'O' in the brand name stands for an extra value in terms of beauty and uniqueness. Moooi doesn't tell designers what to do, but listens to what designers want to make, and realises their dreams. Eclectic and always on the edge of commercial reality and cultural interest. To trigger, to create conversation pieces which make your environment more special, a life extraordinary.
Interview & more Information
Interested in learning more about the Heracleum III Linear? Want to do a virtual coffee via Zoom? Or have a burning question about a different topic? Contact Stèphanie de Kanter, global PR at Moooi, via press@moooi.com or call +31 (0) 6 11 28 25 05.