Konnichiwa! Say hello to Moooi Tokyo Blue. This capsule collection within the Moooi Extinct Animals Wallcovering collection is infused with Japanese cultural and natural elements. Inspired by the distinct features and surroundings of the Indigo Macaque.
The Indigo Macaque, member of the Extinct Animals family, lived in the snowy Japanese mountains. Their thick blue fur protected them from the icy conditions, but occasionally they would roll down the mountains, through the lush forests to bathe in their favourite relaxing spot, the hot springs. The unusual colour of their fur came from the Indigo plants growing in the hot springs. Giving of their deep blue colour, staining the waters.
Besides nature, Japanese culture heavily influenced the collection. You'll discover timeless symbolism and distinctive elements such as shoji screens, tatami mats, and Seigaiha patterns. Moooi Tokyo Blue is made from exclusive materials and techniques such as marquetry, natural weaves, and the revolutionary denim we discovered and use for our collection's upholstered designs.
Early 2019 Moooi Wallcovering introduced its first collection. Taking inspiration from the Museum of Extinct Animals. The release of Moooi Wallcovering was a stellar success! Captivating designs such as Menagerie of Extinct Animals and Dodo Pavone, all made from high-end materials, turned out to be icons in the making. Moooi Tokyo Blue expands this extraordinary collection with its own oriental story.
For more information visit moooiwallcovering.com
Moooi Tokyo Blue
By Moooi Wallcovering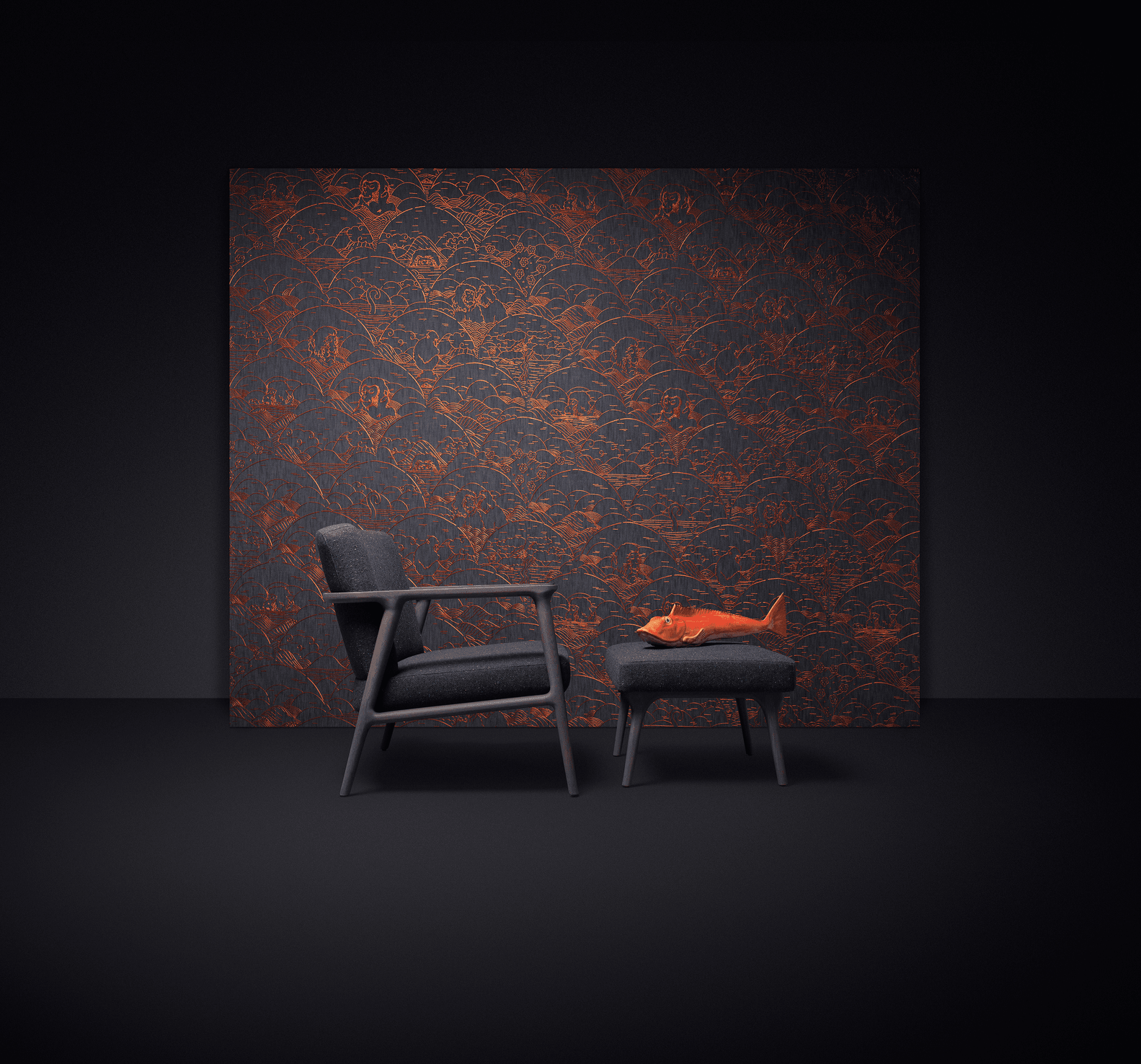 Indigo Macaque
Textile wallcovering made from denim, with copper-coloured embroidery. The copper design on the Indigo Macaque wallcovering displays a playful scene of Indigo Macaque families bathing in their favourite relaxing spot: the hot springs at the foot of the Japanese mountains.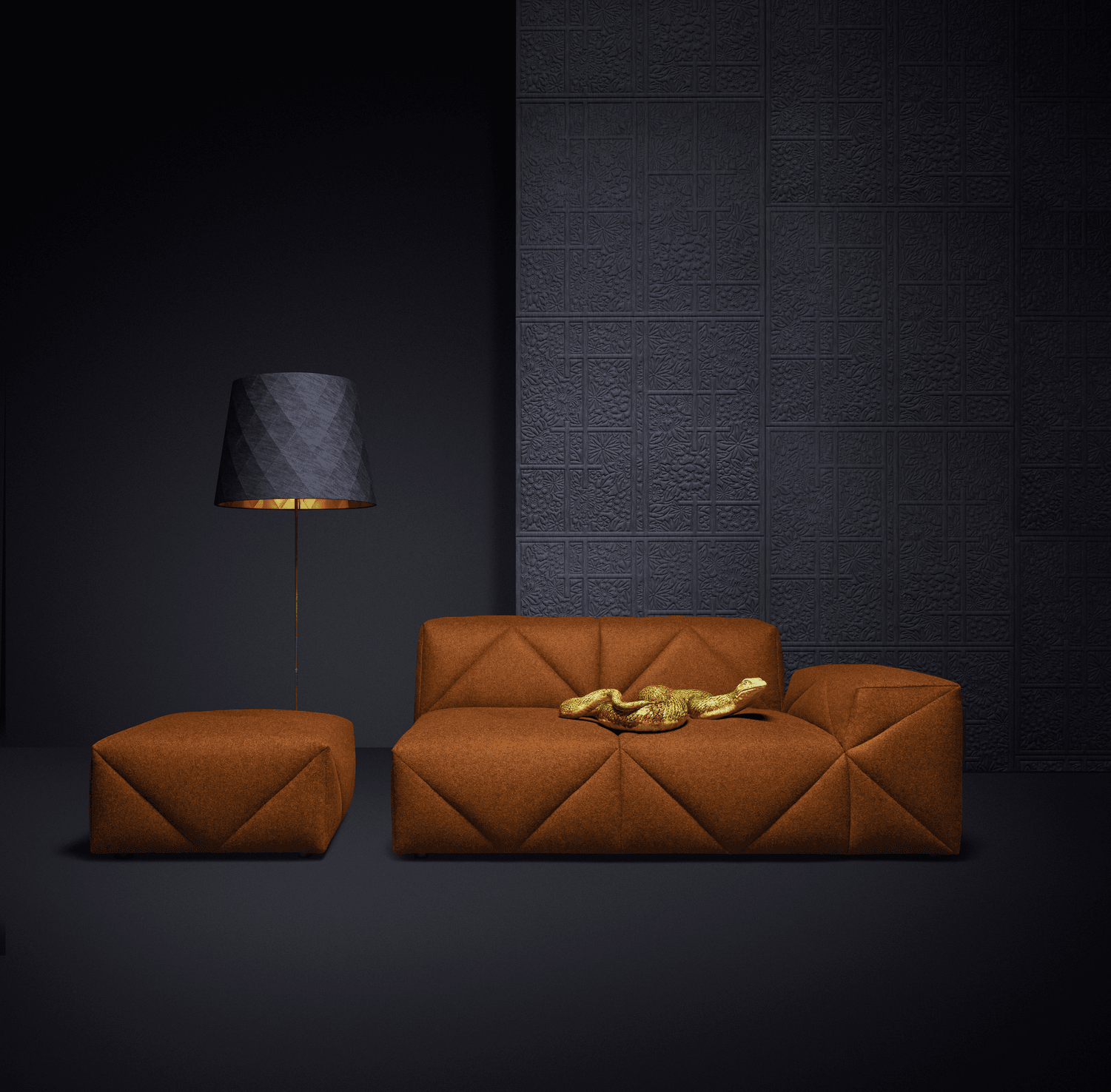 Shoji Blossom
Symbolic cherry blossoms and straight lines resembling the minimalistic feel of Japanese Shoji screens. Opposed to the contrast of pink hues on translucent washi paper, this 3D Wallcovering made from denim or felted wool radiates tranquillity.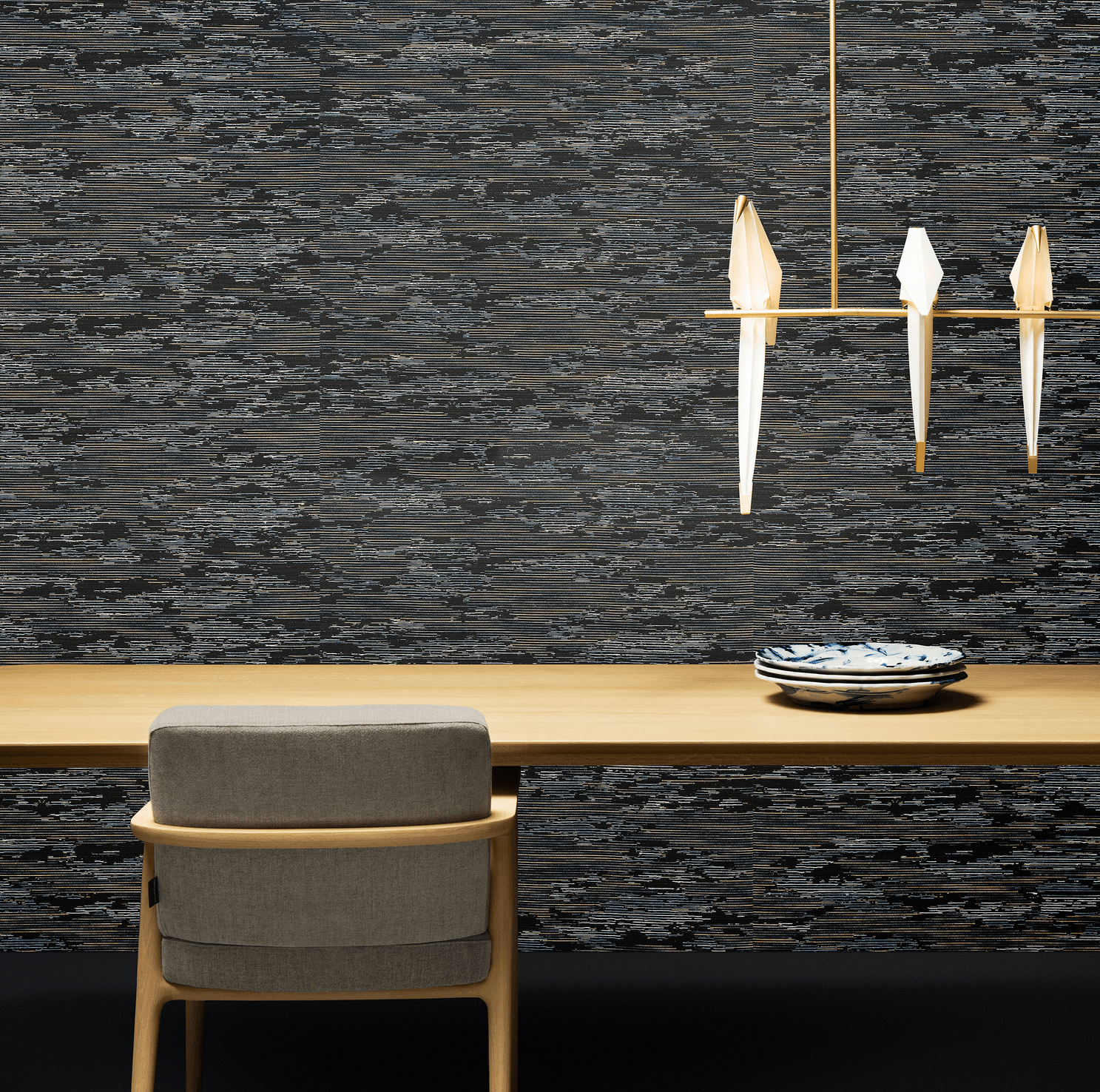 Tie-Tami
Treat your eyes to the rich and versatile colours of spectacular sunset. This jute and raffia wallcovering, honouring the ancient Japanese flooring solution of woven tatami-mats, pictures abstract clouds that slowly drift by while the day gives way to night.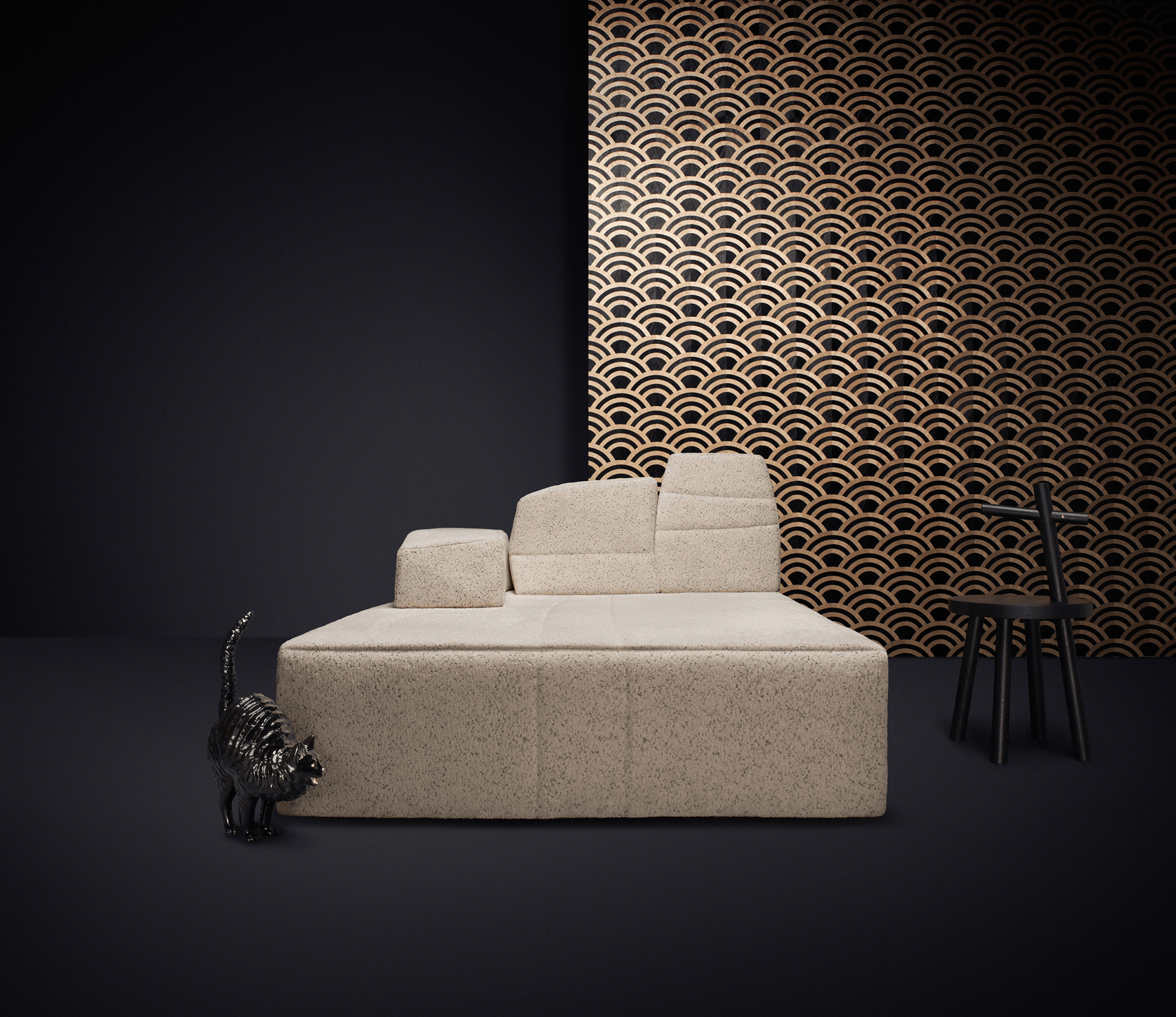 Lucky O's
Overlapping O's, created of wood veneer marquetry inlay, resemble the rolling waves of the ocean. The unique wallcovering's ancient Seigaiha pattern symbolising waves of water represents good luck, power, and resilience.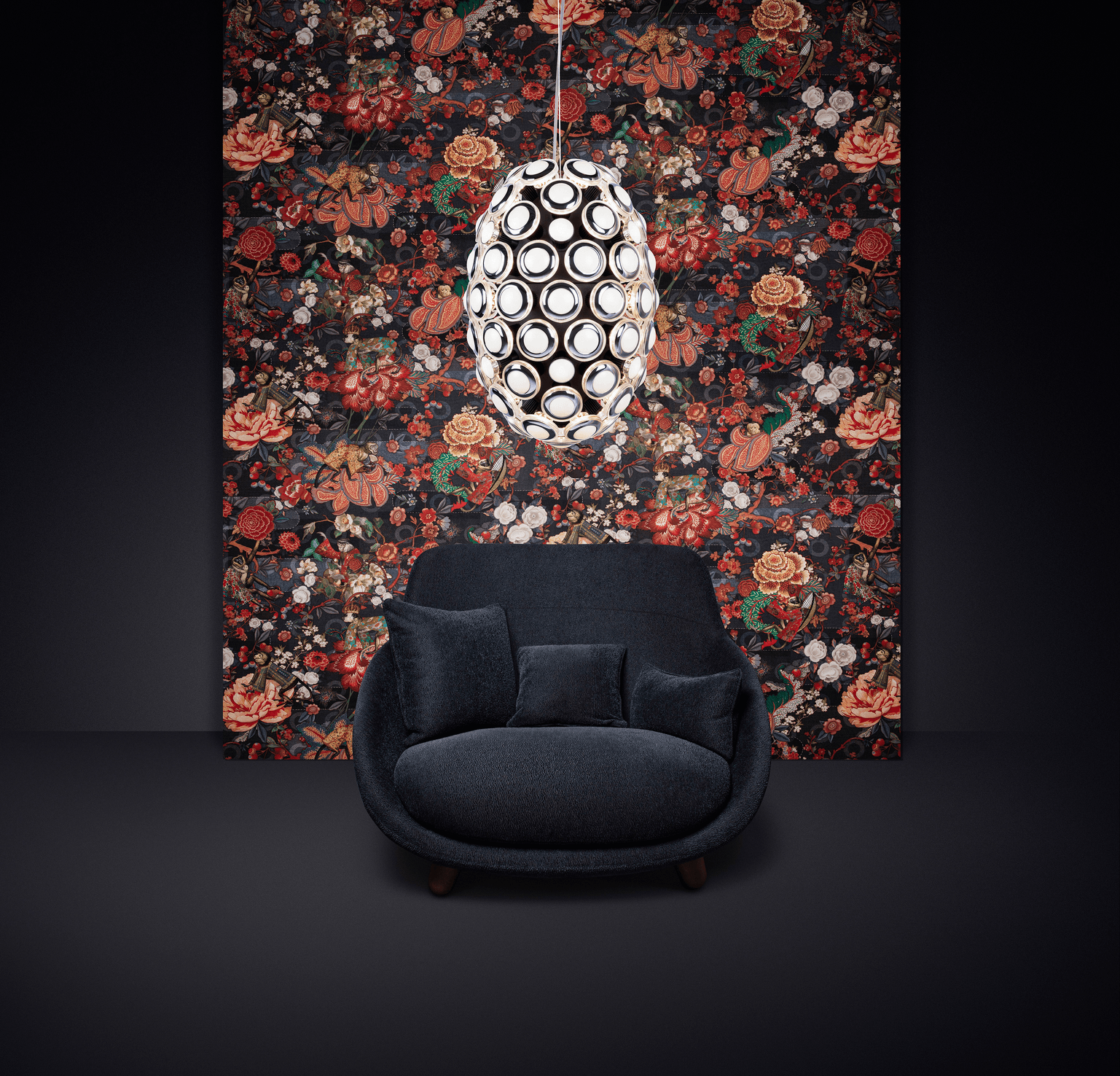 Rendezvous Tokyo Blue
Printed on a soft and velvety finish fabric with denim textures, this lively wallcovering depicts a lush forest brimming with life and movement. Upon closer inspection, Indigo Macaques dressed in traditional kimonos can be discovered between the abundance of exotic flowers.