Dutch designer Rick Tegelaar's work is characterized using uncommon materials, finding new beautifully shaped forms with an innovative approach. He creates his designs with machines he makes himself.
How did you start out as a designer?
Rick Tegelaar:  Much of my youth was spent in our garage, dismantling broken appliances and machines. I was always working with my hands and became interested in engineering and technology. After starting in one of the top classes at high school, I eventually trickled down the ranks, just barely getting my diploma. In The Netherlands, that situation forces you into a more practical education path, so I studied engineering. I really enjoyed harnessing my technical skills and working with metal – I still do. It's no coincidence that Filigree and Meshmatics – two of my products manufactured by Moooi – incorporate a lot of metal. After studying engineering for a year, I moved on. The discipline is all about making a goal, setting calculations, and then achieving that goal. I wanted to explore a bit more, to have some flexibility, and ended up in the product design department of ArtEZ in Arnhem. In 2011 I graduated with the Meshmatics technique.
You developed the technique yourself?
Rick Tegelaar:  When you want to graduate, you're prompted to discover yourself – to find out what you're good at and then apply that to a design context. I'm skilled with machines and materials and wanted to find a way of working with those elements to add value to the design industry. I began by looking into simple materials, one of which was wire mesh. If I could find a way to form it in a controlled way, I thought, a new aesthetic might arise without altering the material itself. The goal was to deepen the existing material spectrum, not to find new ones.
Can you describe your technique?
Rick Tegelaar: I start with galvanized steel chicken wire. My technique involves forming the mesh into cylinders, which are then secured over a mould. By pulling on one side, the material simultaneously stretches and suctions itself to the mould and 'sets'. It's a bit like taking a sock off your foot. If you pull at one end, the sock grabs your foot. This means I can control the shape extremely well. Through the process of stretching, tension is trapped in the material, reinforcing it. Moooi translated my artisanal process into an industrial one. Where I stopped, they took over. Now I get to see all the machines I dreamed of in action, with clever features and moulds I couldn't possibly afford. It's a nice step in the process: to see your products grow up.
How did you come into contact with Moooi?
Rick Tegelaar: By chance, a couple of years ago. I met one of Moooi's manufacturers – the company making the Raimond lamp. I was visiting as part of a group of people working with LEDs. One day I brought in a prototype of my Filigree floor lamp to make the conversation more concrete. The owner of the company saw potential and wanted to carry it through to manufacture. Development began, but we ran into some issues, so he suggested showing it to Moooi. Just before Filigree was launched in Milan [2016], I was exhibiting the lamp along with the Meshmatics chandelier at a fair in Dubai. The next booth over happened to belong to Marcel Wanders. I hadn't met him yet but had been developing a product together with his company for almost three years, so I plucked up the courage to introduce myself. He then asked who had designed the Meshmatics chandelier – and why I hadn't shown it to him. I guess I was just in the right place at the right time.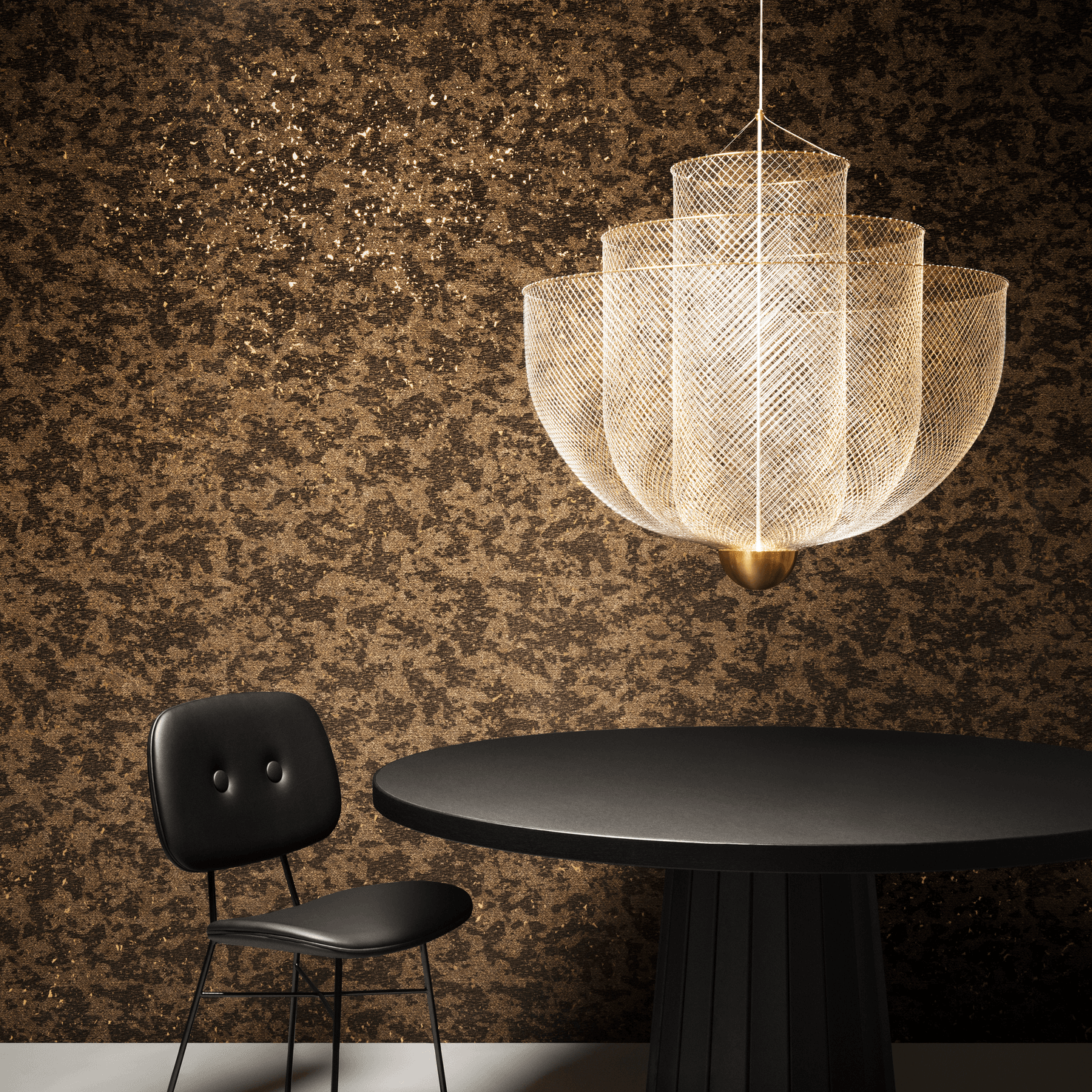 No one would guess what's behind the sophisticated exterior of the Meshmatics Chandelier.
Were you actively looking for a brand to take on your products?
Rick Tegelaar: I invested everything I had in graduating, leaving me completely broke afterwards. People approached me during my show, asking if I could make a lamp for their homes. It was such a huge compliment – and saying yes was a way to buy groceries. It was nice to immediately get to work and make a living, but things quickly got out of hand. More orders came in, and I began selling to stores and architects. The idea of trying to collaborate with a brand came up after about a year. If you have your own studio that also manufactures its own products, you might design for a tiny percentage of your time. I got a bit sick of that. I was only producing, going to fairs, dealing with customers. And I knew other people were much better at doing those things. I'm a designer; I want to design as much as possible.
How did it feel to see Filigree launched at a big show in Milan?
Rick Tegelaar: I'd just graduated, so it was a very important – and surreal – career moment. My wife and I had seen the Moooi presentation the previous year and now here I was, with my product on show. I worked really hard for it, and it was almost emotional. Once a product is finished and presented, you also have to let it go in a way. But the week after the 2016 Salone del Mobile, work started with Moooi on Meshmatics and I was back in Milan the following April. Six years of blood, sweat and tears went into Meshmatics – it was my baby. I was so proud to see it in Moooi's collection.
After two years in a row at Moooi's Milan show, what's next?
Rick Tegelaar: It's all still so new to me, but I like to be challenged. It won't work if a brand simply asks me to 'make a product' for them; I need a question, a vision, a clear context. There's definitely a strong connection with Moooi, and I'd like to keep that going. And I always enjoy collaborating with producers, such as the manufacturer that introduced Filigree to Moooi. I recently worked with a company making technical textiles. I find it really interesting to take a material and – without changing too much – seeing what other possibilities can arise through design.