Go to bed with our Extinct Animals bedding collection, inspired by the Museum of Extinct Animals. Discover duvet covers, sheets, bedspreads, cushions and much more made from silk, wool, and sustainable satin cotton and luxurious finishes. All the ingredients you need to make your bedroom the most inviting space in your home. With the Extinct Animals bedding collection, you'll never want to leave your cosy bed.
When decorating our bedroom, we immediately think about furniture, the atmosphere we want to create, and which colours to choose. Soothing and calm colours are the obvious choice for a bedroom. After all, doesn't everybody crave a good night's sleep? But beyond colour choices and furniture, have you given decorating your bedroom another thought? You should, because there's so much more to choose from when creating the perfect bedroom. Such as fabrics. Do you prefer cotton, silk, or wool? And what about prints? Do you like to create a cosy bed adorned with a mountain of pillows? Or do you prefer to keep it simple with a luxurious duvet cover and matching pillows? Everything you need to make your bedroom the most inviting space in your home, you'll find in our Extinct Animal bedding collection.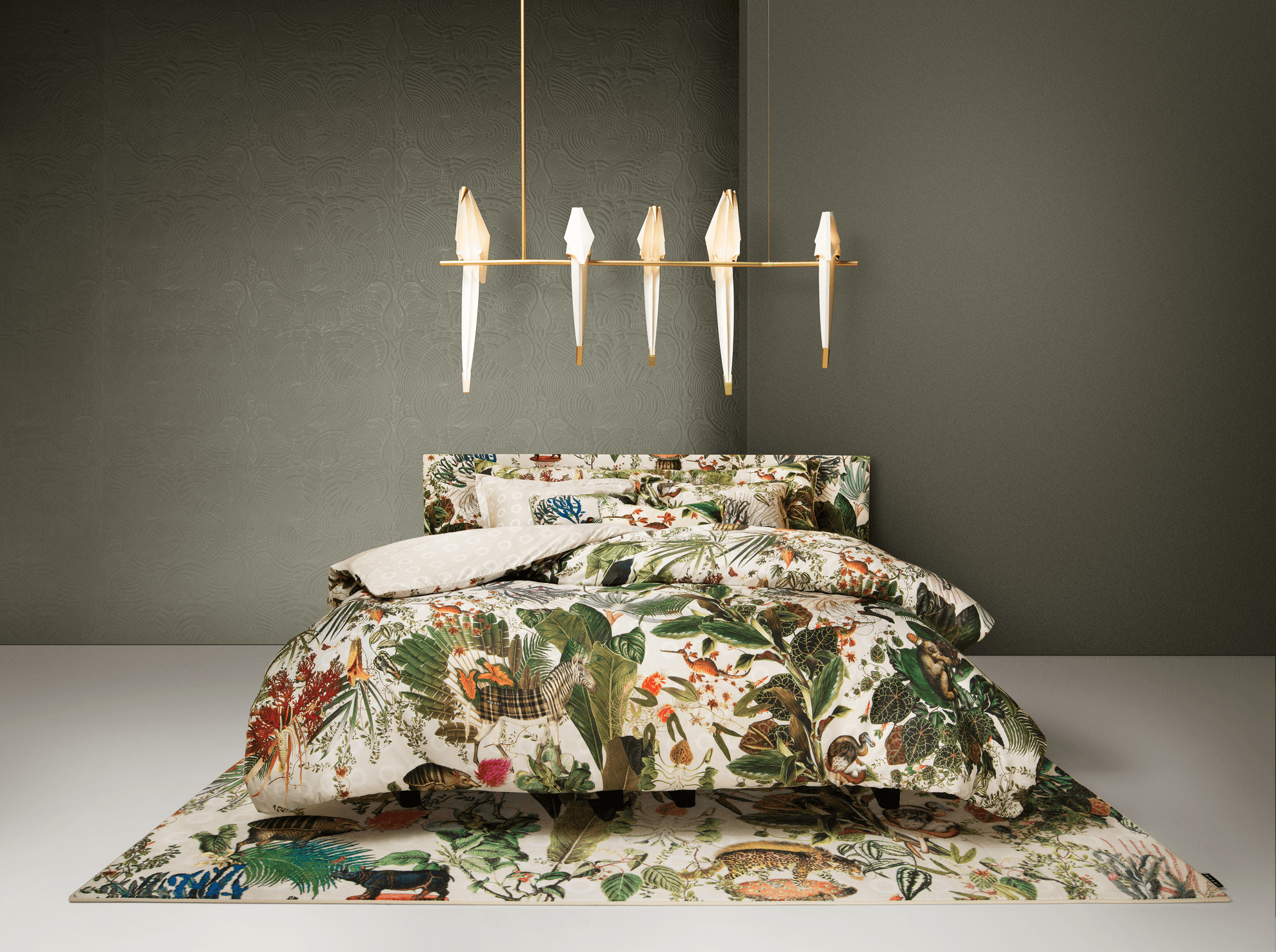 The Menagerie
Doze off amid all Extinct Animals with the Menagerie of Extinct Animals in raven or ivory. A lush motif that will give your bedroom a botanical touch.
Inspired by the imaginative Extinct Animals
Every design in the collection is inspired by the unique characteristics of a member of The Museum of Extinct Animals. Embroidered Blooming Seadragons and winged Flying Coral Fish. The Menagerie of Extinct Animals motif that includes all animals. Fluffy soft corduroy and flock print resembling the Bearded Leopard and Umbrella Squid. Embroidered patterns inspired by the softest feathers of the extinct Dodo Pavone. Discover sophisticated duvet covers, matching pillows, a lavish bedspread, cushions, and much more.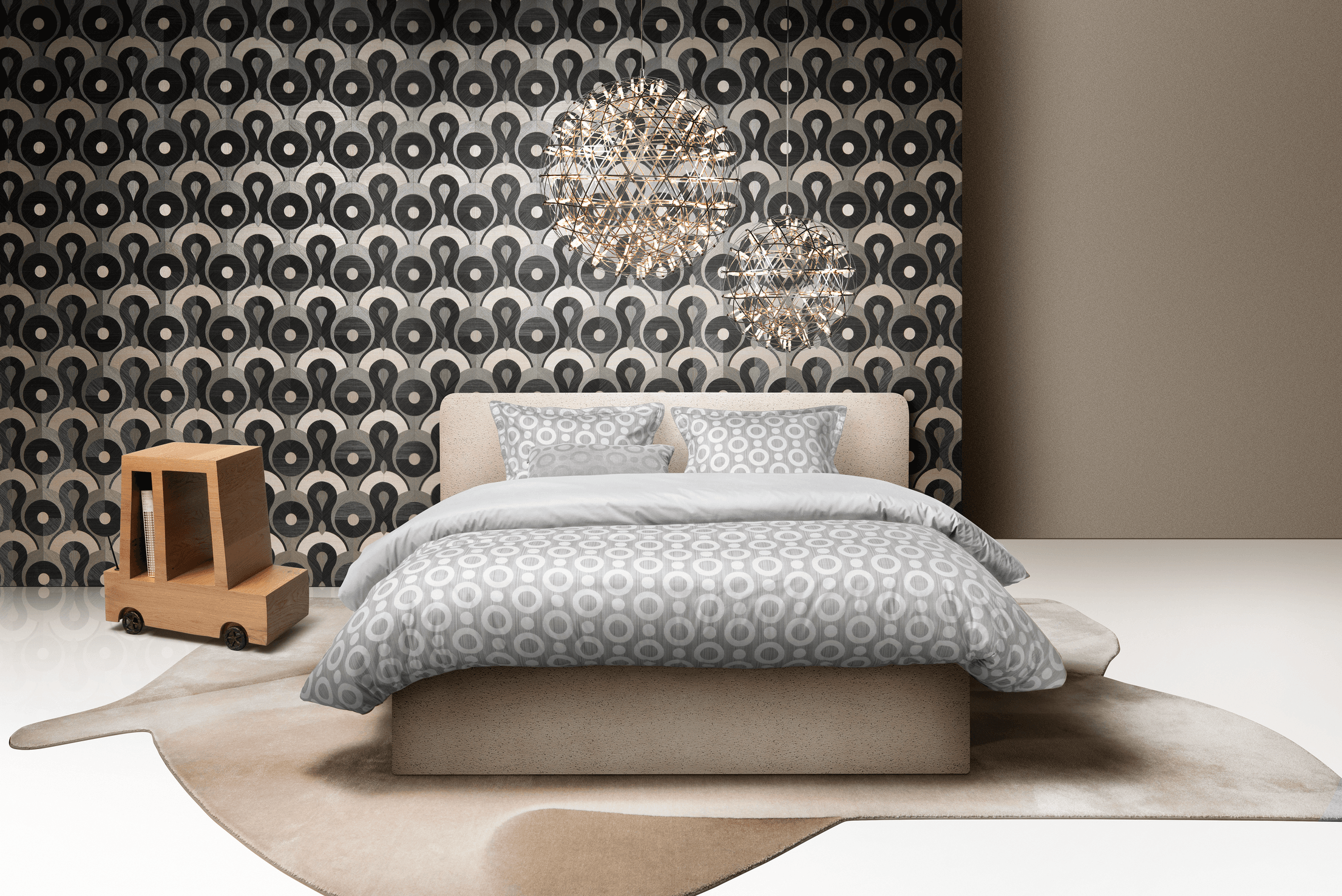 Umbrella Squid
The Umbrella Squid duvet cover and bed pillows will gently rock you to sleep with its mesmerising pattern.
High-quality materials and luxurious finishes
The Extinct Animals bedding collection brings that little extra touch of beauty and comfort in your bedroom. Think intricate design details in rich colours and mesmerising patterns. The collection is made with high-quality fabrics such as silk, wool, and cotton sateen with high thread count for a luxurious look and feel. Creative luxury at its finest.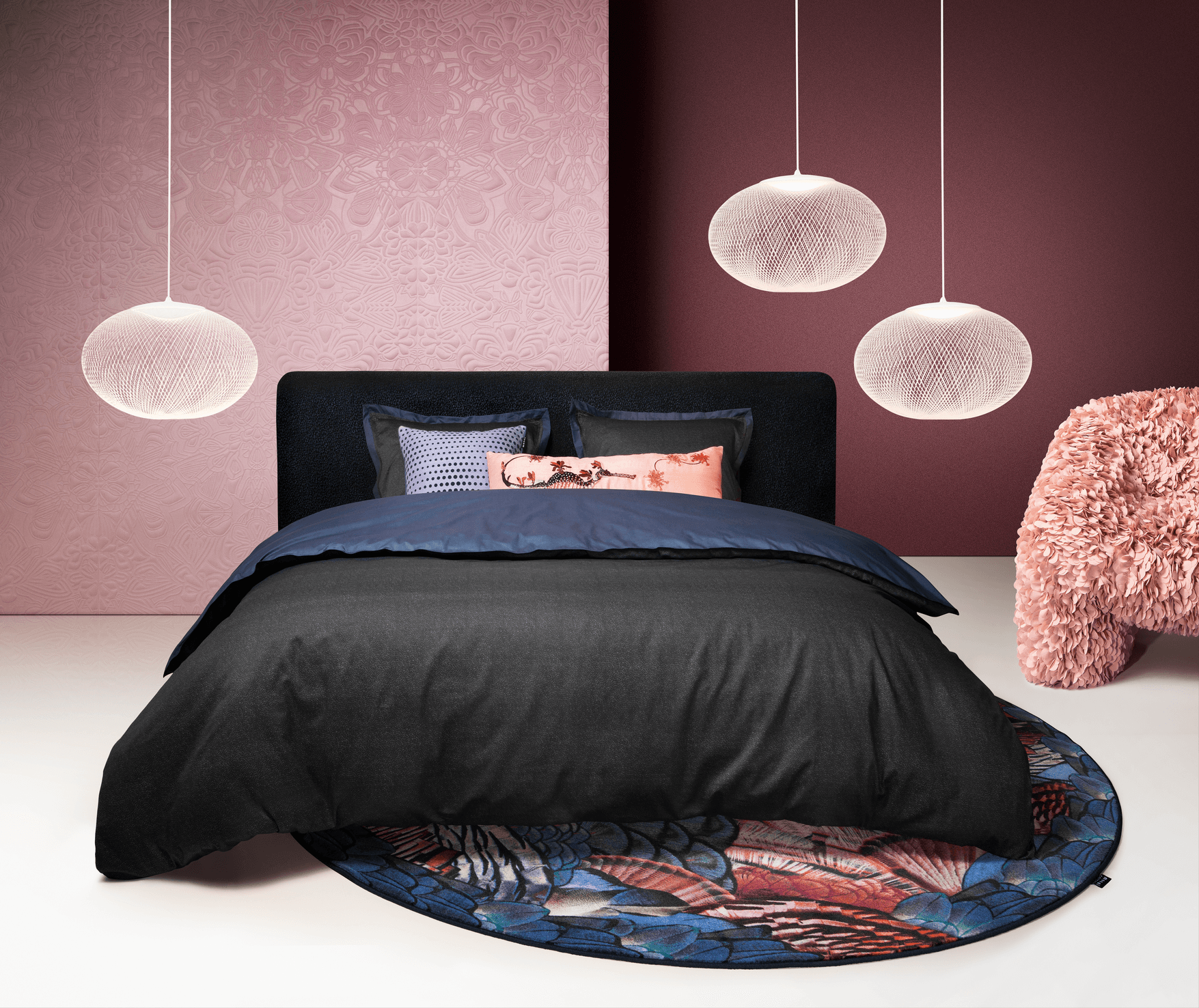 Calligraphy Bird
The Calligraphy Bird duvet cover and bed pillows will bring you dreams of poetry and romance.
Soft and smooth high-quality fabrics with rich detailing
The duvet covers and bed pillows in the bedding collection are made of high-quality cotton sateen with a 300-thread count (TC). Cotton is a soft and breathable natural fibre. As the name states, cotton sateen is made from cotton. The way it's woven—'satin weave', makes it feel smooth to the touch with a subdued shiny finish.
A satin weave means the fabric is tightly woven and means more threads. The thread count of a fabric refers to the number of threads used to weave it. The higher the count, the better the quality. The better the quality, the softer and smoother a fabric feels. The cotton used in the Extinct Animals bedding collection has a high thread count but remains light-weight and breathable for optimal airflow that helps with a good night's rest.
Besides high-quality materials, the Extinct Animals bedding collection stands out because of its original and luxurious finishes. Think embroidery on silk, cord piping, Oxford borders, beautiful buttons, and luxurious zippers.