The larger-than-life Knitty Lounge Chair by Nika Zupanc is a real conversation piece in your home. A unique combination of scale and softness.
Icon of Relaxation
Inspired by those big navy knots, used to secure the ships, Nika Zupanc envisioned the Knitty Lounge Chair. This icon of relaxation is created with extra-large 'yarn' that resemble said ship ropes. The yarn is upholstered with knitted fabric, providing an unparalleled softness. The weave pattern adds texture and tactile feedback to the design, creating a unique blend of scale and softness. The Knitty Lounge Chair is perfect for curling up with a book, watching the sunset, or daydreaming.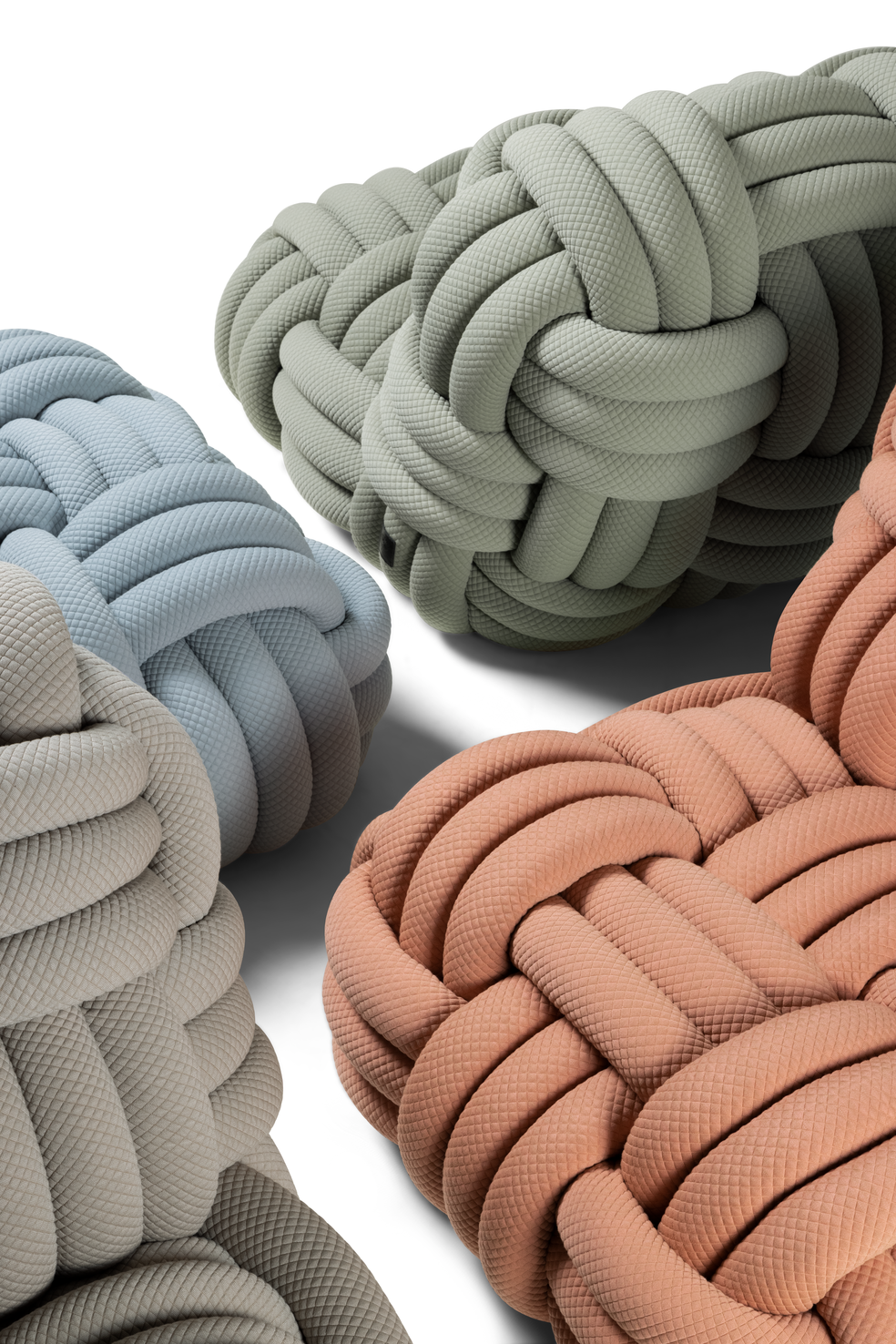 Palette of colours
The Knitty Lounge Chair is available in a palette of refined colours! With the online configurator you can discover the perfect tone to suit your mood and personality of your space.
Unexpected scale
What makes the Knitty Lounge Chair so remarkable is its intricate basket weave pattern and scale. The proportions are grand, making you feel small in the best of ways. This larger-than-life chair creates a sense of awe or wonder, reminiscent of standing on the deck of an enormous ship or experiencing a beautiful natural landscape.
Knitty's ample size, sturdy base, chunky basket weave. They all provide a sense of security and comfort. But Knitty is not just a chair. It is a near-impossible design piece that tickles your imagination and provides ultimate relaxation. When you are snuggling up between the extra-large folds, the chair reminds you of the joys of knitting and weaving, transforming simple materials into something extraordinary and unexpected.
About Nika Zupanc
Nika Zupanc traditionally makes careful selections of her themes and forms. With them she offers an exciting look at the predominately male furniture-design market, where all the aspiration is poured into the technical, rational, sober, and utilitarian, as opposed to the intuitive, eclectic, vain, and hysterical. To accomplish this, Nika Zupanc uses her poetic judgment, inner battles with stereotypes, and long-lasting affairs with technologies. She mindfully explores the limits of the industry when it comes to emotional effect and the juxtaposition of materials, both in product design and interiors.