Inspired by changing rigidity to elasticity, the Gravity Chandelier by Paul Cocksedge re-imagines the chandeliers of the past. This modern chandelier lets you decide its size, but gravity defines the form.
When you think of a chandelier, you'll most likely think of an archetypal lamp with fixed and rigid upward arms holding bulbs or candles. Adorned with hanging crystals maybe, all very classic and solid. Most modern chandeliers, although less opulent, still have that rigid nature old chandeliers have. But what if that rigidity was replaced by flexibility? What would a chandelier look like then? Or better still, how could it look like if you could choose its size?
A modern chandelier for modern-day living
London-based designer Paul Cocksedge figured that a flexible chandelier would match our living wants and needs so much better. You could decide where the light travels to. Lighting up dark corners around your dining area. Hanging it above your bed for soft and indirect lighting. Paul Cocksedge changed the rigid arms of a classic chandelier into something flexible and dynamic in his Gravity Chandelier. With its flexible arms, you define the chandelier's diameter and choose where the light travels, but the suspended elements create natural curves shaped by gravity.
The Gravity Chandelier is the definition of a modern chandelier. At first glance, it doesn't reveal its flexibility and cleverness; It takes a second look to unravel its mystery. Free-flowing arcs are dynamic instead of static, thanks to elegant wiring holding up the ornamented glass cups.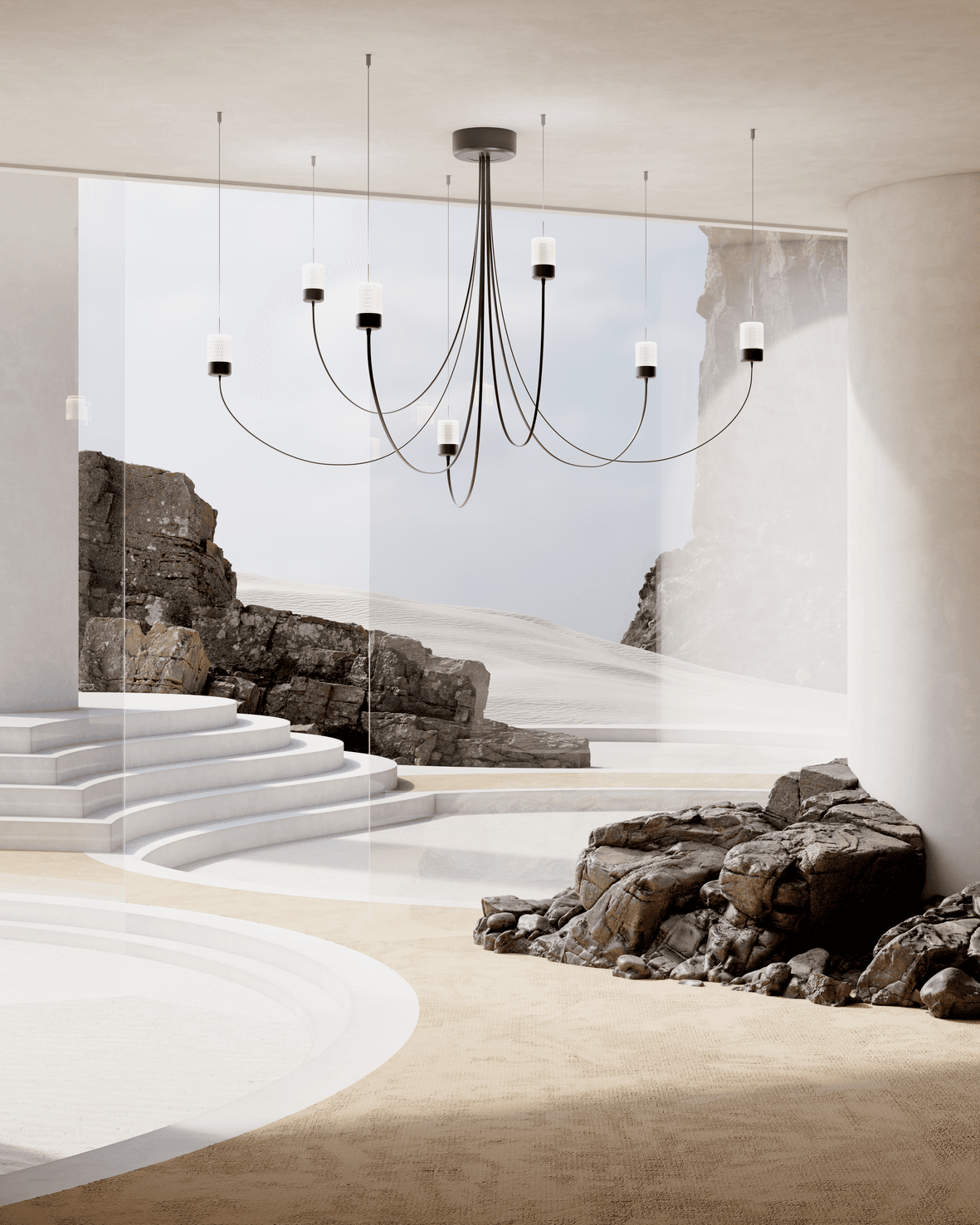 "The Gravity Chandelier was about me looking at something that's made as a rigid thing. And imagining it as something that's very light and flexible."
–– Paul Cocksedge
A search for perfection
Finding the perfect material took designer Paul Cocksedge years. A vast range of fabric and cord was tested for their ability to create elegant, flowing arcs. The result allows you to compose the Gravity Chandelier in any way you wish, while gravity defines its form.
At first glance the Gravity Chandelier doesn't reveal its flexibility and cleverness. It takes a second look to unravel its mystery.
About Paul Cocksedge
Paul Cocksedge is an internationally acclaimed British designer, who has spent the last decade building a reputation for innovative design. His work spans design products, architectural projects, installations and sculptures, all infused with the sense of simplicity, joy and wonder that characterises his work.
Having studied under Ron Arad at the Royal College of Art, Cocksedge was nominated for Designer of the Year by London's Design Museum in 2004, just two years after graduation. He established Paul Cocksedge Studio with Joana Pinho in the same year, and the practice has taken part in design festivals around the world, adding a sense of playfulness to technologically ingenious sculptures and installations.
The Button
The Gravity Chandelier comes with The Button, Moooi's digital proof of authenticity. The Button contains an NFC chip that makes counterfeiting impossible and makes certain it's an original Moooi design.