Live under the stars with Starfall Light by Front! With this brand-new constellation, you can go to sleep or dine under the stars every night. Inspired by nature, and derived from science, the Starfall Light is a contemporary upside-down chandelier that gives you that magical feeling you get when looking at the night sky.
Inspired by nature
The best ideas come forth when the mind is totally at peace. And the most beautiful way to quiet the mind is to be in nature and gaze at a star-studded night sky. Anna Lindgren and Sofia Lagerkvist spent a lot of time outdoors in the Swedish forests at night. With the low population density in the Nordic country, it wasn't hard for them to find a spot in the forest where it was completely dark, void from any light pollution. The idea for Starfall came to them when looking at the stars in one of those dark places. They wondered if they could create something that would give you that feeling of sitting underneath a starry sky. They eventually created the Starfall Light.
Derived from science
Front first worked on an installation for the Science Museum in London. Collaborating with the European Space Agency, they created a gigantic installation of the 800 closest stars to earth. They were given a map with the distance of each star, and hung light sources from different heights, to simulate a dimensional installation of those 800 stars. The installation would become the first technical step for the Starfall Light. Front created an upside-down chandelier comprising multiple 'stars', hanging from different lengths that create that same three-dimensional effect, as if you're really stargazing. With the Starfall Light, you can always live under the stars!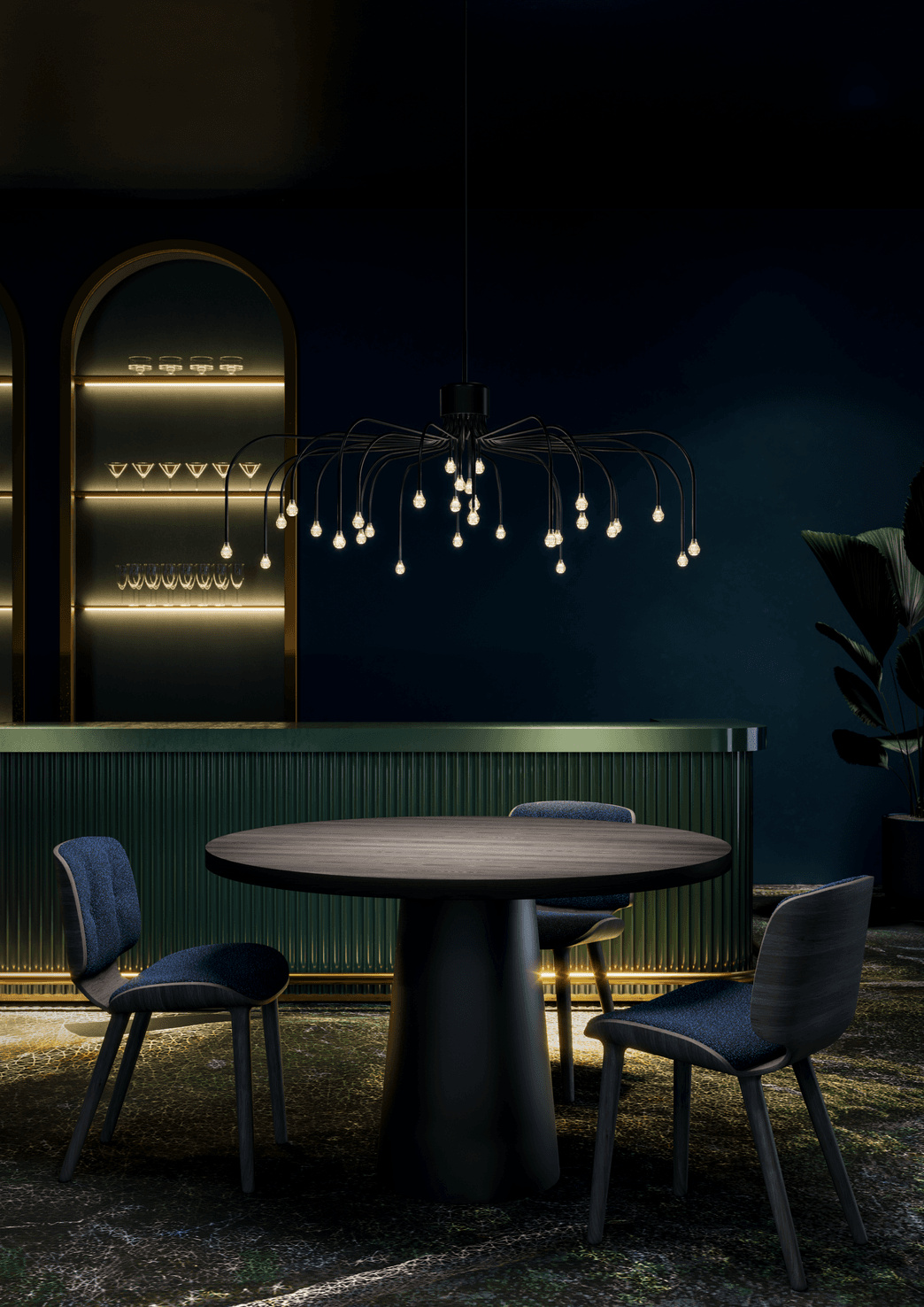 "The sky in those places was so much darker than in a city. The stars are so much more striking and prominent. Truly a magical feeling."

–– Anna Lindgren and Sofia Lagerkvist from Front
About Front
Sofia Lagerkvist and Anna Lindgren are the members of the Swedish design studio Front. Their works are based on common discussions, explorations and experiments and they collaborate in all projects from initial ideas to the final product. Front's design objects often communicate a story to the observer about the design process, about the material, or about conventions within the design field.