20 April, 2021
Have
you
ever
taken
a
seat
in
30.000
flower
petals?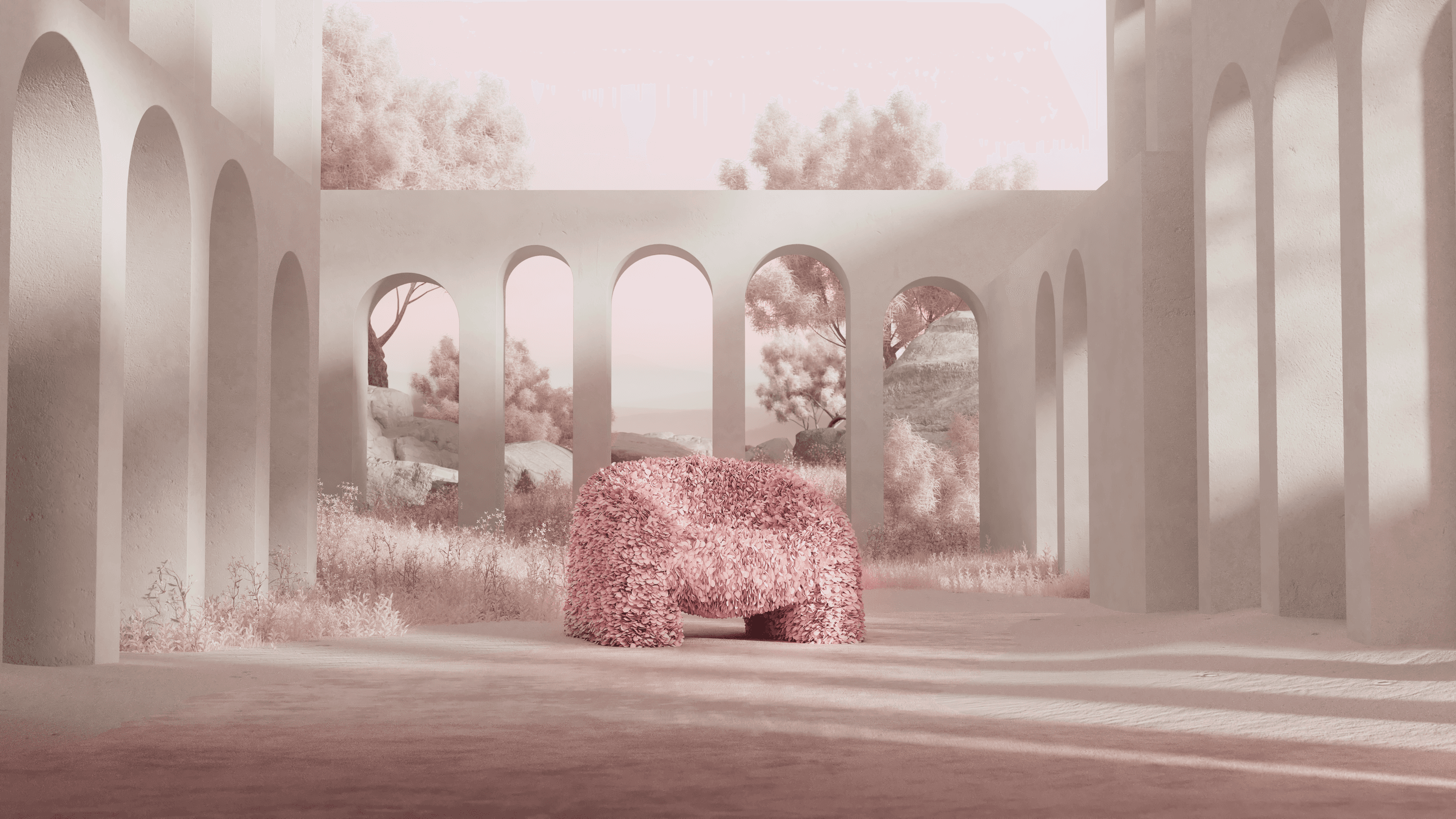 From its first stages as a rendering to the design as it is now, the origin and evolution of the Hortensia Armchair was based on a dream. A dream where in every home you could experience the softness of sitting in a blooming flower. Designers Andrés Reisinger and Júlia Esqué envisioned the Hortensia Armchair standing in interiors hotels, restaurants, any place all over the world.
Starting out as a 3D rendering, the Hortensia Armchair was first made into a limited edition. And with over 30.000 petals, producing the chair on a large scale was thought impossible. But together, Moooi, Júlia Esqué and Andrés Reisinger found a way. They made the 'impossible' design possible and accessible to all.
"I really wanted to make this project happen with Moooi. I knew that with their collection having a fine line between art and design, there was no better place for the Hortensia Armchair." – Andrés Reisinger
The evolution of a blooming beauty
The Hortensia Armchair started out as a 3D rendering that soon went viral on Instagram. This sudden success prompted market interest and multiple sales orders, even though the chair didn't exist yet. In response, Reisinger and Esque searched for a way to make the chair into a real-life product, successfully creating a limited edition. Seeing their Hortensia Armchair in a few spaces made a small part of the design dream come true, but the next logical step was making the chair more available. Immediately the designers thought of Moooi, thinking the lifestyle brand was perfect to take on the challenge, with their collection balancing between art and product design. Together they completed the last stage of the chair's evolution; the blooming Hortensia Armchair made available worldwide. 
Blooming petals that envelope you
The Hortensia Armchair innovatively replicates the beauty of nature. Inspiration for this iconic and voluminous chair came from the need to recreate a feeling of softness. A design that is comforting, calming, and soothing. Andrés Reisinger & Júlia Esque wanted to know what it would feel like when sitting in a flower, enveloped in smooth and gentle petals. 
" At Moooi we try to make designer's dreams come true. With the worldwide availability of the Hortensia Armchair, I'm glad we could make that happen"
– Marcel Wanders, Founder & Creative Director Moooi 
The Hortensia Armchair has over 30.000 petals
After creating the Hortensia Armchair digitally, Andrés Reisinger called in textile designer Júlia Esque to perfect the soft and soothing feeling of sitting in a blooming flower. The chair's signature petal upholstery contains over 30.000 laser-cut petals and will be available in two colours: Petal Pink and Petal Grey.
Iconic and configurable
The Petal fabric, designed by textile designer Júlia Esque, is the Hortensia Armchair's signature fabric, but the voluminous chair will be configurable in Moooi's extensive fabric collection. Moooi offers an online configurator on its website where anyone can configure the Hortensia Armchair choosing from a wide range of fabrics, including the Extinct Animal Fabric collection. 
"From the start, we were determined to get this sensational design into homes all over the world. With 30.000 petals you could call that ambitious, but it was such an exciting challenge to take on." – Robin Bevers, CEO Moooi 
Worldwide launch online & in Milan 
The Hortensia Armchair is available worldwide from 20 April. Celebrating the launch is a brand-new Digital Brand Experience on Moooi.com and talks with Marcel Wanders, Founder & Creative Director of Moooi and designers Andrés Reisinger & Júlia Esqué. The Digital Brand Experience on Moooi.com is a visual spectacle called Beauty Blooms revolving around the Hortensia Armchair. Beauty Blooms is the first chapter of a Digital Life Extraordinary; three in-depth chapters about the imaginative and resplendent world of Moooi. 
To share its love for Milan and Salone del Mobile, Moooi brings an ode to the biggest design fair in the world. The Hortensia Armchair launch is celebrated in Milan with micro-events. The Hortensia Armchair is photographed at iconic places in the city; Sweet Hortensia bouquets are handed out to passers-by; a prominent flower stall is dipped in Hortensia flowers for the day, and various designers and influencers shared their love for Milan and Salone del Mobile sitting in the Hortensia Armchair. 
Another new design by Andrés Reisinger
Launching together with the Hortensia Armchair is the Ripples carpet collection by Andrés Reisinger for Moooi Carpets. This collection of two carpets, Ripples in Pink and Ripples in Silver, bears his signature style; the colour and tones found in the human body, and the digital spherical sculptures. Reisinger translated the delicate simplicity of a drop falling into water, into his own design language. The Ripples collection is almost meditative with its calm fluidity. 
About Andrés Reisinger
Creating at the intersection of art, design, and direction, Andrés Reisinger bridges the imagined and the tangible. Conceptual yet accessible, his immersive 3D visuals, otherworldly compositions, and experimental use of texture draw the realm of dreams close. Hailing from Buenos Aires and based in Barcelona, Reisinger applies over a decade's worth of experience working with the likes of Apple, Microsoft, and Samsung to challenge the boundaries of diverse media. His progressive spatial experiences and hyped collectible pieces have earned him recognition in the Forbes 30 Under 30 Europe, ADC One Club Young Guns, and the AD100, among others.   
In February 2021 he launched a digital furniture collection, called The Shipping. The collection sold out in less than 10 minutes via an online auction. A revolutionary feat in the design world. 
About Júlia Esque
Júlia Esqué is a product designer from Barcelona. She spent the first years of her career working between Barcelona and New York before establishing as an independent designer in 2019. Her projects are based on the experience of research and hands-on making and have been exhibited in Brussels' Collectible Fair, Gent Design Museum or HKDI Gallery in Tokyo, among others. Alongside her studio work, she also teaches and runs workshops at numerous design schools including Instituto Europeo di Design and Elisava School of Design and Engineering. 
About Moooi
For twenty years Moooi has inspired and seduced the world with sparkling and innovative designs. The venture founded in 2001 is currently led by Marcel Wanders and Robin Bevers. Moooi is named after the Dutch word for beautiful – the third 'o' in the brand name stands for an extra value in terms of beauty & uniqueness. Moooi doesn't tell designers what to do, but listens to what designers want to make, try to realise their dreams. Eclectic and always on the edge of commercial reality and cultural interest. To trigger, to create conversation pieces which make your environment more special, a life extraordinary. 
Interview + more information 
Interested to learn more about the Hortensia Armchair? Want to do a virtual coffee via zoom? Or have a burning question about a different topic? Contact Stephanie de Kanter, global PR at Moooi, via press@ moooi.com or call +31 (0) 6 112 825 05.