28 September, 2021
Moooi
launches
two
new
extraordinary
designs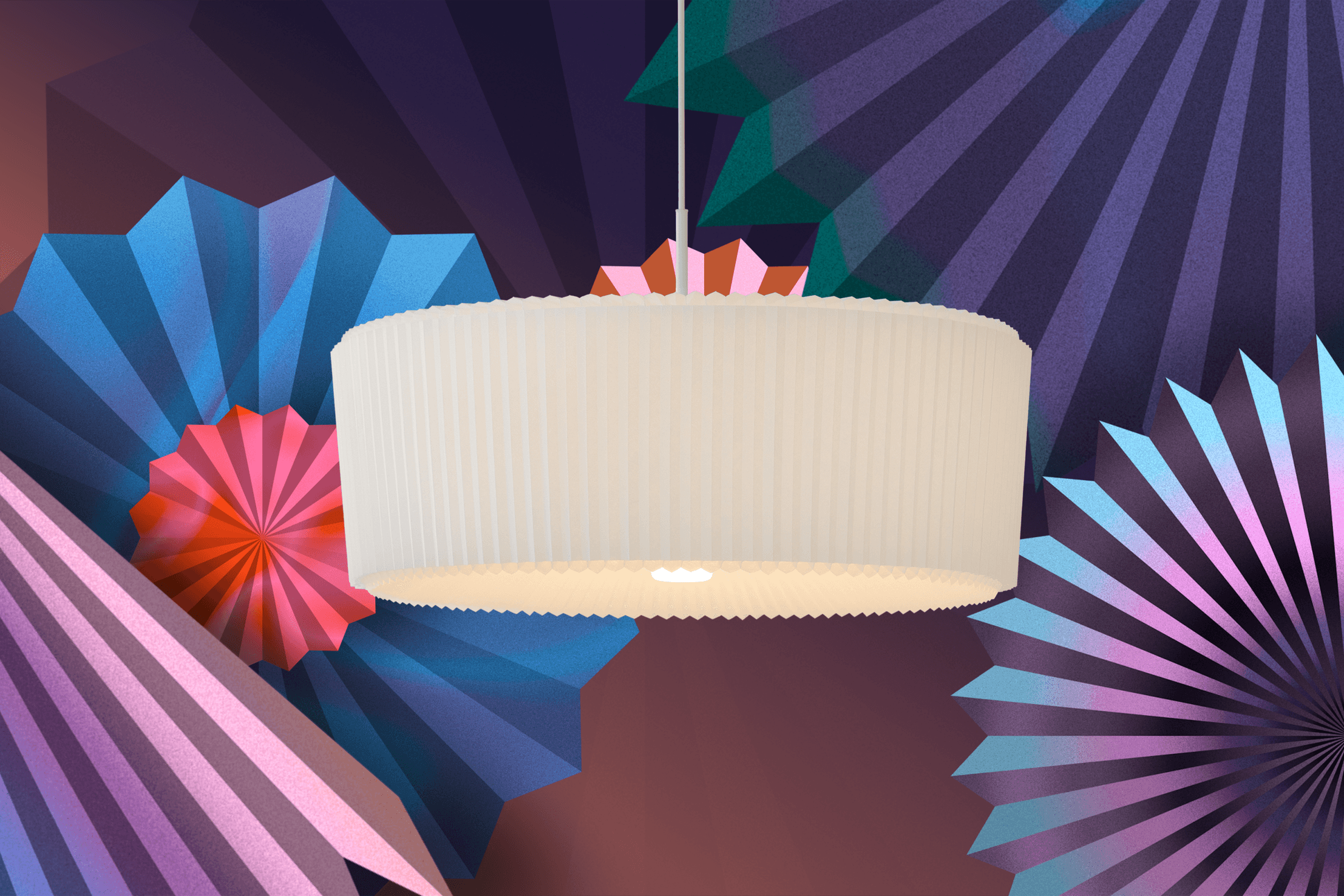 Lifestyle brand Moooi launches not one, but two exciting new designs: the Plié Plissé Light, by German designer Lukas Bazle and No Screw No Glue, by Dutch designer Joost van Bleiswijk. Both designs are presented amid Moooi's archetypal immersive brand experience and will be available from 28 September.
Plié Plissé Light: Flexible Lighting, Modern Living
As if dancing, the suspended Plié Plissé Light by Lukas Bazle moves along with the rhythm of your day. Nature is often one of our biggest inspirations. This was also the case for German designer Lukas Bazle when designing Plié Plissé. Nature and observing everyday objects around him and rethinking them. Thinking of ways to prove and modernise. Design that better matches our want and needs in life.
Plié Plissé has an adjustable cellular pleated shade that lets you choose the intensity and direction of the light. Unfolded, the light is soft and ambient. Perfect for (dinner) parties or lighting up the whole room. Fold the shade in and the lamp shines downwards and more intensely, making it easier to work or read a book.
Plié Plissé Light: Kinetic Design
The elegant flow of the Plié Plissé Light by Lukas Bazle is inspired by the kinetic movements found in nature. The adjustable shade is made from pleated fabric in a honeycomb pattern. The cellular pleats of the shade are inspired by honeycomb blinds and allow you to change the direction and brightness of the light. Honeycomb blinds are another example of kinetic design.
Diy With No Screw No Glue
No Screw No Glue by Joost van Bleiswijk is a celebration of crafting and timeless design. It evokes a distinct satisfaction when creating something with your own hands. As its name implies, No Screw No Glue is put together without needing screws, glue, or tools. You slide the elements together to build and create the piece. No Screw No Glue is available as a Cabinet and Buffet.
Eco-conscious In More Ways Than One
No Screw No Glue is made from Richlite. A durable, versatile, and sustainable material made from recycled paper, responsibly harvested trees and EcoBind resin. It's dense and durable, pleasing to the eye and touch with a natural aesthetic. Richlite is three times stronger than marine-grade plywood and works similar to incredibly dense hardwood. High-impact resistance and deflective & flexural strength make Richlite an extremely durable material. So, you can build to last. And as a flat pack, the No Screw No Glue Buffet & Cabinet take up as little space as possible when shipped.
Worldwide Launch Online
Plié Plissé Light and No Screw No Glue are available worldwide from 28 September on Moooi.com and in the Moooi Brand Stores in Amsterdam, London, Stockholm, and New York. Celebrating the launch are a brand-new chapter in Moooi's Digital Brand Experience on Moooi.com.
A Digital Life Extraordinary
The Digital Brand Experience on Moooi.com is a visual spectacle called Paper Play revolving around the Plié Plissé Light and No Screw No Glue and other new and to be released Moooi designs. Paper Play is the third and final chapter of a Digital Life Extraordinary; three in-depth chapters about the imaginative and resplendent world of Moooi. The first chapter is called Beauty Blooms and revolves around the Hortensia Armchair, by Andrés Reisinger & Julia Esqué, which was released 20 April. The second chapter, Defy Gravity, focuses on the Gravity Chandelier by Paul Cocksedge.
Discover More New Designs
Together with Plié Plissé and No Screw No Glue, Moooi introduces In the Meadow, a collection of carpets and scarfs by Stockholm-based artist and illustrator Emma Larsson. All new designs can be found on moooi.com and in A Digital Life Extraordinary, Moooi's Digital Brand Experience. A Digital Life Extraordinary also offers sneak peek of a brand-new wallcovering inspired by new Extinct Animal: The Dandelion Cranes.
About Lukas Bazle
Lukas Bazle is a German designer based in Berlin, Germany. Bazle's process of designing products is best described as observing the things that surround him in his everyday life and rethinking them. Having a clear goal in mind or resolving a problem. He creates products that assure a higher level of functionality or add value to something that normally goes unnoticed. 
About Joost Van Bleiswijk
Joost van Bleiswijk is a prolific Dutch designer who gives great value to the process of making. A genuine fascination for the construction of the object – often revealed in the outcome – is the starting point of his process. The workshop is where Joost engages with the experience of designing as an intensely physical act. The creative process unfolds in a quite instinctive and gestural way. Regardless of the scale, the handmade and human touch remains at the heart of his practice and reinforces an intuitive and emotional approach to contemporary design. 
About Emma Larsson
Emma Larsson is a Stockholm-based artist and illustrator born in Gothenburg, Sweden in 1977. Since her teenage years, she has had her own art studio. Her work strikes the balance between colourful dreamscape and in-articulable melancholy. Her practice has evolved to include expressive and organic watercolours, alongside paintings created with oil and acrylic. She describes her work as an ongoing exploration without rules and conventions, continually generating new forms, patterns, and themes. Also renowned on Instagram as @zebrakadebra, she has an impressive following of over 160K followers from all over the world. 
About Moooi
For twenty years Moooi has inspired and seduced the world with sparkling and innovative designs. The venture founded in 2001 is currently led by Marcel Wanders and Robin Bevers. Moooi is named after the Dutch word for beautiful – the third 'O' in the brand name stands for an extra value in terms of beauty and uniqueness. Moooi doesn't tell designers what to do, but listens to what designers want to make, try to realise their dreams. Eclectic and always on the edge of commercial reality and cultural interest. To trigger, to create conversation pieces which make your environment more special, a life extraordinary.

Interview & More Information
Interested to learn more about the Plié Plissé Light and No Screw No Glue? Want to do a virtual coffee via Zoom? Or have a burning question about a different topic? Contact Stèphanie de Kanter, global PR at Moooi, via press@moooi.com or call +31 (0)6 11 28 25 05.