1 February, 2022
There's
a
new
Pet
Light
in
town
and
its
name
is
Grwoww!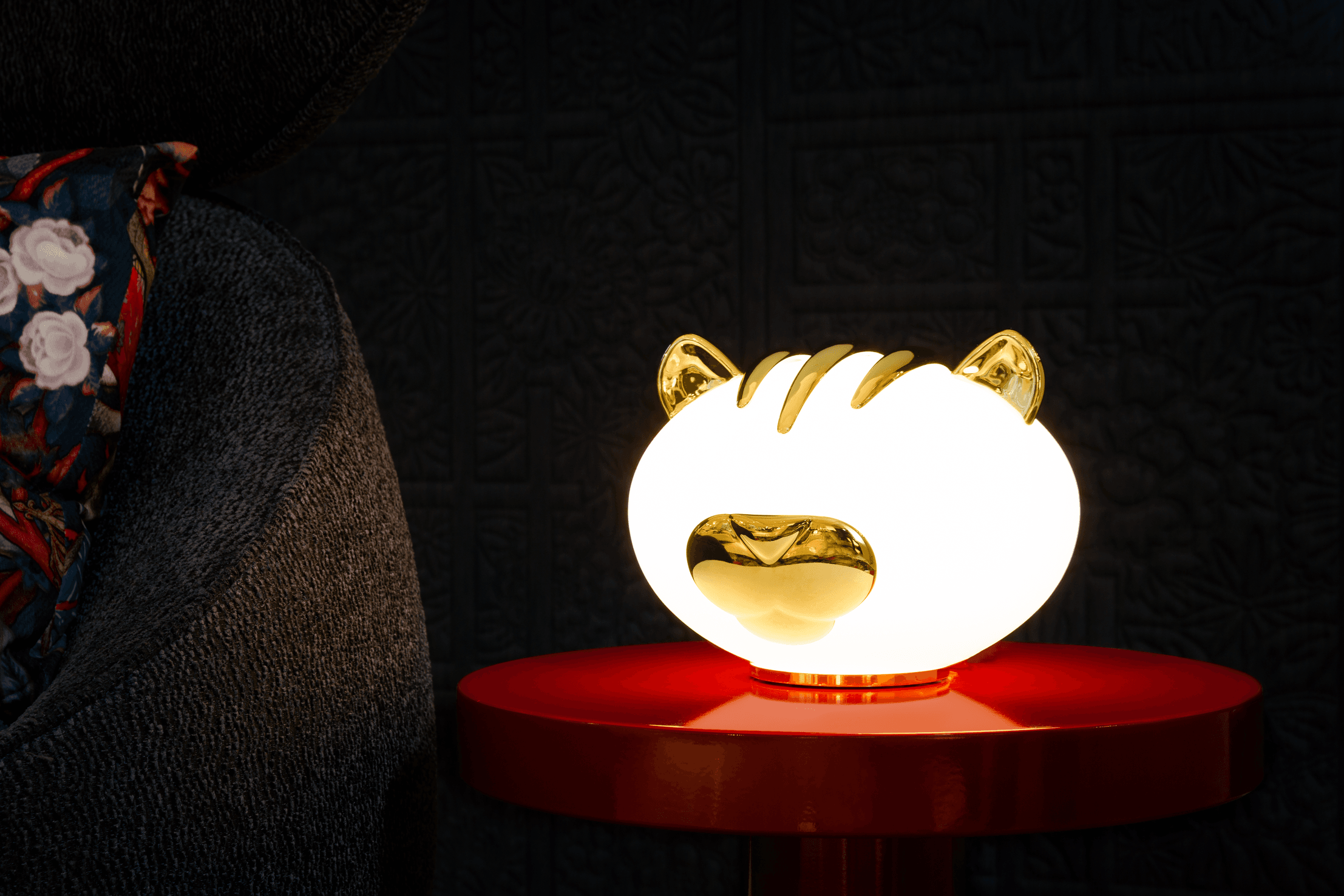 Since 2018, the Pet Lights, designed by Marcel Wanders studio, was a flashy band of three, Uhuh, Noot Noot, and Purr. But the three besties have embraced a new friend in their midst, Grwoww. This new feline friend may sound scary but don't let the tough name fool you. The lively little bunch is now a group of four! Grwoww is available worldwide from 1 February at Moooi stores, Moooi.com, and Moooi dealers.
Pets are the lights of our life
It's widely known that pets are often the lights of our lives. A playful furry, feathered, or even scaled companion that amuses us is a comforting presence. That feeling of playfulness and joy is exactly what Marcel Wanders studio created with their Pet Light family, or friends really. The Pet Lights, Uhuh, Noot Noot, Purr, and Grwoww, are a group of animal friends shaped as table lamps.
The cheeky one, wise one, stoic one, and tough one
Each Pet Light has its own characteristics that serve the group. Cheeky little Purr is always up to no good, but its bunny-heart is in the right place. Luckily, wise Uhuh is there. This little owl can keep Purr from being too rowdy, although this big-eyed pet has a fun-loving streak, too. Overseeing everything is Noot Noot. Being the tallest has its advantages, and this stoic penguin looks out for everyone, including their new friend Grwoww. This tiny tiger is the most tough-looking, but secretly the biggest sweetheart of all.
Charming details
With such sweet features, you would almost forget each Pet Light is a table lamp. Gold plated ceramic details bring the animals to life, accessorising them with precious jewels that complement their frosted glass features. The Pet Lights emit a heart-warming glow you can dim to match the hour of the day.
Which Pet Light is your favourite?
Each pet has its very own personality and characteristics, but they're all rounded, endearing and elegant. Choose your favourite character, penguin, rabbit, tiger and an owl, and enjoy a pet that will be the light of your life.
About Marcel Wanders studio
Marcel Wanders studio is a leading product and interior design studio in the creative city of Amsterdam. With over 1,900+ iconic product and interior design experiences all around the globe for private clients and premium brands. Under Marcel Wanders and Gabriele Chiave's creative leadership and direction, the studio has made it his mission to "create an environment of love, live with passion and make our most exciting dreams come true."
About Moooi
For over twenty years, Moooi has inspired and seduced the world with sparkling and innovative designs. The venture founded in 2001 is currently led by Marcel Wanders and Robin Bevers. Moooi is named after the Dutch word for beautiful—the third 'O' in the brand name stands for an extra value in terms of beauty and uniqueness. Moooi doesn't tell designers what to do, but listens to what designers want to make, and realises their dreams. Eclectic and always on the edge of commercial reality and cultural interest. To trigger, to create conversation pieces which make your environment more special, a life extraordinary.
Interview & More Information
Interested to learn more about new Pet Light Grwoww by Marcel Wanders studio? Want to do a virtual coffee via Zoom? Or have a burning question about a different topic? Contact Stèphanie de Kanter, global PR at Moooi, via press@moooi.com or call +31 (0) 6 11 28 25 05.