Maintaining your upholstered furniture increases its durability. This care and maintenance guide provides instructions on how to take care of your upholstered items in fabrics: Palette and Harald.
Dry stain and soil
Dust and dirt settle in our living environment, also on upholstered furniture. Upholstered furniture should be cleaned regularly to ensure prolonged life and appearance. Do not allow the dust and dirt to become too excessive, otherwise it will be more difficult to remove.
The best way for regular maintenance is vacuum cleaning and brushing. Always use a hard cloth brush, and clean in the direction of the pile naps. To remove (excessive) stains, or in case of fundamental cleaning from your upholstery, we advise you to contact your local upholstery cleaning specialist.
Wet staining
Liquids (water, wine, beer) can be removed by dabbing with a paper towel, clean tea-cloth, or kitchen towel. Do not rub! Only dab. Hot liquids penetrate much quicker in the fabric than cold liquids, so in case of staining hot liquid, remove stain(s) immediately.
Food stains
In case of food stains, scrape the stain off with a spoon or a knife and dab with a cold solution of water and (wool)detergent. Do not use a hot cleaning liquid. Coloured components of the stain will penetrate the fabric at higher temperatures and will be harder to remove.
Ink, paints, etc.
In most cases, a solvent such as alcohol can be used, however we advise you to contact your local upholstery cleaning specialist in case of ink/paint stains.
Flatting out pile naps
When velvets are not regularly maintained, certain well-worn areas (seats, arms) will be formed and will show pile tangling over time. Depending on the colour, you will notice this as a change of shade.
By sitting you exert pressure on the velvet fabric, forcing the pile naps in any direction. In combination with heat and humidity, the type of filling material under the velvet changes the direction of the pile naps. You may notice this as a change of shade. This is not a defect, but a characteristic of the fabric.*
To bring back pile naps back to their original direction, put a clean, warm and damp piece of cloth (white, not coloured) over the fabric and leave it for several hours or overnight. Don't sit on the fabric until completely dry. Alternatively, you can brush pile naps backs with a soft brush.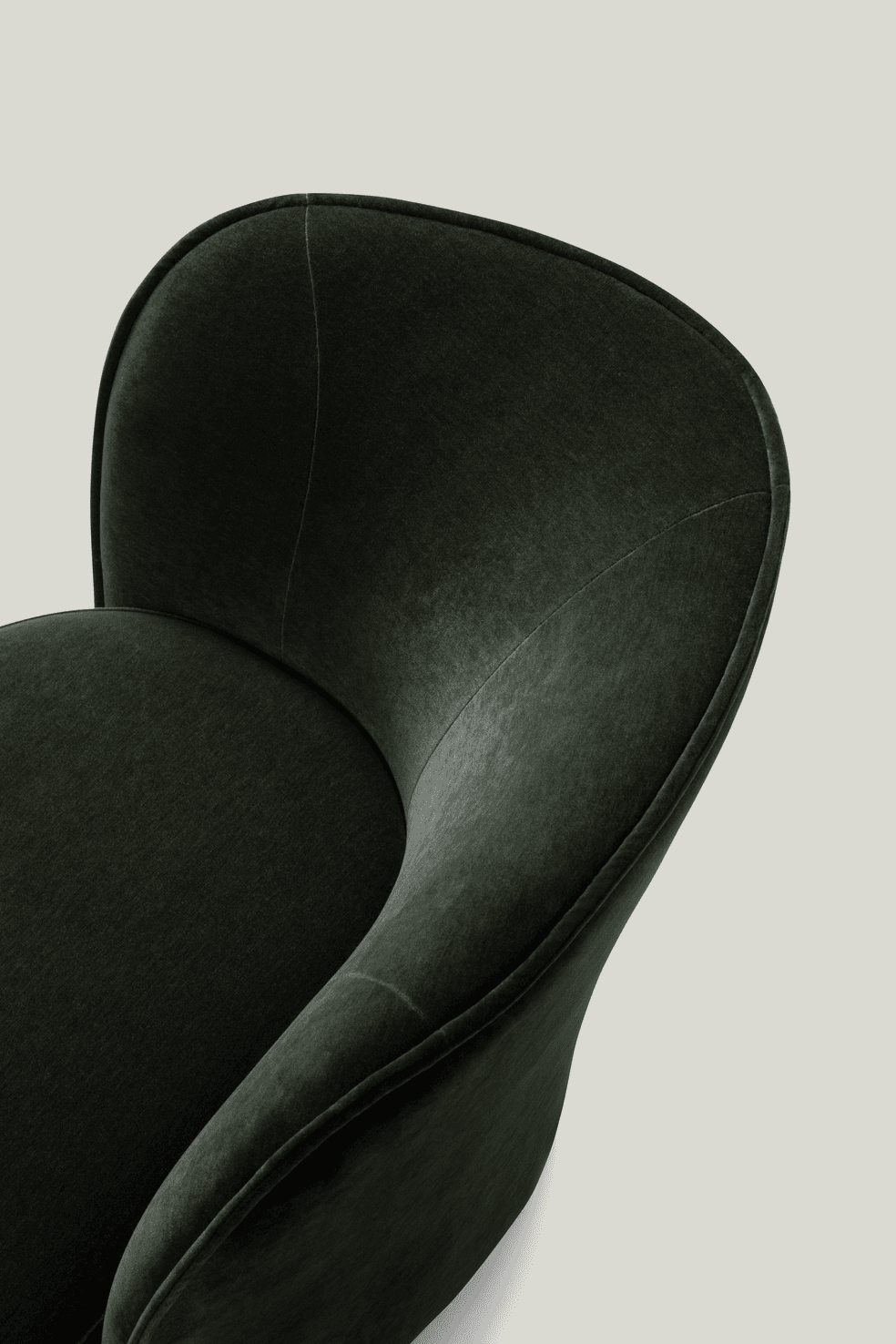 * The foundation "Warentest" (testing products), in Berlin, explains in the "Handbook for the purchase of furniture", ed. 1994, page 49. "Concerning velvets the appearance of a mark because of the wear and tear is unavoidable, and it depends neither on the height and the direction of the pile nap, nor weight and damp of the body, but this is a typical property of this product".