Technology in and around our homes makes our lives easier. It creates time and space in our busy daily lives for doing things we love, spending time with loved ones, relaxing, exercising, and so on. Technology enhances our lives; solving problems we didn't know we had. But can it enrich our lives and homes while looking amazing too? Yes, it can! For A Life Extraordinary 2022 in Milan, IFA 2022 in Berlin, and CES® 2023 in Las Vegas, we collaborated with LG OLED, to combine lifestyle design and technological advancements. The result truly brings the multi-sensorial aspect of A Life Extraordinary to new heights.
A Life Extraordinary is envisioned by LG OLED
Our 2022 exhibition in Milan, "A Life Extraordinary," was envisioned by LG OLED. It brought the best of design, interior, and technology together. With LG OLED, we went on a mission to show how technological consumer goods can become interior design pieces in your home. LG Home Entertainment Company is an industry leader in TVs and audio-video systems and a globally recognised innovator for its leadership in OLED TVs, which is revolutionising the premium TV category. The range of lifestyle TVs and award-winning audio systems in A Life Extraordinary add another layer to our already multi-sensorial exhibition.
LG OLED envisioned by Moooi
In September 2022, Germany's capital city Berlin hosted the biggest consumer electronics fair in Europe, IFA. LG was present at IFA with LG OLED envisioned by Moooi. Presenting once again a seamless integration of interior, lifestyle, and technology to the public. Creative luxury for a well-curated life merged with technology. Eclectic and always on the edge of commercial reality and cultural interest. To trigger, to create conversation pieces which make your environment more special.
In 2023, we're taking our focus on technology and innovation a step further. LG OLEDs 'Live Life Your Way' presentation at CES® 2023 is also envisioned by Moooi. CES®, taking place in Las Vegas, is the most influential tech event in the world. It's a global stage for innovation—the proving ground for breakthrough technologies and global innovators. CES® connects brands, decision makers, media, influencers, visionaries, innovators, that together shape the future of technology.
LG OLED's 'Live Life Your Way' envisioned by Moooi at CES® 2023, showcases the unique value of merging of interior, lifestyle, and technology. LG OLED's lifestyle screen products and our interior objects come together harmoniously, realising a gorgeous vision of what a smart, modern lifestyle can look like.
Serving creative communities through extraordinary design
LG works with artists and museums worldwide and widened their focus on collaborating with a creative brand that invests in technology. LG is embarking on a path with technological products that elevate the world of interior design and lifestyle. With our focus on the digital landscape and technology, collaborating with an international tech company like LG created the perfect synergy.
TVs or interior design pieces?
LG enhances the digital vision of Moooi with their TV products of the LG OLED Objet Collection; Easel (65Art90) and Posé (LX1). LG OLED Objet Collection TVs blend seamlessly into any room with its minimalist style. The subtle use of neutral colours brings sophistication and visual harmony to any indoor space.
Easel – An artist's canvas
The Easel resembles an artist's canvas. You can raise or lower a fabric cover as you see fit. The interchangeable fabric cover sets the Easel apart from every other TV currently on the market. The cover is a product of Danish textile innovator, Kvadrat. Slender yet sturdy, the TV is designed to stand against a wall at a gentle angle but can also be mounted flat against the wall. Like artwork in a gallery.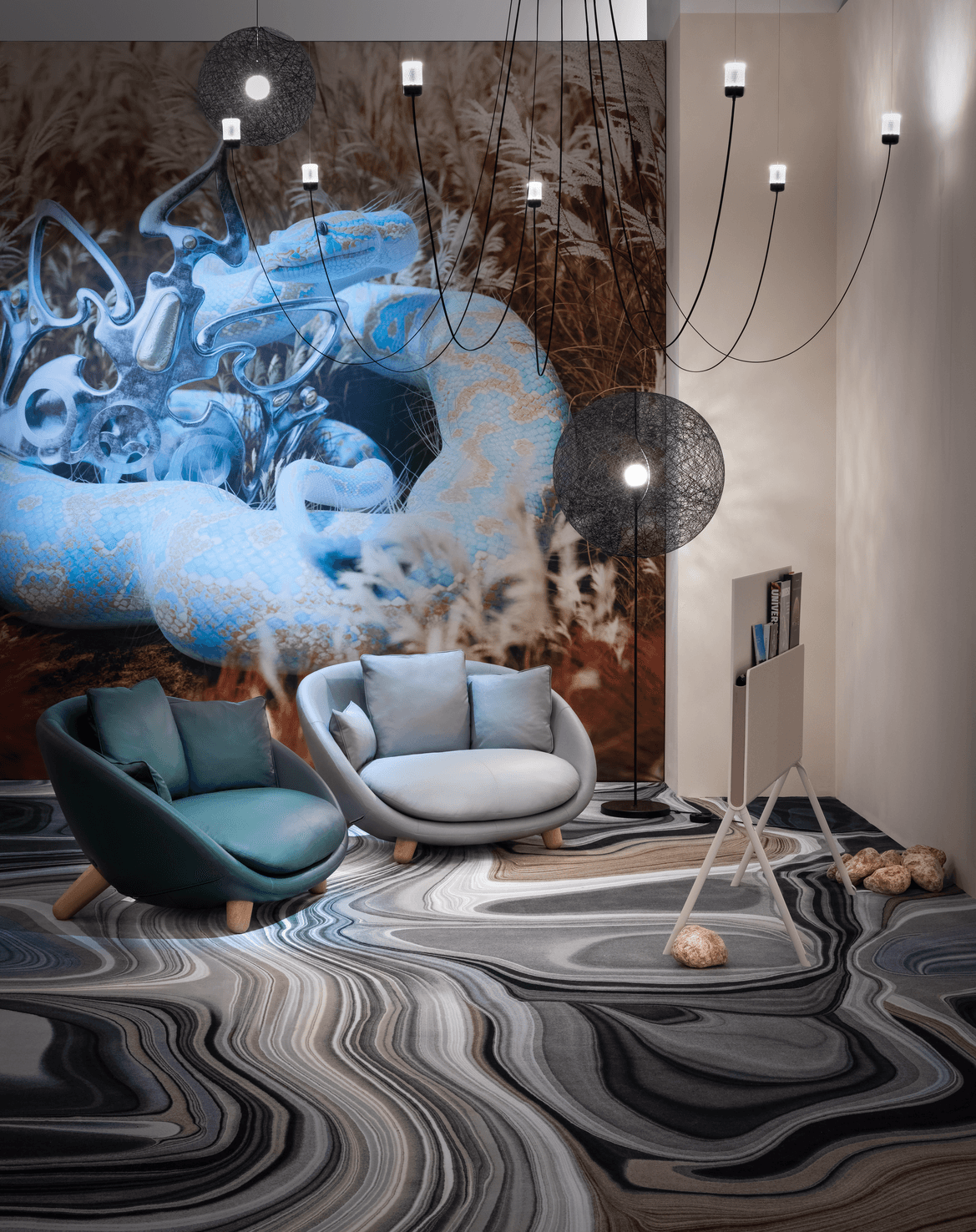 Round around the edges, Posé's soft, smooth lines makes it aesthetically pleasing from every angle—a delicate design suitable for any interior.
Posé – Artistic and multifunctional
The Posé is a stylish interior piece. A work of art, inspired by art. It's a TV that complements your home's interior even when turned off. When it is not being used for watching movies or shows, Posé can be switched to Gallery mode; displaying artwork or photos on LG's self-lit digital canvas and transform your home into a refined art gallery. Posé has gently curved edges and comes in multiple soothing muted colours. And courtesy of its aesthetically pleasing design that complements any décor, users can appreciate the striking beauty of Posé from every viewing point. Meaning you can set up your Posé in the middle of any room. The unobtrusive and multifunctional character makes the minimalistic Posé fit in any home no matter the interior style.
Next to LG's lifestyle TVs, Moooi envisions A Life Extraordinary with other LG products in their exhibition, such as the LG OLED T, an innovative transparent television, the LG OLED R, a rollable tv, the LG Curved OLED Signage screens, and award-winning audio systems LG Soundbar Eclair and XBOOM 360 speaker.