The brand-new Aldora Sofa and Chaise Longue is the embodiment of soft femininity. We asked Italian architect and designer Cristina Celestino, who designed the seater, about her inspirations, her design dreams, and vision.
Hi Cristina, can you introduce yourself to our readers?
My name is Cristina Celestino, I live and work in Milan as an architect and designer. I started out as an architect, but I also cultivated design as my passion, with a free approach.
What brought you to design? What where your very first artistic vocations that you can remember?
I grew up in the countryside and none of my friends or relatives had anything to do with design. As a child I remember to be very interested in colour drawings and creative games but nothing more than this. I understood my interest during high school. My art teacher, who was an architect, introduced me to the work of the masters of the 9th century. This really influenced my choice to enrol in architecture school in Venice. Specifically, I remember being struck by the link between the interior and the exterior of the buildings. And even more by the study of the furniture in every detail, which spoke about the project idea with extreme consistency.
After a few years of experience in architectural firms, I moved to Milan in 2010. I started working for a studio that dealt with both – interiors and products. I dived into design because it was a personal passion of mine. I think it was thanks to Milan's atmosphere, linked to Salone del Mobile, and many showrooms and design companies.
Your work is very diverse, from product design to architectural projects to art installations – is that because of your background as an architect combined with your personal passions?
When I design a product, a chair or a lamp, I think not only about the single item but also the whole mood, and to the interiors where it could be put in. I give much attention to the proportions and the right sizes. I always sketch from the floor line.
For me there is not much difference between designing an interior or furniture. In different scales, details are always what matters the most to me. Every finishing, all the colours and fabrics must be perfectly working together until I am satisfied – and the interior breathes a unique atmosphere.
Where do you find your inspiration?
Design is my main tool to investigate the world around me. I often find inspiration in natural things. Each product has a narrative behind it, there's a story behind it. Milan has a sort of silent beauty. I often take long walks around to discover this hidden beauty. I stop immediately, and I take the picture and put them online. I make up a sort of Abacus, about these colours, material and texture combinations.
Is that where your inspiration for the Aldora Sofa came from?
Aldora was born out of a reflection on the theme of upholstery. It's a Greek name that means 'winged gift'. It's a sculptural sofa with a comfortable attitude. The design is focused on the back. There are two big wings that refer to the botanic world. In it, you can see the wings of a butterfly or the petals of a flower.
It's a beautiful and iconic piece. Did the process of designing and producing it give you any challenges?
The big challenge was to keep the aesthetic of the sofa and to work on the comfort on the ergonomic aspect of the sofa. It has a bourgeois attitude; it adds something emotional. I think it's a perfect sofa.
Any other inspirations? People you look up to, perhaps?
I have a lot of design inspirations. It depends on what I'm working on at that moment. Lately I see Vittorio Introini as an unsung design hero. Many of his pieces are sold at the most important auction houses in the world, but his work and his person are mainly unknown by most.
He's an extremely contemporary and experimental figure, he worked mainly with Saporiti. The charge of innovation and change given by his cultural background can also be re-experienced through its furnishings. His language combines individual creativity, the subjectivity of compositional systems and the knowledge of new materials. An international and avant-garde style that has given life to timeless furnishings.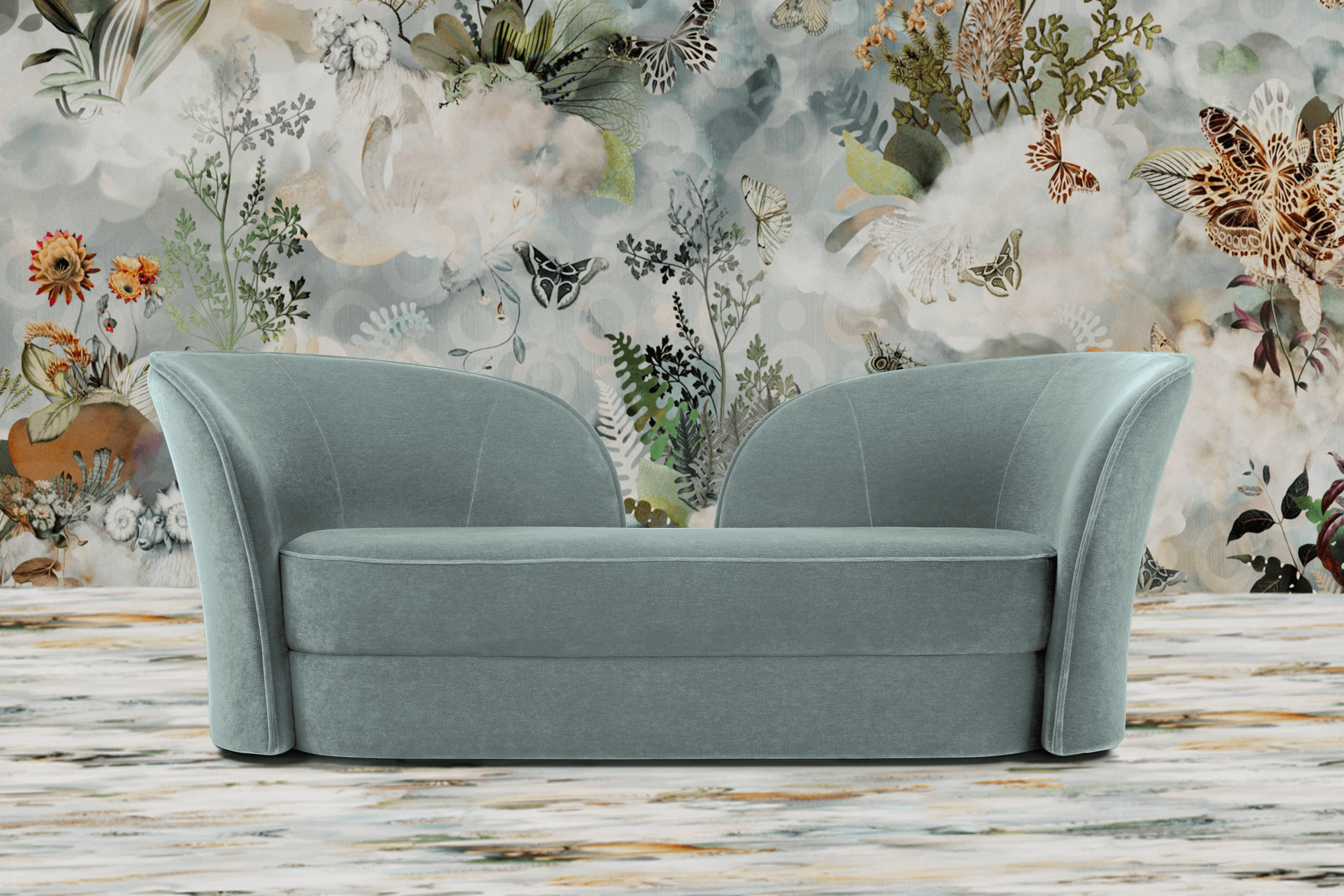 What is your vision on design?
In my work, I usually mix elements from heritage, a common memory. "traditional" elements with contemporary aesthetics – coming from architecture, design or fashion – or shapes and colours inspired by nature. All these references work together, and the results in a synthesis, that is often unexpected and ironic. I then play with different shapes, geometries, colours and through variations of scale and small inventions, the objects can often convey new messages and different meanings. I use my personal design language in each project, and I think it is a strong personal trademark. My aim is to create emotional visions, studying traditional materials and their qualities to finally add a contemporary aesthetic and create new design typologies.
Any preferred areas of expertise or other areas you'd like to discover?
If I could design anything of my choosing, it would be a botanical garden. Botanical gardens devote their resources to the study and conservation of plants, as well as making the world's plant species diversity known to the public. These gardens also play a central role in meeting human needs and providing well-being.