The enigmatic Dodo Pavone was amiable in appearance and character. This wobbling bird lived for thousands of years on an exotic island, the only place where they were ever spotted.
The Dodo Pavone's life truly was a dream come true. Imagine living for millions of years on the exotic island paradise of Mauritius, quietly strolling around in a luscious forest filled with rustling palms and fragrant flowers. Or wobbling along the calm shores of a crystalline sea, with little sea critters bustling about, the soft coos of pink pigeons overhead. Then imagine being the biggest and strongest bird of the island, loving your surroundings, feeling like you're on top of the world!
The Dodo Pavone was easily recognisable because of a cute pompom at the end of its tail and its red-tipped beak. Dodos were never in a hurry. If they had to go somewhere, the entire family would follow, gently wobbling along, curious, and fearless. The first time the Dodo saw a human being, it just wobbled up without hesitation, and gave him a small nod. As if it said, 'hi there!'.
It helped that they also looked harmless. With their fluffy tails and soft feathers in beautiful grey, white, beige, and blue. The Dodo Pavone was as amiable as their soft plumage. Their colourful, rounded beaks were admired by the first settlers, who collected Dodo eggs as vases for their prized tulips.
Dodo Pavone Bedding
The soft features of the Dodo Pavone are the perfect muse for bedroom designs, such as an Embroidered Bedspread and Duvet Cover and Bed Pillows. The dreamy pattern in combination with the embroidered 3D effect makes your bedroom the most luxurious room in your home. There are also a duvet cover and bed pillows without embroidery, that feel soft and smooth thanks to the cotton sateen weave.
Dodo Pavone Decorative Pillow
The Quilted Dodo Pavone Decorative Pillow is made from cotton sateen and silk and has an embroidered print on the front. A flocked dot pattern adorns the reverse side. The soft, shiny sateen weave and decorative cord piping gives the pillow a luxurious look.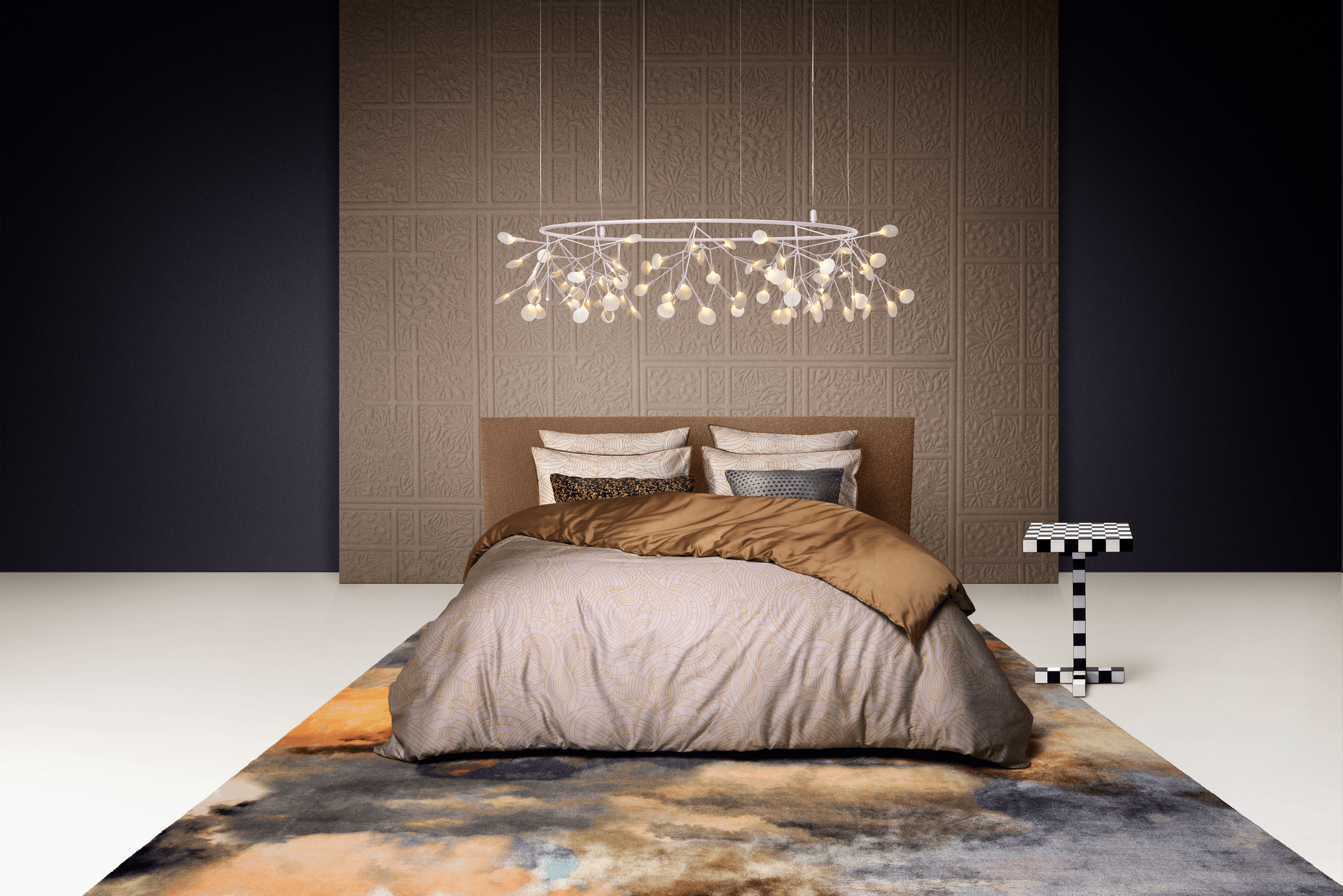 Dodo Pavone Duvet Cover set in Grey. Available in multiple sizes and colours.
Dodo Pavone Wallcovering 
The Dodo Pavone Wallcovering is a 3D wall covering with a soft suede look, inspired by the Dodo Pavone's natural outfit – a soft plumage of silvery feathers with different nuances of grey, blue, beige, and white.
Dodo Pavone Carpet 
The Dodo Pavone carpet depicts a soft nest of silky textures. Reminding of the Dodo's fluffy pompom and feathers in subdued shades of beige, grey, and white. The harmonious colours and textures create a sense of calm in your home.
Dodo Pavone Decorative Pillow 
The Dodo Pavone Decorative Pillow depicts a modern graphic of the Dodo Pavone on the front and a motif based on its appearance on the back. It's crafted in a soft premium velvet fabric and is finished with cord piping in a contrasting colour.