Anna Lindgren and Sofia Lagerkvist are the members of the Swedish design studio Front. They are the creative minds behind numerous designs in the Moooi collection, such as the Animal Family, Blow Away Vase, and the recently launched Starfall Light. We sat down with them and asked them the secret behind their inspiration and our ongoing collaboration.

Hi Anna and Sofia! Although we've known each other for a very long time, can you introduce yourselves to our readers?
Sofia: Hi, I am Sofia and together with my best friend, Anna, we have a design studio in Stockholm, and we are called 'Front'.
Anna: Sofia and I met when studying industrial design here in Stockholm.
Sofia: When we started Front, Scandinavian design was much more conservative or traditional in the minimal sense. I think very few people would call us 'minimal' but there are lots of things that we also intuitively have as part of our culture, I think.
Moooi works with designers from all over the world and everyone finds their inspiration somewhere else. Where do you find your inspiration?
Anna: As a Swede, nature is a big part of my life. It was kind of an extension of our living room to go out and play. It's a very inspiring place. We wanted to go back there as designers.
Sofia: We always build on each other's ideas; we find a sort of language for what we are doing.
Anna: We want to question things and we want to push ourselves to do something we haven't done before.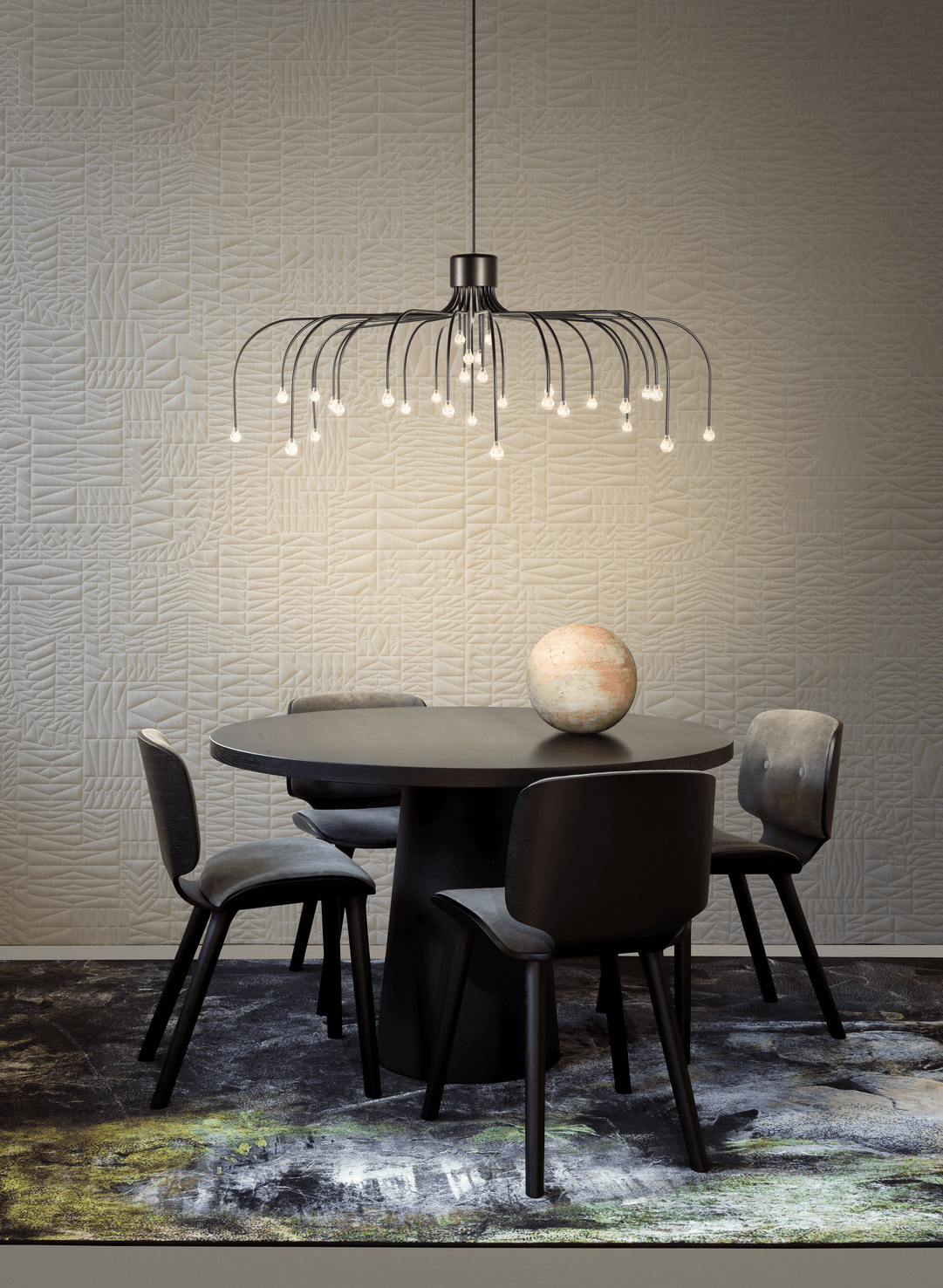 "We are fascinated with the magic that objects can bring you"

–– Anna Lindgren
You recently launched the Starfall Light with us. Can you tell us the idea behind your new designs?
Sofia: The idea for the Starfall Light came from our fascination with the starry sky at night. When we were out in the forest, cold and dark and looking up through the trees, the stars are so bright.
Anna: We are fascinated with the magic that objects can bring you. We wanted to create this atmosphere and this ambience of nature; we had a very clear vision.
Inspired by nature. That sounds very different from the Serpentine Light and Carpet you designed earlier this year.
Anna: With the Serpentine Light it was very much about a play with paper. We wanted to create an advanced shape with a flat, simple material, that looks both irregular and regular at the same time.
It's a three-dimensional shape, but it's also like a pattern. The Serpentine Carpet is a three-dimensional piece. We made it with paper and then photographed it and used all the highlights and the shadows in it and then it was recreated and printed as a carpet.
The Serpentine Light and Starfall Light are not the first designs together with Moooi. Our collaboration goes way back, and we're in a continuous conversation. How do you experience that?
Sofia: We love Moooi! We have been working with you from the very start. Moooi is a brand that wants to push the boundaries, something that you haven't seen before, something to touch you. For us, collaboration is the main focus of our studio. Together we trigger each other to try even more to develop things in an unexpected way.