Think of a beautiful mechanical doll that brings a magical ballet to life. The graceful Coppélia Suspended by Arihiro Miyake brings the grandeur of the Palais Garnier opera or Bolshoi into your home.
"My interest really was creating a lamp with LED, that didn't look like regular lamps."
– Arihiro Miyake
During a design process, you can suddenly find yourself in a certain flow or moment, where things just connect. The Coppélia Suspended results from such a moment. Miyake named his design after the famous Coppélia ballet, because the ethereal shape reminded him of a ballet dancer doing a pirouette.
Coppélia is a romantic ballet telling the story of a mechanical doll that mysteriously comes to life. During the ballerina's elegant pirouettes, the airy tulle of her tutu seems to trace an afterimage in the air. This lingering visual impression inspired the fluid motion in the Coppélia Suspended.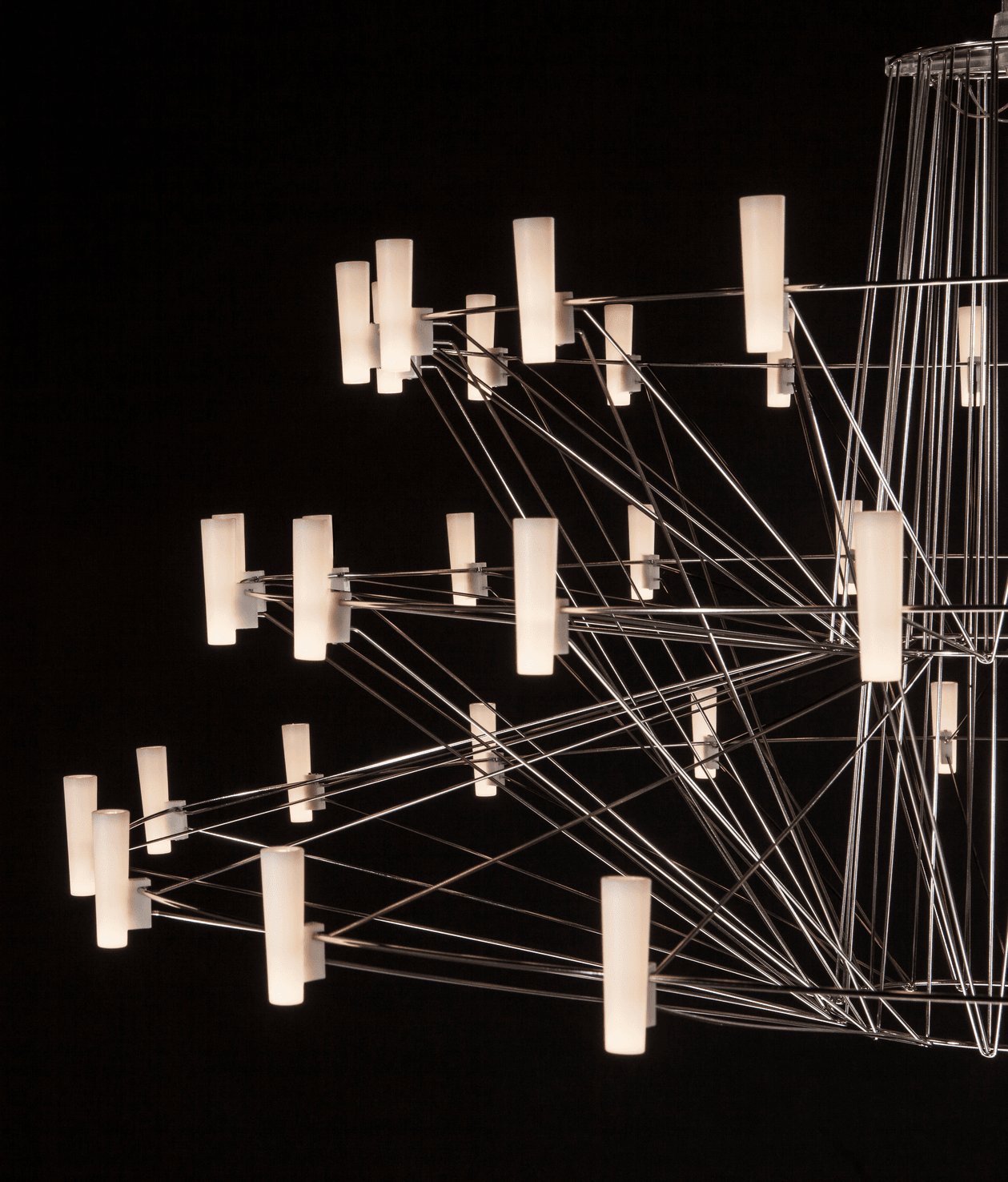 The graceful tutu of the Coppélia creates the feeling of dining by candlelight.
A tale of two acts
A ballet production doesn't magically arise from the dust. The same goes for the production of the Coppélia Suspended. The idea was to create an airy and delicate chandelier without additional wiring. This required certain techniques because the frame had to be as thin as possible.
Each of the soft LEDs is powered through the steel frame of the Coppélia Suspended, with no added wires. The complex spoke-like structure of the light comprises two pieces. Each piece carrying a current and never touching until they come together at each light source. This technique is how the Coppélia Suspended has that airy and open character.
Moooi Originals
What are Moooi Originals? Every design in our collection is an original Moooi design, but a few of those designs grew out to be Moooi fan-favourites. Extraordinary designs, well-loved by people all over the world! 
The Button
Coppélia Suspended is accompanied by Moooi's digital proof of authenticity: The Button. This personal safe-keeper accompanies every Moooi design. The incorporated NFC- technology in The Button makes counterfeiting impossible and acts as proof of authenticity. By introducing The Button in their designs Moooi makes its supports in original design tangible.