Hubble Bubble, designed by Marcel Wanders for Moooi, takes you back to the freedom of blowing bubbles and running barefoot in the open air. Bubbles are blessings in the gentle spring breeze, free to settle wherever they will.
Inspired by bubbles of soap, Hubble Bubble is Marcel Wanders newest, playful design for Moooi. Each bubble is made from blown glass spheres. This suspended lamp is available as Hubble Bubble 7 and Hubble Bubble 11, and its glass spheres come in oil-iridescent or frosted versions.
Bubbles everywhere
When Hubble Bubble is applied in multiples, its bubbles will lure in any spectator. As different suspension angles are possible, Hubble Bubble enables you to create your own composition. The simplicity of the glowing spheres, connected to the thin metal rim, create a feeling of lightness and unity. A fleeting moment turns into an everlasting memory, as these soap bubble dreams will never fade into thin air. What are you waiting for? Fill the air with bubbles.
With a focus on elementary shapes, the Hubble Bubble can be suspended both horizontally and vertically, and everything in between. Powered through ELECTROSANDWICH® by Marcel Wanders, the Hubble Bubble opens a world of endless possibilities and beauty. Freedom is in the air… and everyone will wonder from where the bubbles get their light.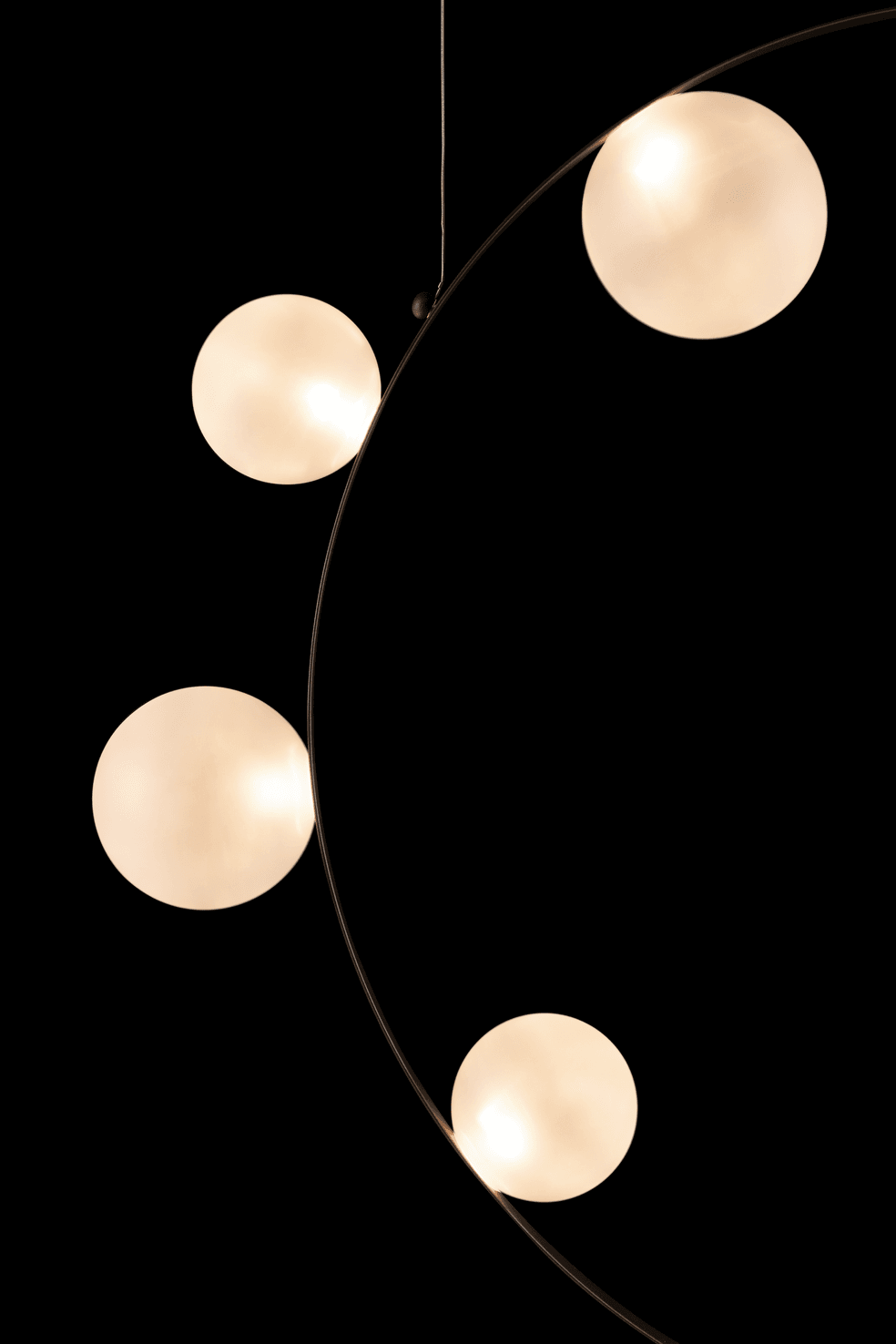 Each bubble is made from blown glass spheres and comes in oil-iridescent or frosted versions.
About The Designer
Marcel Wanders is a leading product and interior designer. Regarded by many as an anomaly in the design world, Marcel Wanders has made his mission to "create an environment of love, live with passion and make our most exciting dreams come true." The work excites, provokes, and polarises, but never fails to surprise for its ingenuity, daring and singular quest to uplift the human spirit, and entertain.
Marcel Wanders' chief concern is to bring the human touch back to design, ushering in a 'new age of design', in which designer, craftsperson and user are reunited. In this process, he defies design dogma, preferring instead to focus on holistic solutions rather than the technocratic. In this universe, the coldness of industrialism is replaced instead by the poetry, fantasy and romance of different ages, vividly brought to life in the contemporary moment.
The Button
Every Hubble Bubble is accompanied by Moooi's digital proof of authenticity: The Button. This personal safe-keeper accompanies every Moooi design. The incorporated NFC- technology in The Button makes counterfeiting impossible and acts as proof of authenticity. By introducing The Button in our designs, we make our support in original design tangible.
Hubble Bubble truly opens up a world of endless possibilities and beauty… enjoy the freedom of a lamp that fits into any interior.